Devonshire is Prepared for Hurricane Season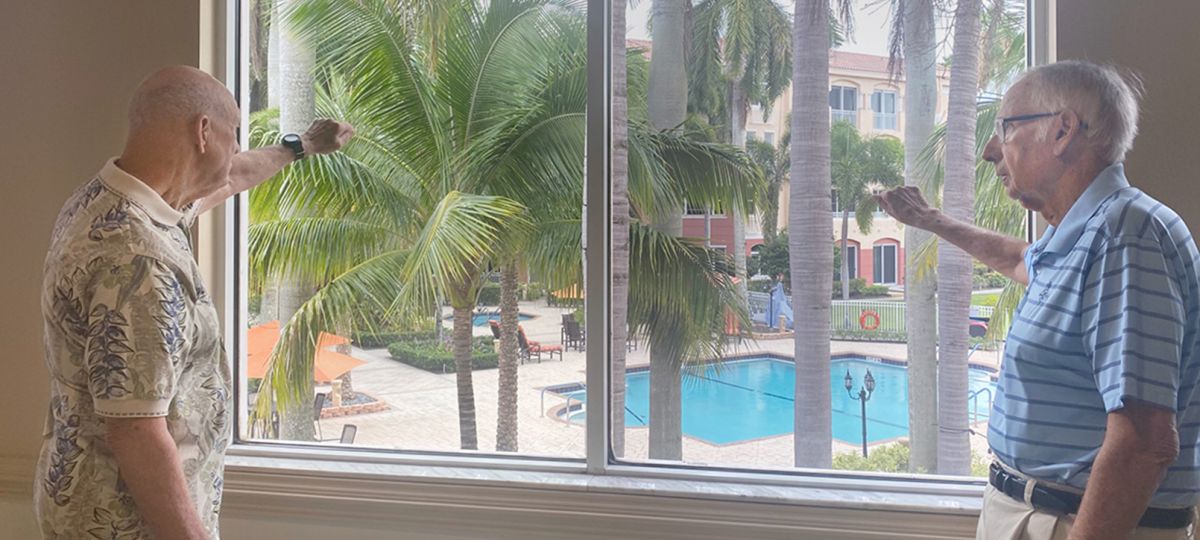 Victoria Allen, security and emergency services manager at Devonshire, an Erickson Senior Living community at PGA National in Palm Beach Gardens, Fla., has one goal - to keep community members safe and secure during a hurricane threat.
"Preparation is key," says Allen. With a carefully constructed plan in place, Allen and her team are always ready for the Atlantic hurricane season. "Hurricane season is usually from June all the way through November."
Located in a non-evacuation zone, Devonshire boasts top-grade, steel beam construction and hurricane-rated windows. "Not once in the community's 23-year history have community members needed to evacuate," Allen notes proudly.
Worry-free living
"Since becoming a Florida resident in 1999, I have lived through several hurricanes," says Phil Fishman, who moved to Devonshire with his wife Myra last August.
"We previously lived at a community in Jupiter," Phil explains. "While management did an excellent job educating the home owners, deciding when to evacuate and protecting our property was primarily still our responsibility."
Now, at Devonshire, those burdens don't exist for Phil and Myra. "We feel safe and secure here. In fact, the beneficial aspect of safety - and handling the potential financial repercussions of a hurricane on our own - were major reasons why we chose Devonshire."
Community member Inder Sethi agrees. "In the nearly five years that we have been here, we have not experienced a direct hit from a hurricane - but have certainly been pretty close to getting one," says Inder. "My wife Manju and I were given a lot of information about what to expect and extremely detailed instructions about ways to safeguard ourselves, including what supplies we should have on hand. In short, management does a wonderful job."
Making a plan
Allen credits her team's hard work and dedication throughout the year for the community's hurricane-preparedness.
Maintenance checks - including thorough examinations of the hurricane-strength windows and two generators that, if needed, provide power to all common areas and kitchens - are scheduled regularly. Staff members also clear downspouts and test all electrical outlets. In addition, the community's hurricane storage closet remains fully stocked with batteries, air mattresses, and hurricane radios.
Prior to the commencement of hurricane season, several meetings are held to ensure both staff and community members understand safety procedures. During this time, Allen and her team also visit each apartment home to confirm that community members are well prepared and understand what actions to take, should a hurricane threaten the area. Team members also use these visits to answer questions and share a list of emergency supplies that are important to have.
Identifying threats
When Allen gets news that the area of Palm Beach Gardens could be in the trajectory of an incoming hurricane, her team immediately goes to work, putting the community's plan in place.
"At this stage, all action is still precautionary," notes Allen. "It guarantees that the community has adequate staffing resources and supplies. In addition, we begin - and maintain - constant communication throughout the threat."
Updates regarding community operations are shared during Town Hall meetings, on the in-house television channel, through mailbox notices, and on bulletin board postings. Family members and friends are kept in the loop as well, through updates posted on the community's Facebook page.
The plan in action
In 2019, Hurricane Dorian became a threat to Devonshire. But thanks to dedicated staff members that stayed on campus throughout the hurricane threat, pitching in wherever needed, life went on as normal for community members.
Devonshire's culinary team continued to prepare three meals a day, and resident services worked diligently to ensure all activities ran smoothly.
"Devonshire supplied each resident with drinking water to store in our apartment homes," recalls Inder. "They also offered assistance to help close our patios. The standby generators kept the kitchens running. We enjoyed the buffet meals that were served to us in the lounge."
Devising and organizing new ways to entertain community members, Activities Assistant Amy Spiegel stayed on campus for two full days.
"In addition to our regularly scheduled activities, we added a trivia team competition and bingo in the lounge," she says. "I witnessed, firsthand, the dedication of each employee to making our community members happy, comfortable, and safe."
Safe and secure
Community members appreciate the efforts designed to ensure their safety and keep life running "as usual" on campus.
"Hurricanes are stressful - from the time they are first announced to when a plan is put in action," says Phil. "However, Myra and I look forward to this season without stress in our new apartment home at Devonshire."
To learn more about affordable, independent senior living at Devonshire, request your free brochure to get the scoop on amenities, floor plans, and so much more.
Back