Devonshire Has a Floor Plan That's Right for You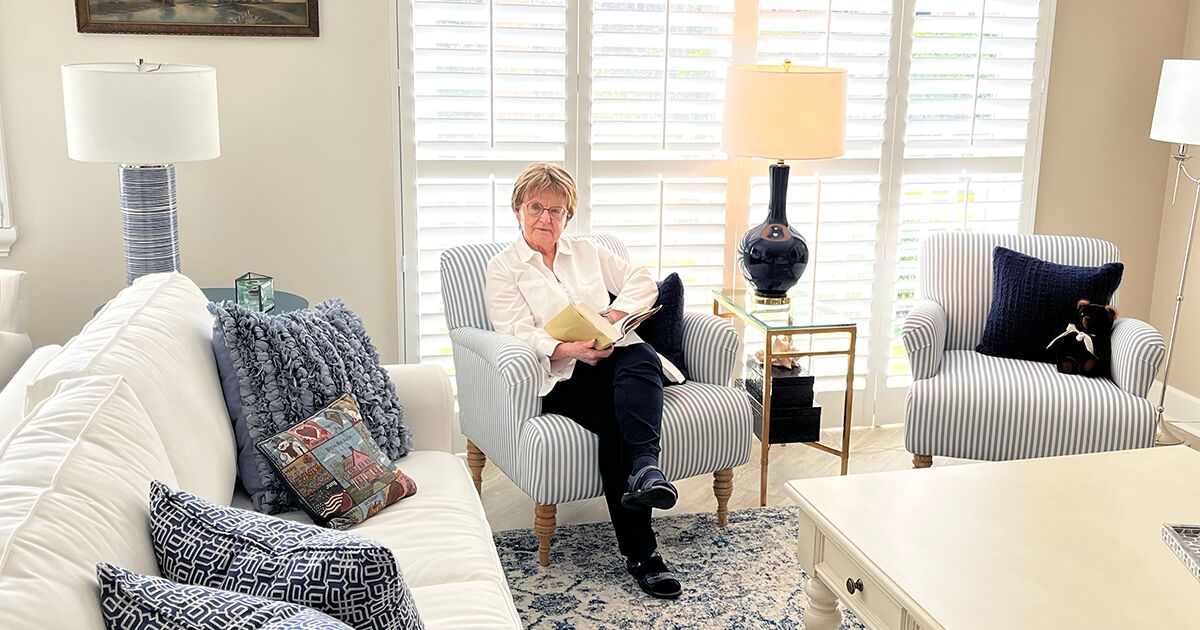 "Don't waste any time considering a move to Devonshire," says Edie Hix of the Erickson Senior Living community at PGA National in Palm Beach Gardens, Fla. "This is your sign to move!"
For 20 years, Edie and her late husband Jim enjoyed southern Florida living from their single-family house--keeping a close eye on the construction and growth of Devonshire. 
"We were curious about Devonshire," recalls Edie. "It was nice to know it was there, but we didn't know when or if we would seriously consider a move to a retirement community."
Over time, their feelings began to change. The couple researched and visited a number of retirement communities in the area, including Devonshire, which quickly rose to the top of their list.   
"We immediately liked what we saw," says Edie. "None of the other places even came close to Devonshire. We knew it was the right community for us."
A place to call home
With their minds and hearts set on Devonshire, the couple turned their attention to selecting an apartment home that best suited their needs. 
"We looked at quite a few floor plans," says Edie. "They were all beautiful, but the minute we stepped into the Flagler, we knew it was the perfect space for us." The Flagler--a two-bedroom, two-bath design with a terrace--features modern finishes, an open living area, and ample storage space. 
In 2016, the couple was happy to move into their apartment home. 
Beautiful and functional
When Jim passed away four years later, Edie began reconsidering her needs. With the full support of the Devonshire sales team, she explored the community's available one-bedroom apartment homes, ultimately choosing the Eaton.
The Eaton--a one-bedroom, one-and-a-half-bath layout with a den--allows community members to customize their living space. For many, the den makes a perfect office, craft room, or guest room. 
"I am often asked, 'What is your most popular apartment home?'" says Sales Director Donna Schneider. "But each apartment home meets different needs, preferences, and budgets, so it's hard to answer that question. Every apartment home appeals to someone for many reasons!"
For Edie, the Eaton's layout immediately stood out for its beauty and functionality. 
"I chose the Eaton because of the open floor plan. The large windows bring in a lot of light and provide lovely views during the day and at night," she says. "And the half-bath is convenient for guests. I enjoy the kitchen, and the large laundry and storage room has ample space for a full-size washer and dryer as well as shelving. I find my new home to be very well arranged and comfortable."
Despite her experience living in a larger apartment home, Edie has more than enough space to accommodate her favorite furniture pieces.
"I placed my entertainment cabinet on one end wall and my work cabinet on the other," she says. "The living space is divided by a sofa, forming a nice conversation area. The dining room is large enough for my table, four chairs, and a credenza. I am pleasantly surprised at how much it fits!"
More outside your door
Outside her beautiful apartment home, Edie retains access to the same unbeatable amenities and services she is used to, including a state-of-the-art fitness center, outdoor pool, five restaurants, a library managed by community members, beauty salon, and bank. 
She also continues to pursue a number of activities. 
"I'm involved in a study group, volunteer at the library, and enjoy going to the movies and performances held on campus," says Edie. "There are so many activities available to us at Devonshire!"
For Edie, the best part about moving to Devonshire has been making new friends. 
"Most people who move to Devonshire are ready to get to know their neighbors and make the most of the active, vibrant lifestyle here," she says. 
Take a tour!
Winter is the perfect time to visit Devonshire for a tour of two- and one-bedroom apartment homes. 
"We have options to suit every need and preference," says Schneider. "Whether you're looking to host friends and family often or right-size your living space, we'll help you find an apartment home that fits your needs."
"Finding an apartment home that fit our needs was the icing on the cake when it came to our decision to move to Devonshire," adds Edie.
To learn more about affordable, independent senior living at Devonshire, request your free brochure to get the scoop on amenities, floor plans, and so much more.
Back