Devonshire Community Members Reap the Benefits of Continuing Education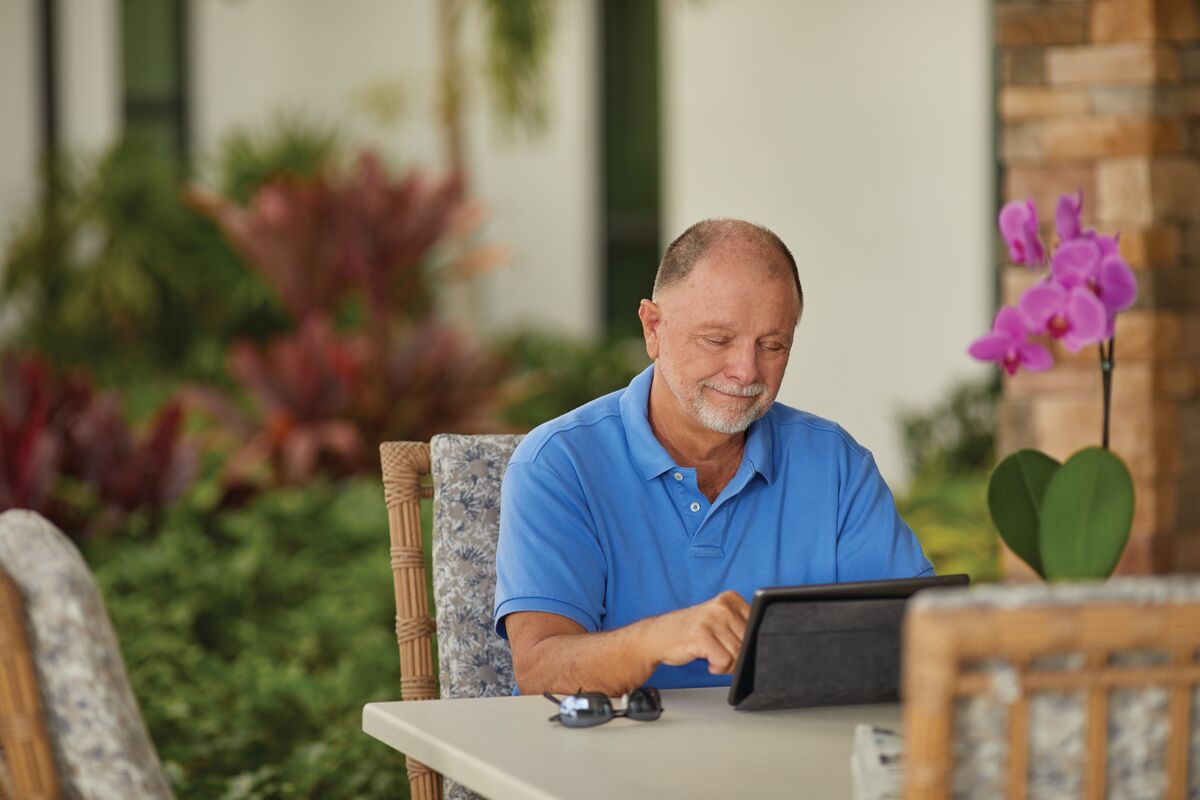 A recent study conducted by neuroscientists at the University of Texas at Dallas reported that "when seniors took on a new mentally challenging hobby, they saw a lasting increase in their memory skills." The study also reported that "certain high-challenge activities strengthen the numerous networks in the brain." Reaping the many benefits of lifelong learning, community members at Devonshire at PGA National, an Erickson Senior Living community at PGA National, enjoy unprecedented access to classes through the Osher Lifelong Learning Institute at Florida Atlantic University (FAU). The Bernard Osher Foundation supports 122 lifelong learning programs on university and college campuses across the country. There is at least one in each of the 50 states and the District of Columbia. The classes, streamed onto the big screen at Devonshire's Stafford conference center, offer topics in foreign policy and current legal affairs.
For 30 years, Devonshire community member Chick Geilich enjoyed taking FAU continuing education classes. Following his move to Devonshire, he became instrumental in bringing the FAU classes to campus.
"One of the FAU professors, Dr. Jeffrey Morton, is a friend of mine," he says. "He introduced me to staff with FAU's Lifelong Learning program. They were very receptive in opening up their courses to Devonshire community members in their continued effort to expand their reach."
According to Paul Nussbaum, PhD, director of the Aging Research and Education Center in Pittsburgh, in an article for Aging Well, "Every time your heart beats, 25% of that blood goes right to the brain. But while exercise is critical, it may be education that is more important. In the 21st century, education and information may become for the brain what exercise is for the heart. Just like the human heart, our brains need to be nurtured. So, think of lifelong learning as a health club for aging brains."
A positive experience
Devonshire community resources staff are thrilled to provide this "brain exercise," to community members.
"The experience has been nothing but positive for the many community members who register for the FAU classes," says Devonshire activities assistant Sarah Soetarto, who organizes the program. "In fact, we are the first community in the area to offer both live and recorded classes, streaming directly for the benefit of our residents."
Soetarto points out that the ability to stream the classes, rather than attend class in person, was helpful last year, when physical distancing measures meant more community members were staying home.
Something for everyone
Devonshire community members Inder and Manju Sethi enjoy taking the FAU courses and consider it just one of many advantages of living at the community.
"In our opinion, the biggest advantage of taking FAU courses and lectures is that you are abreast of the current situation on various subjects," says Inder. "There are also other substantial advantages, such as keeping yourself mentally active and having something to look forward to."
The couple say that their favorite FAU classes have been Dr. Jeffrey Morton's courses on U.S. foreign policy. This summer, Dr. Morton joins Dr. Harry Chernotsky in teaching American Foreign Policy: Grading the Post-Cold War Presidents. In this series of lectures, the two professors compare notes and grade each of the U.S. president's foreign policy from Harry Truman to George H.W. Bush.
Insight on world affairs
"Both Manju and I are interested in world affairs; how Americans think of events overseas and how others look at such thoughts," says Inder. "Previously, Dr. Morton gave a lecture on India. I was asked by a number of residents to comment on his perspectives and summations which I was not only happy to do, but also indicated how Indians perceive the reactions of foreign governments on Indian policies. I don't believe I could have done this if I had not attended the FAU lecture."
 Other summer course offerings include Nine Elections that Changed America, and One That Might, taught by Ralph Nurnberger; Why Florida is Florida: An Unconventional Look at Florida's Human History, taught by Frank Cerabino; and The Unitary Executive and Separation of Powers, taught by Bruce Reinhart."
"We work directly with FAU to provide our community members with courses that match their interests," says Soetarto. "We are currently putting together our fall course offerings based on feedback from our residents."
With nothing but positive experiences, the Sethis encourage their neighbors to join an upcoming class. "Check out the curriculum; there are many subjects, making it easy to find one that is of interest to you," says Inder.
Don't wait to begin exploring vibrant senior living at Devonshire, request a free brochure. 
Back