Design Your Dream Dwelling at Devonshire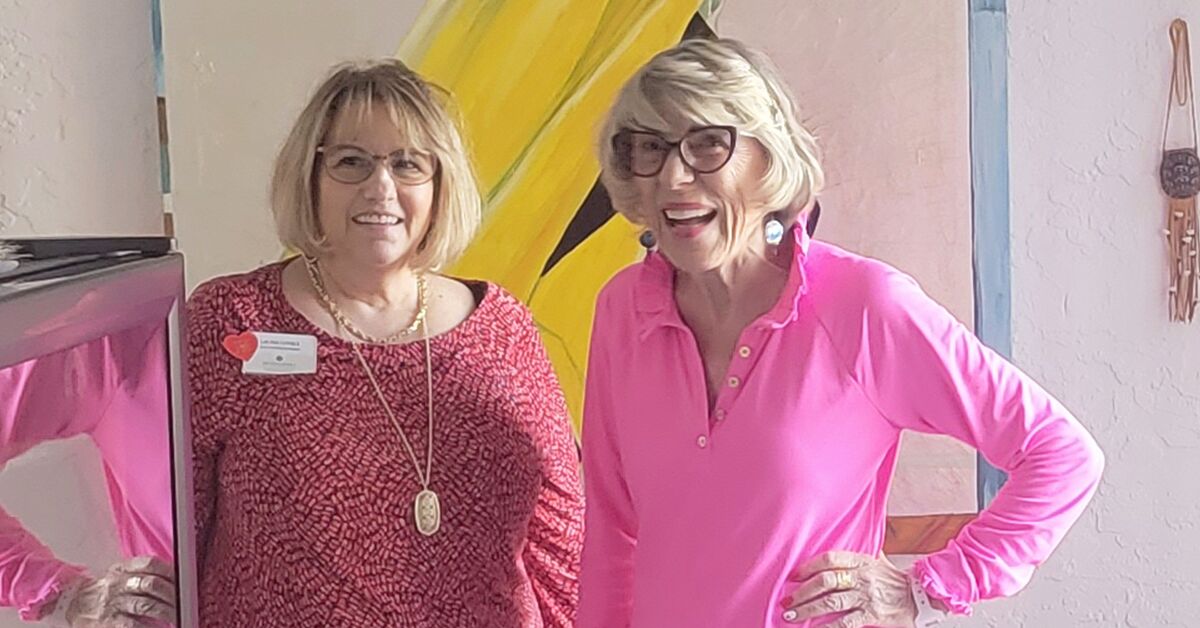 "I love eating outside, so when I learned that I could add a small paved patio to my apartment home, I was thrilled!" says Nila Wilbur, who moved to Devonshire, the Erickson Senior Living community at PGA National Resort in Palm Beach Gardens, Fla., in December.
Whether reimagining an entire room or simply adding personal touches, such as crown molding and window treatments, Custom Interiors Coordinator Laurie Lovely helps make community members' design dreams a reality.
"The sky's the limit!" says Lovely. "For new community members, all custom work can be done prior to moving in. And if someone is looking to refresh their space after a few years, I can help them make updates the same way they would have in their previous house. Trying a new paint color, adding additional storage, you name it."
Nila notes that, thanks to Lovely's help, the renovations she requested were completely stress-free on her end.
"Laurie was so easy to work with," says Nila. "The whole process was foolproof! After we decided what would be done, Laurie did all of the legwork. She had great suggestions, always presenting me lots of options."
The perfect home
When researching her senior living options, Nila had a concise list of what she was looking for - a spacious apartment home amidst a bustling community.
"I looked at many retirement communities in the area," recalls Nila, "and Devonshire was the best choice, for many reasons. The architecture, apartment homes, and myriad of activities were unbeatable."
Nila selected a highly sought-after Dalton apartment home design, which boasts a two-bedroom, two-bath floor plan with a den.
"I think I have the best home in all of Devonshire!" she says, with a laugh. "It has an open concept living space, and it was big enough for me to bring my favorite pieces of furniture."
Design paw-sibilities
First on Nila's list of customizations was the patio, which has been put to good use in the beautiful Florida weather.
"It's a great space, large enough for a table and two chairs," notes Nila. "I spent a good deal of time out there with Lily."
Lily, Nila's beloved bichon, was the reason behind renovating her apartment home's laundry room.
"In my former house, I bathed Lily in the bathtub," she explains. "However, the two bathrooms were designed with showers rather than tubs."
Collaborating with Laurie, Nila decided the best thing to do was to add a large sink in the laundry room, just for that purpose.
"Laurie suggested stacking the washer and dryer, which I thought was a great idea! It has given us plenty of room," she says. "In fact, Lily is rejuvenated - perkier since our move to Devonshire."
Sharing the excitement
Nila and Lily have loved hosting guests in their new home - even before it was ready for them to move in.
"I invited family, who were visiting from Hawaii last Thanksgiving, for a sneak peek prior to our move," says Nila. "They loved it! We all enjoyed Devonshire's Sunday brunch together. They thought the food was fantastic. That's something all of my guests comment on - how lucky I am to enjoy such great food."
Now that renovations are complete and her second bedroom is furnished, Nila has welcomed several overnight guests.
"I'm blessed with lots of visitors. My friends and niece come often," she says.
More outside your door
When Nila isn't spending time in her charming, personalized residence, she's out and about in the community, meeting neighbors and participating in a number of activities.
In particular, she loves visiting the state-of-the-art fitness center.
"I go there three times a week. Remy [Harwood, Devonshire's fitness specialist,] leads wonderful exercise classes," she says. "And now that I've settled in, I hope to start playing croquet and pickleball."
At Erickson Senior Living communities, people appreciate the opportunity for new beginnings - and the ability to create beautiful spaces where they can live the active, carefree retirement they've always imagined.
"The abundance of activities and opportunities for social interaction are what make Devonshire really special," says Sales Director Christine Hansen. "They are an extension of your apartment home, which you can customize to match your new lifestyle here."
"All of the amenities here are terrific!" agrees Nila. "As a community member, I also enjoy access to PGA National Resort. It's a wonderful benefit. I am very happy with my decision to move to Devonshire."
Invest in your future self at Devonshire. From top-notch amenities to affordable, maintenance-free apartment homes, you are sure to live your retirement to the fullest. Request more information today!
Back