Community Members Enjoy the Great Outdoors at Devonshire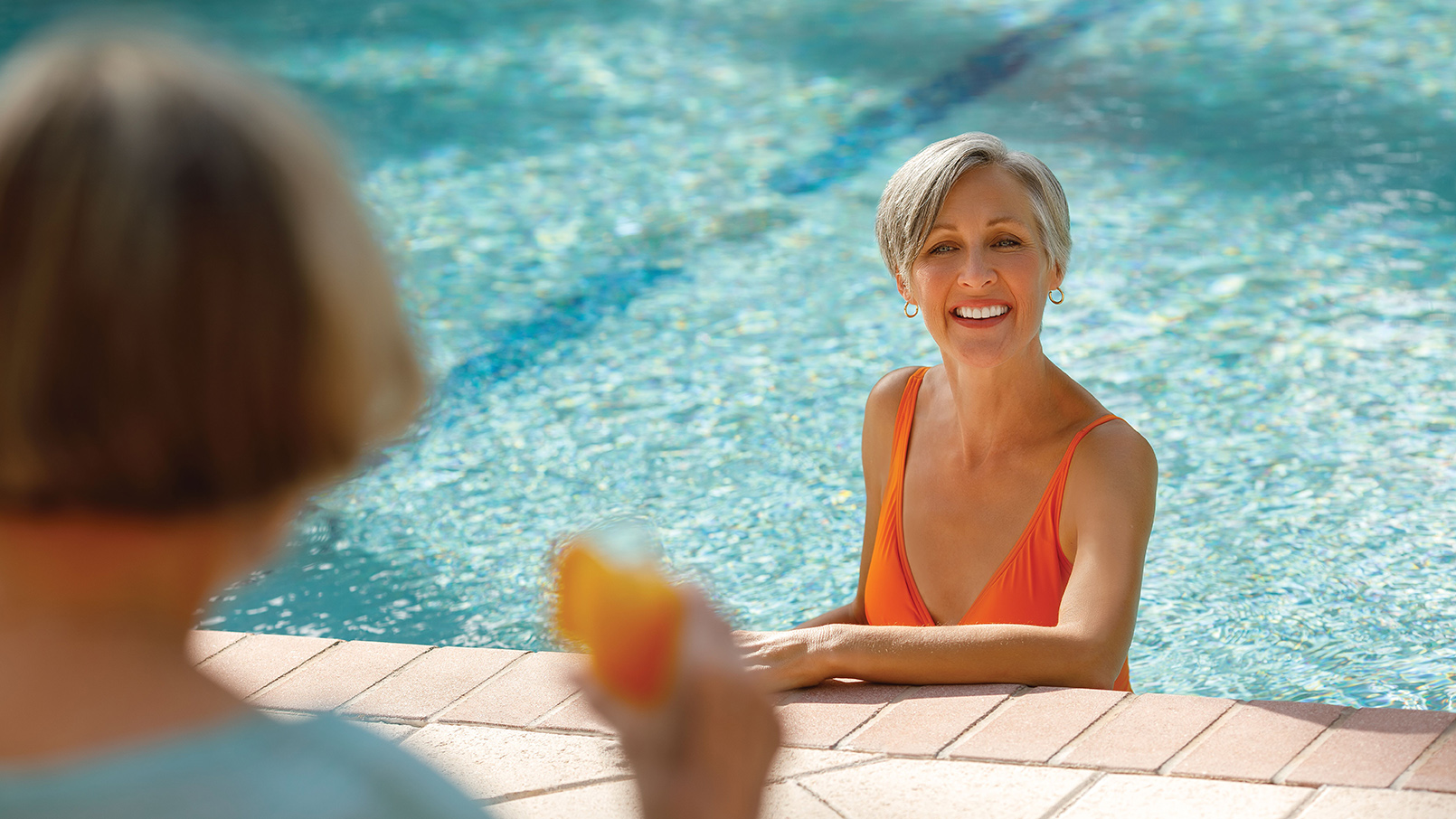 One of the greatest benefits for community members of Devonshire at PGA National, an Erickson Senior Living community at PGA National, is full membership at the premier resort, including five championship 18-hole golf courses, tennis courts, a world-class destination spa, state-of-the-art sports and racquet club, and exclusive membership club.
"Because I love spending time outdoors, the ability to enjoy the resources at PGA National is an added bonus to my wonderful life at Devonshire," says community member Elena Portoles. Jean Perkins, another community member, appreciates the opportunity to play golf. "I play three times a week," she says. "I enjoy being able to do something active outdoors, and it's a great way to socialize with neighbors."
In addition to the bountiful opportunities for outdoor socialization and activity at PGA National, Devonshire community members enjoy convenient access to beautiful, well-maintained on-campus amenities, including a newly renovated swimming pool, full-sized croquet court, and scenic walking trails.
"There is something for every taste and interest," says Devonshire's resident services manager, Marty Bores. "Whether it's meeting friends for a tennis match, golf, pickleball, or a friendly croquet match, the primary goal is having fun with good friends."
The great outdoors
The added health benefits of time outdoors is icing on the cake for most Devonshire community members. According to Richard Ryan, a professor of psychology at the University of Rochester, "People with a greater sense of vitality don't just have more energy for the things they want to do; they are also more resilient to physical illness. One of the pathways to health may be to spend more time in natural settings."
Confirming these findings, a research study at the University of Minnesota found that "seniors who spend ample time in blue and green outdoor areas, such as grassy parks or on the edge of koi ponds, enjoy increased feelings of connectedness and renewal."
Enjoying golf and tennis
Two of the most popular outdoor activities enjoyed by Devonshire community members at PGA National include golf and tennis. Over the last year, pickleball has attracted new members as an alternative to the more traditional outdoor sports.
"The great part about the sport is that it's easy to begin playing right away," says resident Artie Lynnworth. "The games are fun and pickleball players are friendly, happy, and fun to be around. I've found that many people who have experience with handeye coordination and racquet sports such as table tennis, handball, racquetball, badminton, tennis, and squash find the transition to pickleball rewarding and easy."
Home sweet home
The Devonshire croquet group, one of the most popular outdoor activities on campus, provides a "green" outlet for fresh air and socialization. As the community grows, so does the number of community members interested in playing.
"Croquet is now my favorite sport," says community member John Hannon. "I did not know much about the sport when I moved to Devonshire almost six years ago. Now, I prefer it to tennis and golf. It's wonderful mental gymnastics, as well as physical activity."
The Devonshire croquet group typically plays at various times throughout the week. Like tennis and other "court" games, croquet is limited in the number of people— four—who can play at once. "One of the many nice things about having our own court is that we can add additional times as needed to accommodate all interested players," says John.
Making waves
For those who find enjoyment in the water, Devonshire's outdoor pool is perfect for cooling off, lap swimming, or participating in the popular aquacise exercise class.
"Our community members enjoy many health benefits from aquacise," says Devonshire's fitness specialist Remy Harwood, who leads the class each Tuesday and Thursday mornings. "It is a popular activity because it is not limited to any age group or fitness level. It increases flexibility, improves heart and lung function, builds strength, enhances coordination, and increases metabolism."
In addition to serving as a means to stay healthy and physically fit, Devonshire's outdoor pool also offers plenty of opportunities for socialization and entertainment. "Our pool area is a popular site for local entertainment and special events," says Amy Spiegel, activities coordinator.
Don't wait to begin exploring vibrant senior living at Devonshire, request a free brochure. 
Back