Chefs Offer Made-To-Order Fare in A World-Class Dining Experience at Devonshire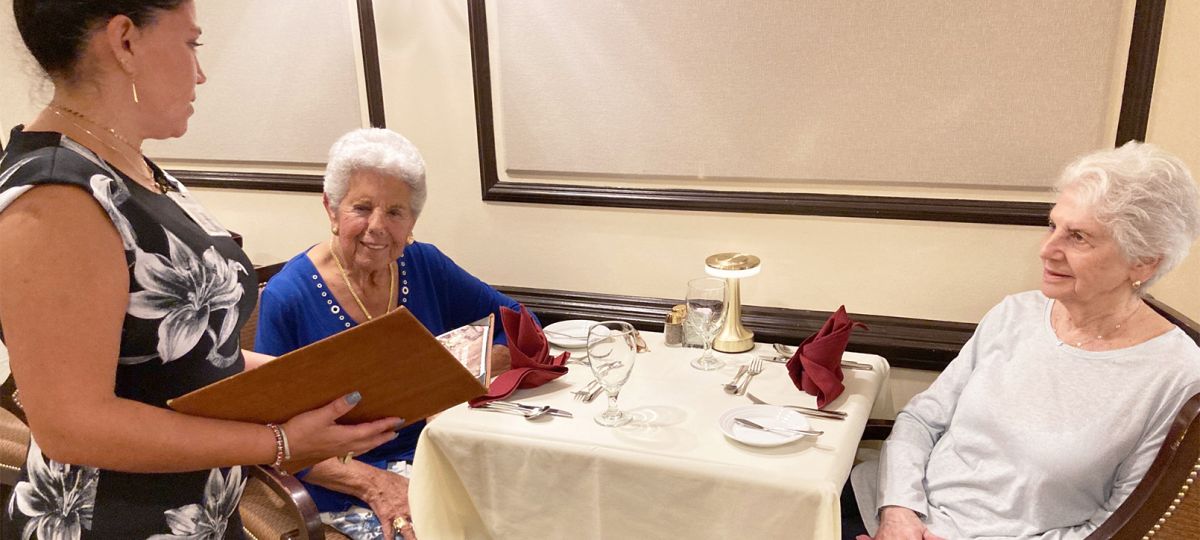 Each day at Devonshire, an Erickson Senior Living community at PGA National Resort and Spa in Palm Beach Gardens, Fla., the dining services staff work diligently to bring delectable dishes to the tables of its five restaurants.
The menus, updated regularly, bear the imprint of the joint effort between community members' feedback and the talented chefs. As a result, community members thoroughly enjoy each meal in a lively, social setting.
"What my husband and I like most at mealtimes is the camaraderie with friends," says community member Nancy Billard. "Our favorite restaurant is the Cavendish, with its cheerful decor, lovely resort-like window views, and great seafood dishes."
Personalized dishes
"Dining at Devonshire is more than just enjoying a meal - it is truly something special," says Dining Director Joseph Marinelli. "Thanks to our Signature Dining program, which emphasizes preparing high-quality, made-to-order meals, each of our restaurants serves delicious entrées that match community members' tastes and preferences to a tee. Our priority is providing a menu that meets - or hopefully exceeds - expectations."
Devonshire's chefs specialize in creating healthy, appetizing dishes, including those that satisfy unique dietary needs. Community members can stay informed about their menu choices by visiting the My Nutrition section of My Erickson®, an app accessible through any smart device.
"Devonshire's restaurants offer something for just about every taste," says community member Bob Fraiser. "We can choose from upscale to casual dining, with options in-between. There are usually more than 30 menu options available and, in seven years, I've never faced a situation where there wasn't something on the menu that appealed to me. Those who take our orders and deliver our food and drinks are invariably patient and friendly."
"And, of course," he jokes, "not having to clean up after the meal is wonderful."
Open communication
"The menus at all of our restaurants are a reflection of the strong partnership between our chefs and community members," says Marinelli. "In addition, Devonshire's Signature Dining program provides our chefs with numerous opportunities to express their creativity based on their own culinary experiences."
To ensure that meal options continue to appeal to a broad range of tastes, dining staff members review how many times a dish was ordered each evening. They also invite feedback directly from community members, either on comment cards or by attending monthly dining services focus meetings, regarding menu selections.
Each month, Marge Housen, community member and chair of the culinary committee, meets with Marinelli to share the insight she receives from her neighbors.
"We are fortunate to enjoy such wonderful restaurants - with a diverse selection, too," she says. "Each menu item is well thought out and prepared, and they always taste delicious. Everyone on the dining staff is very receptive to our thoughts and comments. It's a great partnership."
Marinelli agrees. "Our community members feel like they have an ownership in our restaurants," he says. "We are always mixing it up, based on their reviews and input." He has the same outlook on Devonshire's themed dinners.
"Our themed dinners are truly partnerships with our community members," says Marinelli. "We sit down, talk, and take notes. There have been instances where I've been handed a treasured, generations-old recipe, to use at the dinner. Those are the things that make these nights so special."
Taste and see
If you're interested in tasting Devonshire's dining options for yourself, Sales Director Christine Hansen encourages reserving a spot at one of the community's monthly informational luncheons. "Our luncheons are a great way for guests to enjoy many of the same menu items our residents choose from daily," she says.
One of Devonshire's summer informational luncheons featured a three-course meal, beginning with fresh burrata cheese topped with summer-ripened heirloom tomatoes, basil, and balsamic vinaigrette. Attendees then chose between two entrees - a half roast duck glazed with a raspberry orange sauce alongside Yukon gold potatoes and red braised cabbage; or freshly caught, local yellowtail snapper topped with Provençal lemon herb oil, served alongside risotto and vegetables. For dessert, guests savored a sweet tiramisu with summer berries.
"Contact us today to learn more about our next luncheon," says Hansen. "There is never any pressure - it's just a great opportunity to enjoy a delightful lunch and hear why so many people are making a move here!"
Invest in your future self at Devonshire. From top-notch amenities to affordable, maintenance-free apartment homes, you are sure to live your retirement to the fullest. Request more information today!
Back