Chef Rhelvin Asuncion Brings Passion to The Plate at Devonshire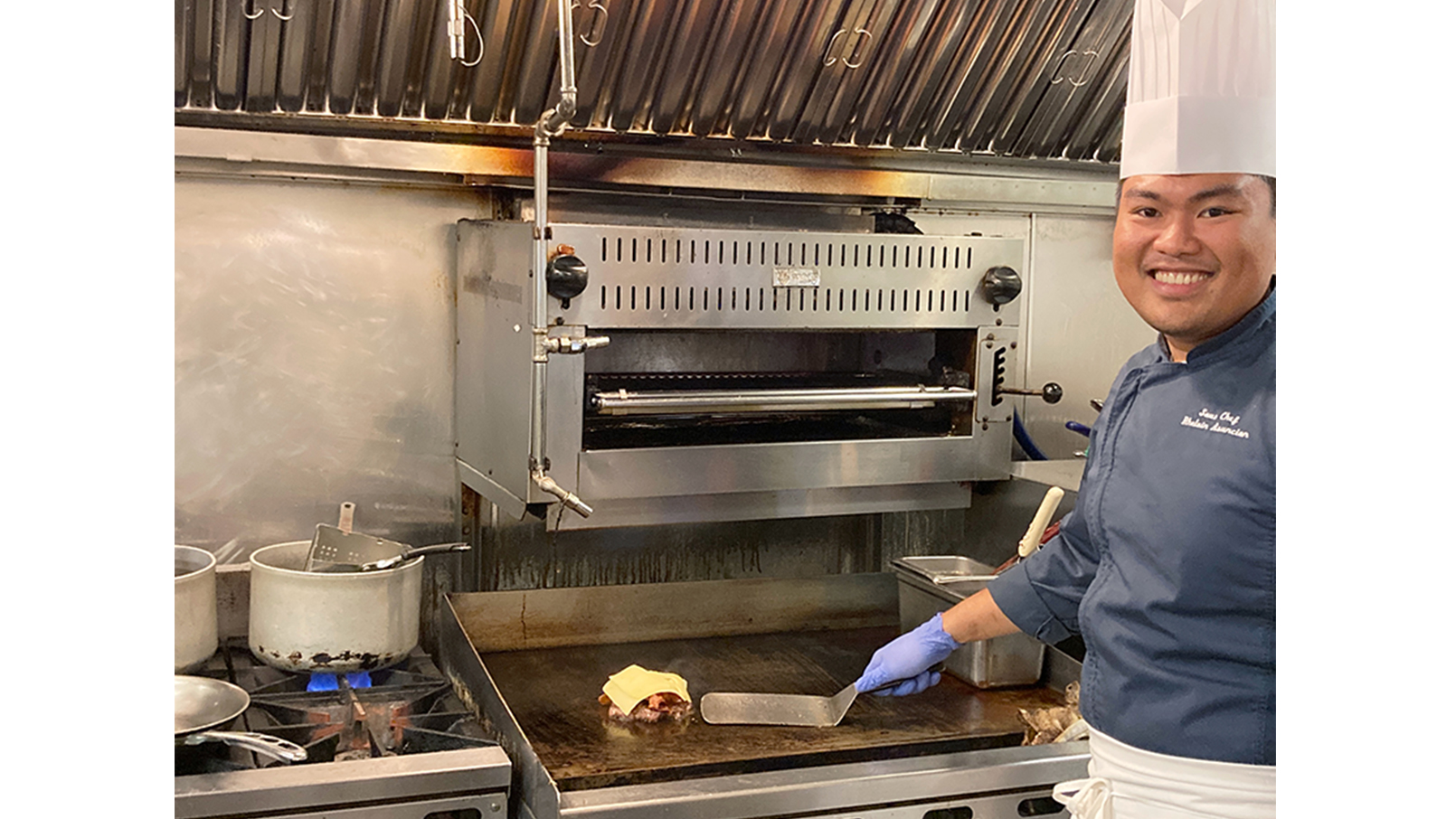 "The opportunity to create dishes, cook, and lead a talented team is one of the most important aspects of being a chef," says Chef Rhelvin Asuncion, who joined Devonshire, an Erickson Senior Living community at PGA National in Palm Beach Gardens, Fla., last spring.
But Asuncion doesn't stop there. "I am a people person," he says, "so I also enjoy developing relationships - both with the people I serve and those I work with in the kitchen."
Between the relationships he's fostered, his leadership skills, and his culinary talents, Asuncion has earned five-star reviews from those in the community.
"Chef Asuncion is a wonderful addition to our team," says Joseph Marinelli, Devonshire's director of dining. "His unique background, coupled with his love for food and strong leadership skills, ensures that Devonshire community members enjoy a truly exceptional dining experience."
Working together
Born and raised in a small town in the Philippines, Asuncion received his bachelor's degree in hotel, restaurant, and institution management - focusing in the culinary arts - from De La Salle-College of Saint Benilde. During his undergraduate studies, he traveled to the U.S. to intern at The Greenbrier in West Virginia.
"Coming to the U.S., I was most surprised by the diversity of the people I worked with," he says. "Growing up, most of the people I knew thought similarly - we shared a similar culture. In the U.S., I was surrounded by very diverse teams made up of people with their own unique beliefs. We began learning from each other. It's the sharing of cultures and personalities that makes working in a kitchen so fun!"
This appreciation and respect for others, Asuncion believes, is one of the many reasons for his success at Devonshire. As the leader of more than 20 employees, Asuncion works diligently to meet the needs and tastes of the community members they serve.
"When it comes to managing the team, I use the analogy of moving or racing a dragon boat," he says. "It's important to look at the whole picture. In order to move the dragon boat - or find success in the kitchen - everyone needs to work together to go in the same direction. I enjoy mentoring the team, leading them in the same direction."
Proudly serving others
Each of the five on-campus restaurants serves delicious, made-to-order entrées.
"I enjoy stepping out of the kitchen to visit tables as community members are dining," he says. "It's a great opportunity to get feedback and make those personal connections that are so important."
Connecting with community members is a continuous thread running through Asuncion's day-to-day activities on campus. Once a month, he joins forces with Marinelli and Assistant Dining Director Ana Arias for a dining forum with community members.
"The forums are a great opportunity to talk about what's working, any concerns or comments, and upcoming events," says Asuncion. "There is also time for community members to ask questions."
In addition to serving mouth-watering, nutritious meals, Asuncion works with the dining team to create themed dinners - most often marking a holiday or special event. These dinners are always popular, due to the team's careful attention to detail and their dedication to providing a fun, festive atmosphere.
"These dinners are truly partnerships with our community members," says Asuncion. "When we plan for the meals, our team sits down, talks, and takes notes. Sometimes, we are even given a community member's treasured recipe. This was the case with our Chinese New Year celebration. Connecting with community members, in this way, makes these celebrations so special."
It's not uncommon for his wife Alexandria, who works at Devonshire as an accounting coordinator, to visit him during these special celebrations.
"We've been married for three years," he says. "We enjoy working together. In so many ways, the community members and staff are like family - and for me, we really are."
Taste and see
Chef Asuncion is looking forward to the opportunity to cook for - and meet - future community members that will be attending the monthly informational luncheons held this summer. Guests will experience a high-quality, three-course meal, just like the dishes that Devonshire community members enjoy each day.
This summer's luncheons will begin with a light caprese salad: a mix of fresh mozzarella and sliced tomatoes, topped with olive oil and a balsamic reduction drizzle. Guests will then choose from two entrée options. The first, featuring pan seared scallops with a Dijon avocado sauce, is paired with seasoned asparagus and mushroom risotto. The second option, Bordeaux braised short ribs, is accompanied by roasted garlic thyme au jus, steamed summer vegetables, and white and wild rice. Topping off the meal is a slice of decadent chocolate lava cake.
"For anyone interested in experiencing Devonshire dining for themselves, I strongly encourage you to attend a luncheon," says Asuncion. "And be sure to say hello! I look forward to meeting you."
To learn more about affordable, independent senior living at Devonshire, request your free brochure to get the scoop on amenities, floor plans, and so much more.
Back