Staff And Residents Introduce Newcomers to The Brooksby Lifestyle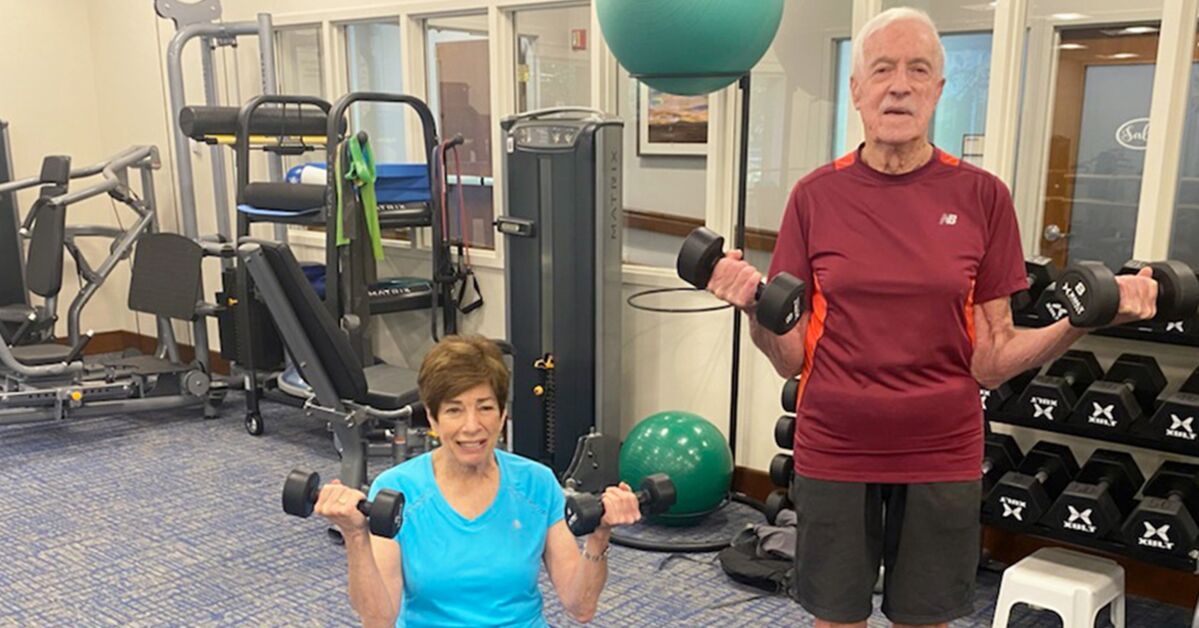 Brooksby Village, a vibrant Erickson Senior Living community on a 90-acre campus in Peabody, Mass., is filled with things to do, including a wide range of programs, classes, clubs, and groups.
That level of activity is exactly what attracted Phil and Fern Schaffer. After evaluating "most every continuing care retirement community in the metro-Boston area," they chose Brooksby specifically for its size, population, and many amenities and activities.
"We liked the fee-for-service financial model, and Brooksby was more diverse than other places we looked," Phil recalls. "We felt that it would offer us more. We liked the idea of immersing ourselves in a large resident population."
'A good feeling'
Originally from Lexington, Mass., Phil and Fern made the move to Brooksby this past May after having positive interactions during their Live the Life overnight stay, a program that allows prospective residents on the priority list to experience the community's active lifestyle first hand.
"My background is musical, as I was a music major in college. I play the piano and sing," says Fern. "When we visited, a meeting was arranged between two members of [the group] Piano Pals and myself. While we were talking, the conductor of a choral group walked by and told me about his need for experienced singers. They were so welcoming and enthusiastic; I could see myself fitting in at Brooksby. It was a good feeling."
Set up for success
Thanks to Brooksby's Welcome Home program, Phil and Fern were set up for success from day one. Comprising 11 staff members from the resident life team, the Welcome Home program provides personalized support to new residents as they embark on their life at Brooksby.
Once the Schaffers got settled in their two-bedroom, two-bath apartment home, the Welcome Home staff dropped by to ensure they learned their way around, met new neighbors, and felt at ease.
"They came to see us right when we moved in and told us who to call - if we wanted housekeeping, parking, and things of that nature," Fern recalls.
"They helped us get started with our new life at Brooksby," Phil adds. "I felt very comfortable within a couple of days. And that was from spending time here, all the people we interacted with, and the Welcome Home program."
Learning the ropes
But the guidance of kind, knowledgeable staff is even present before residents move in, notes Resident Life Director Matthew Connery.
"Our staff members in the sales office offer a lot of help during the planning stage of a move, such as helping incoming residents decide what to bring and explaining what furniture will fit in each apartment home design," explains Connery.
"Once the planning stage is over, the Welcome Home program continues to support residents throughout the rest of the transition, until each resident has successfully learned all they feel is needed to navigate the community on their own," he adds.
Learning recycling schedules, locating a designated parking spot, troubleshooting Wi-Fi, testing the washing machine, and navigating the handy My Erickson® app - accessible to all Brooksby residents via a smart device - are all aspects of community life that the Welcome Home program assists with.
Beyond Welcome Home
A natural extension of the Welcome Home program is Brooksby's Ambassador program, which connects new residents with knowledgeable, current residents, known as ambassadors. Ambassadors offer valuable insights and advice based on their own experiences, all while introducing new movers to other residents at the community's restaurants and other gathering places.
And, of course, new residents are free to explore all that Brooksby has to offer on their own. Soon after their move, Fern and Phil began taking advantage of the community's many activities and amenities.
Phil is on Brooksby Village TV's monthly Sports Talk program, is a member of the climate change group, and works out every day in the fitness center. Fern attends Pilates classes and visits the fitness center, as well. She also enjoys playing the baby grand piano they brought along to their new home.
"We had a lot of questions, and they were very responsive," says Phil of the Welcome Home staff members. "It was a positive and helpful experience."
To learn more about affordable, independent senior living at Brooksby Village, request your free brochure to get the scoop on amenities, floor plans, and so much more.
Back