Sales Counselor Suzanne Roche Shares Her Love of Brooksby with Others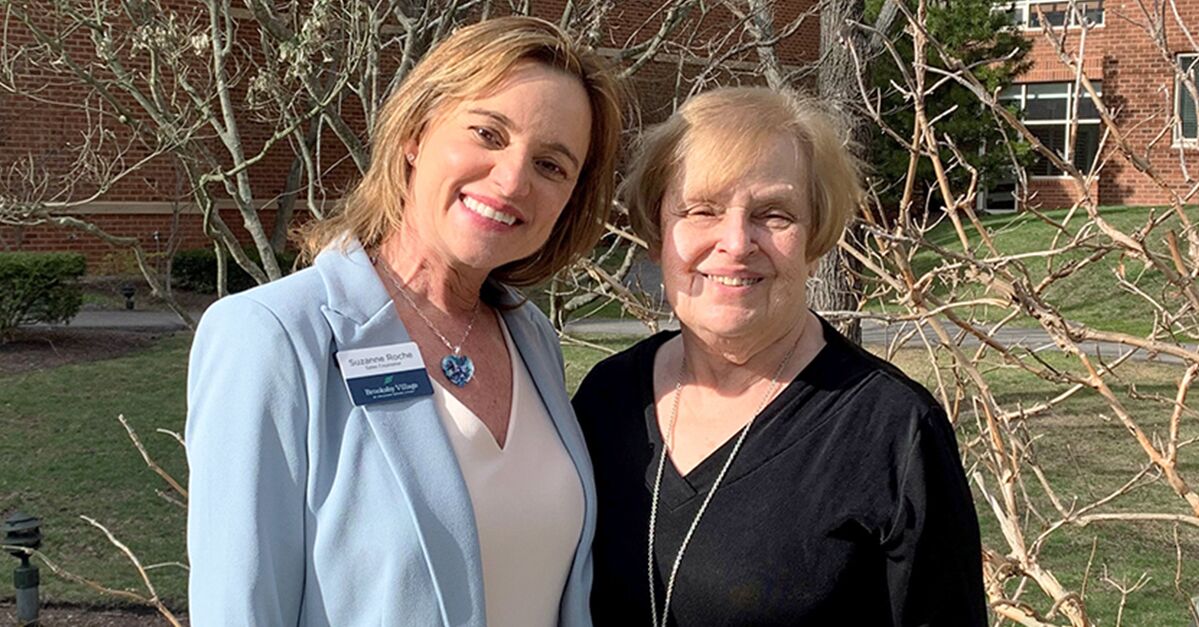 Suzanne Roche can't help but chuckle when she reflects on her résumé.
"Somehow, I went from selling handmade, custom ballet flats for a Lawrence, Mass., shoemaker to helping retirees find their perfect apartment homes," says Roche, a sales counselor at Brooksby Village, an Erickson Senior Living community in Peabody, Mass.
While her career path didn't follow a straight line, she's glad her knack for sales led her to a vibrant, welcoming community that helps seniors live better lives.
"I'm proud to 'sell' the Brooksby lifestyle because it's truly such a wonderful place to live!" she notes.
An epiphany
"I always had ballet shoes in the back of my car - in a pink suitcase," recalls Roche, with a laugh. "I would take orders and the shoemaker would make the shoes. I sold tons and tons of shoes every week. I started doing shoe parties at people's houses too."
Later, as a busy mother of three, Roche took up a part-time position as assistant manager at J.L. Coombs, a shoe store near Boston.
"Then, I sold ad space in a luxury lifestyle magazine. I did that for five and a half years," she explains, "until one day, I had a sort of epiphany. I decided to look for a new job where I could use my sales experience to help people. That's how I got started in senior living."
Following sales positions at memory care and assisted living communities, Roche saw an opening for a sales counselor at Brooksby.
"I was reading the description and thinking, 'This is perfect for me,'" she says. "The rest is history!"
Priority list perks
Now, Roche's typical day at Brooksby includes meeting with prospective residents and their families, giving tours of the 90-acre campus, highlighting the array of floor plans, and managing the community's priority list.  
Priority list members gain a number of perks - the most significant being right of first refusal on a desired apartment home.  
"The day you join the priority list is your priority date," Roche explains. "As apartment homes become available, members are contacted based on their priority dates. So, I spend a lot of time managing the list, figuring out who is next in line for the apartment homes in our inventory."
Diana "Yana" Shapiro, a new Brooksby resident, was a native of Haverhill, Mass., when she joined the community's priority list.
"I had known about Brooksby Village for years, and I knew people here. I finally decided I needed a change," notes Yana. "When my sister was visiting from Florida, she wanted to come along for the tour too. Suzanne talked to us about the advantages of moving to Brooksby, and I immediately decided, 'I'm going!'"
Meaningful connections
Yana, who couldn't be happier in her spacious one-bedroom apartment home, has nothing but amazing things to say about Roche.
"Suzanne was fabulous! She is the epitome of a salesperson," says Yana. "She knew exactly what I wanted, and my apartment home is just beautiful. I have a wonderful view."
Yana's sister also joined the priority list and hopes to move to Brooksby in a couple of years.
"Every time I see Yana, she tells me how much she loves her new life here. I look forward to helping her sister select her dream apartment home too!" says Roche. "That's the best part about being a sales counselor here - helping people select the perfect place so they can enjoy the fulfilling, worry-free retirement they deserve."
Sales Director Gina Fernandez agrees with Yana, noting that Roche's sales expertise and relationship-building skills bring a lot of value to the team.
"She has a way with prospective residents and their families. Her ability to connect with people of all ages and backgrounds, and put them at ease, is remarkable," Fernandez says. "From the initial sales appointment to reserving an apartment home, she really gives each person her time and attention."
Home sweet home
When Roche isn't meeting new faces at the community, you'll find her attending college sports games, reading, practicing yoga, or walking on Rye Beach.
North Andover, Mass., and Rye, N.H., are both considered home to her and her husband Mike. The two met in college and have been married for 29 years.
"Our three children are grown, but Ryely, our seven-year-old Goldendoodle, gets in enough trouble," she says.
To learn more about affordable, independent senior living at Brooksby Village, request your free brochure to get the scoop on amenities, floor plans, and so much more.
Back