Imaginations Run Wild in Brooksby Village's Writing Clubs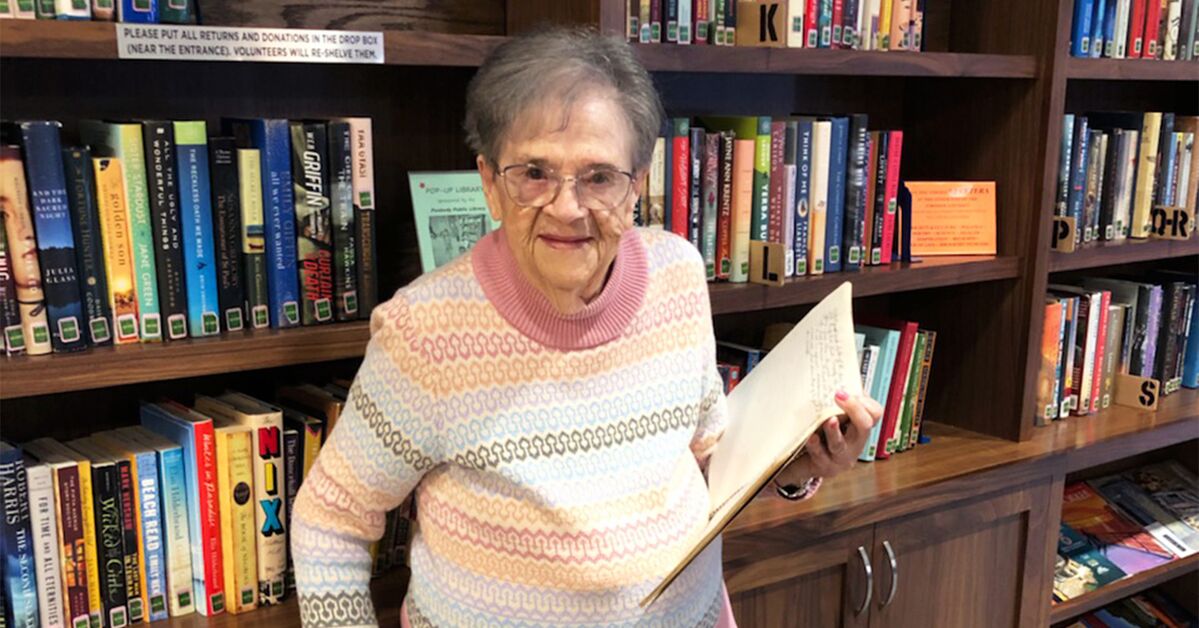 Peabody, MA -  Ready to spread your creative wings after emerging from the cocoon of winter? At Brooksby Village, an Erickson Senior Living community in Peabody, Mass., residents are doing just that by getting involved in writing groups.
Like all Erickson Senior Living communities, Brooksby Village offers a wide range of activities. From fitness and meditation classes to clubs for just about every interest and hobby, such as the Imagine That! writing group, residents maintain jam-packed calendars.
Resident Marion Connuck, founder of Imagine That!, says that the community's lively atmosphere is what she loves most about her home.
'Anything goes'
Soon after moving into her maintenance-free apartment home nine years ago, Marion signed up for an on-campus writing class given by a local community college. Despite never having an interest in storytelling, that class sparked a new passion for Marion - a passion she wanted to share with neighbors.
"I enjoyed the creative writing class so much," recalls Marion, "so I asked the resident life team if I could start a creative writing club. We started out with just two people, but here we are, still going strong!"
Marion models Imagine That! club meetings after the class she took. Each meeting begins with a simple phrase, which is used as a writing prompt to spark writers' creativity.
"These phrases often produce surprising and delightful results. A recent prompt was, 'What's the word?'" she notes. "You can write anything, for 20 to 25 minutes, using the phrase as inspiration. Once everyone's done, we discuss what people wrote. That's how it goes. Anything goes, actually! And it's just plain fun."
Keeping the mind sharp
Marion says the free-form writing practice works best with a small group, as it allows time for writers to share what they've written in detail, if they choose.
The group meets twice a month. "Sometimes there's a few of us, and other meetings, we're up to about ten members," says Marion. "No matter how many people show up, it's fun getting to know each other. Our meetings always lighten and brighten up the day."
Marion notes that many Imagine That! prompts can be challenging, which helps keep the mind sharp.
"I've reached the point where I'm losing a few words here and there," she says, with a laugh. "So, these meetings push me and my mind! I'm compelled to write something, and something comes out - whether good, bad, or indifferent."
A multitude of benefits
Matthew Connery, resident life director at Brooksby Village, notes that participating in writing clubs has a variety of benefits.
"When it comes to well-being, writing clubs check many boxes for residents," says Connery. "Naturally, there's a social, collaborative experience in gathering with people who share a common interest. On top of that, there's an array of brain-related benefits. Whether writing for a creative or intellectual pursuit, it's an introspective exercise that helps process the world around us."
Sarah Lenz Lock, executive director of AARP's Global Council on Brain Health, couldn't agree more.
"Brain-stimulating activities, including reading and writing, especially if they challenge your ability to think and reason, are powerful ways for a person to positively influence their brain health as they age," Lock says. "And, as an added benefit, participating in a writing or book club can decrease the negative impacts of social isolation on your brain."  
Connery adds, "Every study about aging points to the importance of activities, as they are instrumental in helping us continue to learn, stay engaged, and remain active."
Marion says that, in addition to offering a creative outlet, she's glad that Imagine That! serves as a place where residents can meet new people and make friends with similar interests.
"Brooksby also offers another resident-led writing group, Writers Helping Writers, which meets twice a month," notes Connery. "But if neither of these writing clubs pique your interest, the resident life team is always willing to help new residents create groups of their own."
Choose your own adventure
Since starting Imagine That! nearly a decade ago, Marion has filled up many notebooks with adventures and tales of faraway lands. 
"It's amazing, the different things we come up with. I figure I'll pass my stories onto my kids; let them pick out what they want," says Marion, who appreciates the free time she's gained to pursue her newfound passion.
To learn more about affordable, independent senior living at Brooksby Village, request your free brochure to get the scoop on amenities, floor plans, and so much more.
Back