Enjoying The Great Outdoors at Brooksby Village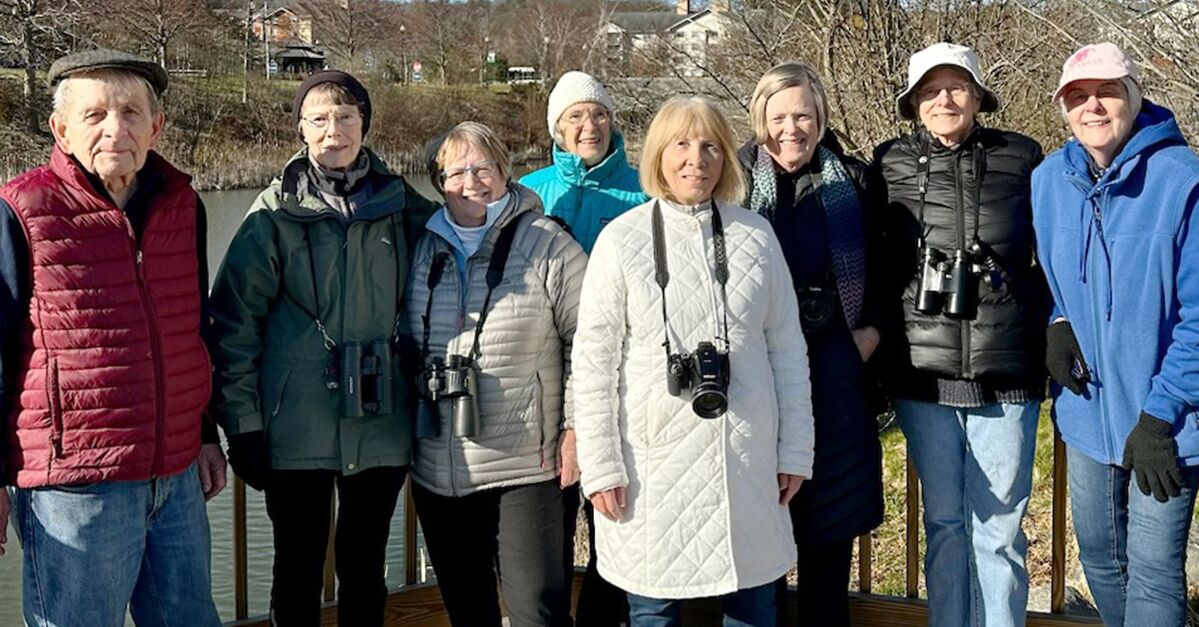 Southern Maine native Wendy Pirsig was looking for a home closer to family when she discovered Brooksby Village, an Erickson Senior Living community in Peabody, Mass.
As a lifelong nature lover, she was impressed by the community's array of outdoor amenities. Soon after moving into her apartment home in 2019, she was meeting new neighbors and exploring her new home.

"I have always loved nature, so I value the fact that Brooksby's 90-acre campus borders a 275-acre working orchard and woodland preserved by the town of Peabody," says Wendy. "This affords Brooksby residents some interesting wildlife, and the water that flows through campus is on its way to the Atlantic, about five miles away. It all gets me outside - year-round!"
Fitness Manager Rokia Paone adds, "We have access to the amazing Peabody Rail Trail that abuts our property and runs through the surrounding towns. It is available to everyone, and there is a resident-run group that meets once a week to go for a walk. It's perfect for biking, walking, or running."
Active lifestyles
Research has shown that spending time outdoors supports physical and mental well-being as well as overall happiness. For Brooksby residents like Wendy, these benefits begin just steps from their front doors.
From outdoor active spaces such as well-manicured walking paths to entertainment like summer evening open-air concerts, the opportunities are everywhere!
Brooksby Village prides itself on offering safe, accessible outdoor environments that encourage residents to get active and socialize. By taking advantage of these amenities, residents can feel more energized and have greater focus and stamina.
"Having an array of outdoor amenities so accessible is a key component to supporting residents who want to be active and maximize their well-being," says Resident Life Director Matthew Connery. "Sunlight, fresh air, and, crucially, purpose is integral to health. Brooksby works to have all the resources residents need to support them and inspire their activity."
Outdoor amenities abound
Brooksby's aquatics center also features a wrap-around patio, perfect for relaxing after a swim in the pool or dip in the spa. Garden allotments appeal to green thumbs, and for those with a competitive spirit, the horseshoe pit, putting green, bocce ball, and shuffleboard courts are always busy.
Wendy, also an avid birder, enjoys strolling along the walking paths that surround the ponds.
"I participate in weekly birdwatching on campus with other residents," Wendy says. "I also enjoy the two hiking trails that connect to Brooksby. Sometimes I walk with resident-led groups, sometimes I walk on my own - usually slower, with binoculars and a phone camera in hand!"
For Wendy, outdoor activities allow her to soak up some fresh air and sunshine, get in some healthy movement, and, most importantly, interact with fellow nature lovers.
"I love being active outside at Brooksby Village," she says. "I'm grateful to live in a community that hosts diverse ways for me and my friends to experience nature."
Connecting the community
To promote the sights and sounds of the lush community, Wendy works on Nature Alert, a resident-led newsletter that was launched last year by the Friends of the Ponds.
Nature Alert features photos, taken by both staff and residents, of the variety of flora and fauna found on campus. It's emailed out once or twice a month - for free - to about 250 recipients.
A recent issue included stunning, colorful photos of a hummingbird moth taking off by Martin Riddle, a female ruby-throated hummingbird in flight by Rhonda Culbert, a green heron at the upper pond by Katherine Holian, and a great blue heron spreading its wings by Debbi Collar.
Other critters discovered among campus wildlife include ducks, bunnies, birds, bees, and even a swimming muskrat.
"Thanks to knowledgeable residents, who have become good birdwatching friends, I've even learned to spot some species of birds, butterflies, plants, and insects that I never knew before moving here!" says Wendy.
Get outside!
Thanks to resident-led efforts and investments in outdoor spaces, an increasing number of Brooksby residents are finding ways to spend time outside, which is proving to be an integral part of their active, worry-free lifestyles.
"All these activities help keep my body feeling better and my spirits up," Wendy says. "At Brooksby, I feel connected to the world of nature - and to neighbors and friends who enjoy noticing plants and animals just as much as I do."
Invest in your future self at Brooksby Village. From top-notch amenities to affordable, maintenance-free apartment homes, you are sure to live your retirement to the fullest. Request more information today!
Back