Electric Car Test-Drives Spark Interest at Brooksby Village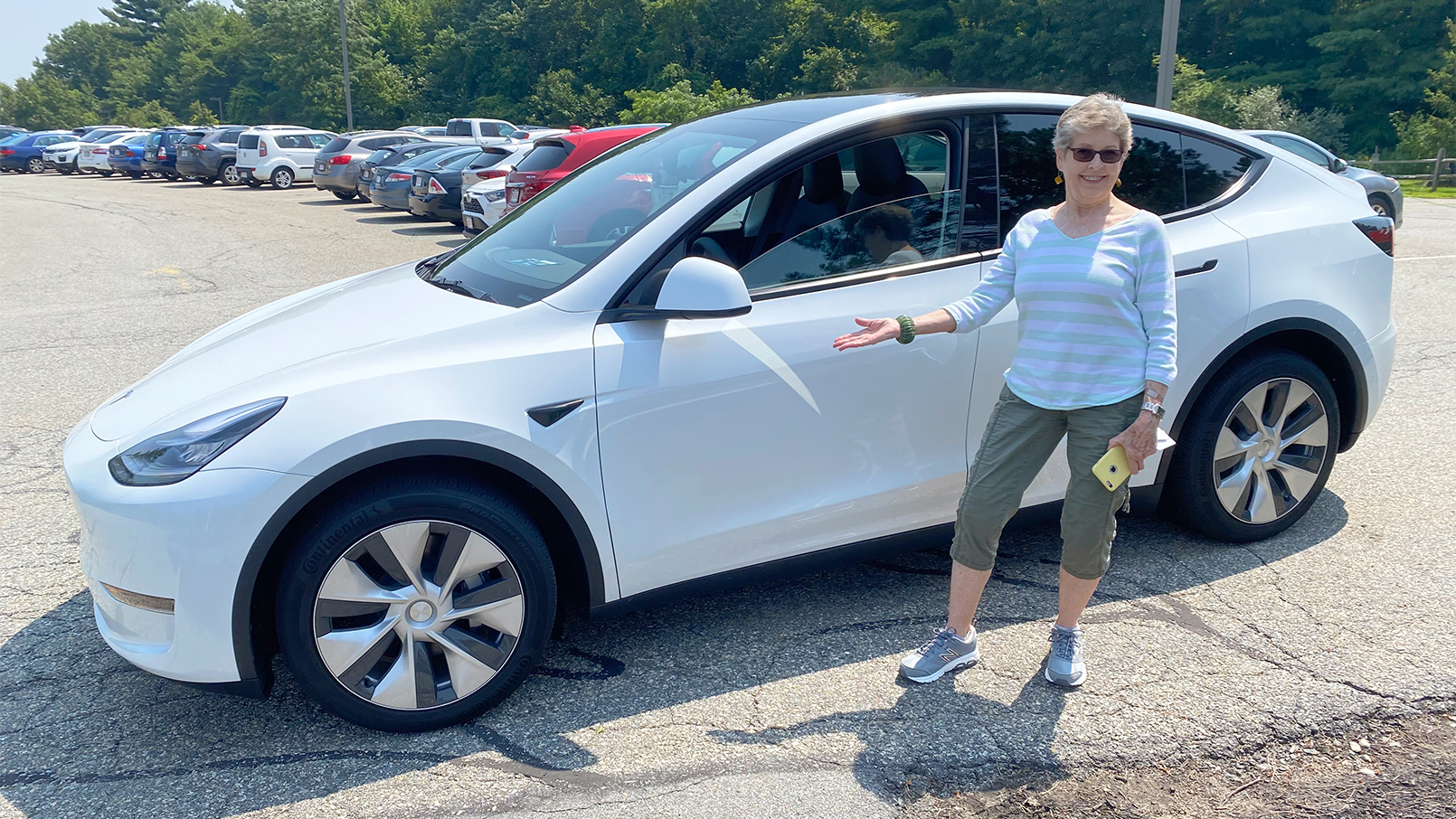 When Bardwell "Bard" Salmon moved to Brooksby Village, an Erickson Senior Living community in Peabody, Mass., his passion for addressing climate change came with him.
As the founder and former CEO of an environmental software company, Bard has long been dedicated to making the world a better place. So, after settling into his apartment home at Brooksby three years ago, he didn't waste any time joining the resident-led current events group.
There, Bard met many like-minded individuals, but he was determined to foster something more focused on climate change and its current and future effects. With help from fellow environmental stewards Marty Riddle, Ron D'Addario, Priscilla Cobb, and Sandy Brown, the climate change group was born. 
At the time, Bard had no idea that their club, directed at creating initiatives that might engage and educate residents on climate change, would lead to something greater - a Tesla test-drive program.
Change in the air
Brooksby Village offers more than 150 groups and clubs, but with some staff support, it's easy for residents to start new activities of their own - and Bard would agree.
"We formed the group in the beginning of 2021, and our objectives were twofold," Bard explains. "One, to educate people at Brooksby Village, and two, to bring about whatever change we could that related to climate change."
Their first initiative was to develop a monthly presentation on Brooksby's TV station, TV919, to help residents learn more about electric vehicles.
Spark of inspiration
When brainstorming a second initiative, Bard and the group considered the technology in their own lives that has had a positive impact on the environment.
Bard previously owned two Toyota Prius hybrid models, while Marty currently drives a 2020 all-electric Chevy Bolt. They wanted other residents to consider purchasing electric vehicles, as opposed to fossil fuel-burning vehicles - one of the biggest emitters of greenhouse gases, which contribute to climate change.
"I remember thinking, 'The first thing we need to do is educate residents on what an electric car is like,'" Bard recalls. "Our goal was to have as many people as possible either drive or ride in an electric vehicle just to increase awareness."
In partnership with a Tesla store in Peabody, the group managed to get a test-drive program up and running.
Getting the green light
Bard, Marty, and Ron visited a local Tesla store, where they took a lengthy test-drive to familiarize themselves with the car, while local Tesla advisor Andrew Licht worked on scheduling and supplying a vehicle for the community to use.
"We came back pretty enthusiastic about getting this program going," Marty says. "Bard, Ron, and Sandy did a lot of work on it. I was the point person, communicating with the dealership. And once it became crunch time, Priscilla did all of the phone calls and scheduling."
In summer of 2021, the electric car test-drive program hit the road. Residents could sign up to take a test-drive in the driver's seat or experience the electric car from the passenger seat. There are stringent requirements for safety and liability, including proof of a valid driver's license and current auto insurance.
"We have a parking lot right next to a gazebo. The gazebo was a great place for people to meet before their test-drive," Marty says. "I could talk up electric cars there while someone else was doing a test-drive. It all went very smoothly."
Making a difference
"I talked to a number of people who said, 'Well, electric cars are amazing,'" Marty explains. "Then the obstacles of charging still come up. But we're making some baby steps!"
In addition to about 50 residents, Brooksby Village Executive Director Tracie Bettano enjoys participating in the program.
"At Brooksby Village, residents have the opportunity to pursue their interests and expand on them by forming their own groups," says Bettano. "This program is a great example of how those pursuits impact the overall vitality of our community. The group's educational resources, coupled with this type of hands-on experience, creates a positive impact as well as a conversation."
"Our climate change group is pretty passionate about reducing the carbon footprint of people who live here," Marty says. "We wanted to home in on it, and we've made a little dent."
A third initiative - an electric car show, with a variety of electric vehicles for residents to peruse and test-drive - is already in the planning stages.
"We have a shared interest in the group's goals," adds Bettano. "We're adding additional charging stations to the community, and we're moving toward hybrid or electric options as we replace sedans in our Brooksby fleet."
To learn more about affordable, independent senior living at Brooksby, request your free brochure to get the scoop on amenities, floor plans, and so much more.
Back