Brooksby's Upgraded Amenities Support Residents' Overall Well-Being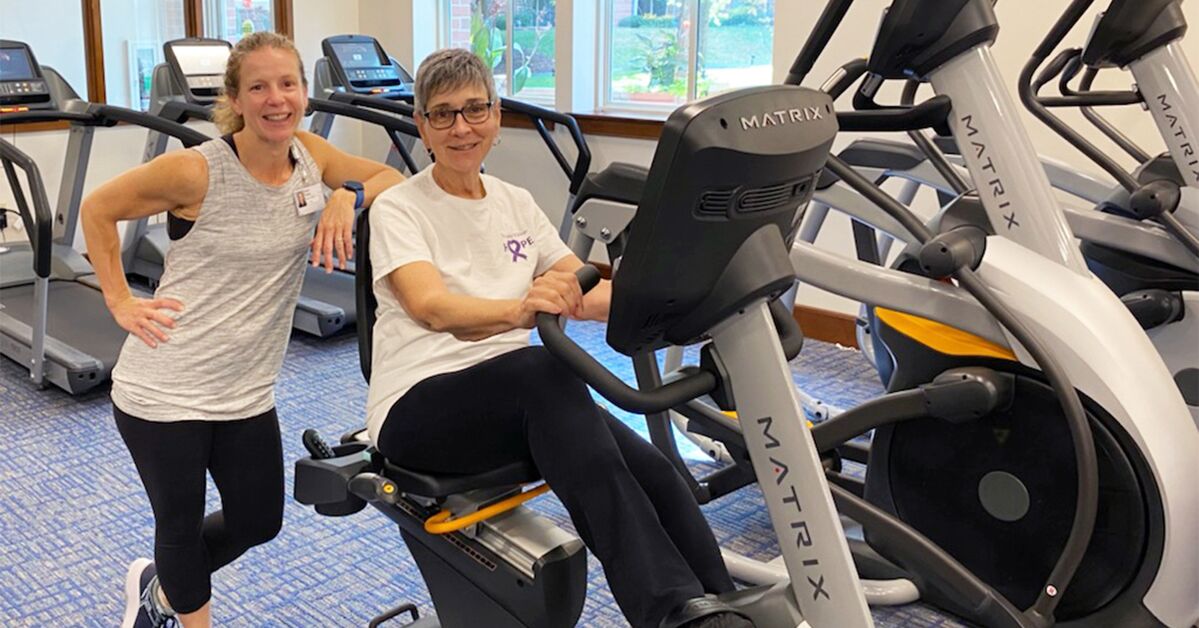 Being active is one of the best ways to enjoy a fuller, more gratifying life. At Brooksby Village, an Erickson Senior Living community in Peabody, Mass., residents are finding it easier than ever to get involved!
Brooksby's state-of-the-art fitness and aquatics centers offer an abundance of opportunities that support physical, mental, and spiritual well-being. From relaxing classes like hatha yoga and guided meditation to invigorating workouts like aerobics, boxing, and the ever-popular pickleball, residents find a range of ways to better their overall health.
In fact, many residents - like Margie Chase - ultimately chose Brooksby because of the community's high engagement level.
'Sense of community'
"My apartment home is one floor up from the fitness center," says Margie. "I just walk down the stairs, and I'm there. It's perfect for me!"
Margie loves working out with free weights and weight machines. And while she never practiced yoga before her move to Brooksby, Margie now enjoys classes for chair yoga, tai chi, and sometimes meditation - when she can fit it into her busy schedule.
Staff- and resident-led programs like these allow Brooksby residents to branch out, stay active, and form new friendships.
"Many residents tell me how much they appreciate all there is to do here," says Melissa Luke, Brooksby's resident services manager. "Living in a community offers a chance to socialize, which reduces feelings of loneliness. And belonging to a group of people with similar interests increases overall well-being, as well."
Margie agrees. "It's been wonderful. I've found Brooksby to be very welcoming," she says. "You get a real sense of community."
Enhancing well-being
This year, Erickson Senior Living provided a multimillion-dollar investment, through its Well-Being Fund, to support the addition of enhanced health and well-being programs and services to residents.
Incorporating findings from the company's research partnership with Harvard University and the Benson Henry Institute (BHI) for Mind Body Medicine at Massachusetts General Hospital, these additions are designed to enhance the physical, emotional, and social well-being of residents.
In 2021, residents at selected Erickson Senior Living communities participated in the Embrace Well-Being and Flourish study, which used the BHI's SMART (Stress Management and Resilience Training) curriculum to provide them with practical strategies for managing stress and improving resiliency. Results of the study showed statistically significant changes, including increases in resilience, coping, and positive emotions, while decreases in distress and social isolation were seen.
"Through the Well-Being Fund, we are able to apply evidence-based research to further enhance the programs, amenities, and services available to better enable residents to achieve optimal health outcomes," notes Dr. Margaret Kimbell, vice president of community living for Erickson Senior Living.
Seeing the investment
Residents at all Erickson Senior Living communities now have greater access to tools and strategies that support resilience and overall health and well-being. Examples include Wellbeats, a new fitness app which allows residents to participate in on-demand and live exercise, yoga, and meditation classes from any location.
"The pool was refurbished, too, and it looks great!" says Margie. "One of the trainers even showed me some water exercises I could do on my own. So, I'm enjoying that too - a new avenue of physical fitness that was different from what I did before."
In addition, Brooksby's recently renovated, state-of-the-art fitness center received new NuStep recumbent cross trainers, Matrix strength and cardio equipment, and Echelon spin bikes, as well as one-on-one fitness instruction.
"I went through the orientation and then I began using the new equipment, like the NuStep machine," Margie adds. "Everyone's so helpful and supportive."
Get engaged
Above and beyond these fitness offerings are Brooksby's many opportunities for social and spiritual engagement.
"Finding common interests with others is the first step," Luke says. "Whether you join an activity-based group - such as pickleball, bocce, bowling, or bird watching - or a hobby-based group like knitting, you are sure to make fast friends."
"Mental and spiritual well-being can be found in walking through our labyrinth, taking an art or meditation class, or seeking out pastoral services," adds Luke. "Participating in activities and belonging to a group offer the opportunity to socialize and, of course, have fun!"
Invest in your future self at Brooksby Village. From top-notch amenities to affordable, maintenance-free apartment homes, you are sure to live your retirement to the fullest. Request more information today!
Back