Brooksby Village's New Dining and Amenity Spaces are Turning Heads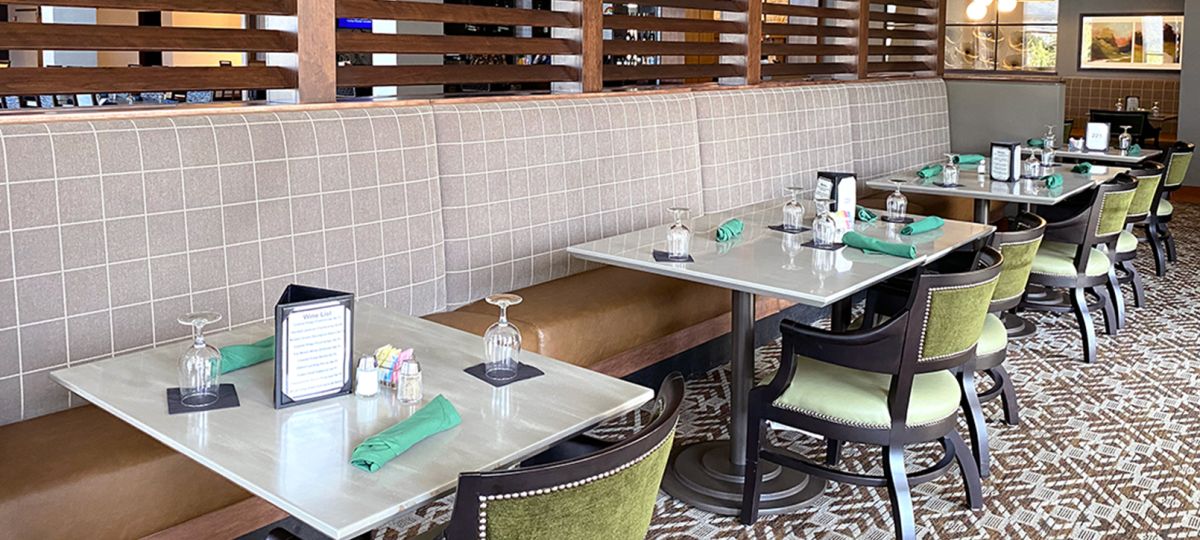 Take a stroll through Brooksby Village, an Erickson Senior Living community in Peabody, Mass., and you'll notice fresh, clean lines and bright pops of color livening up the atmosphere, as scheduled renovations and exciting new additions are completed.
The Tannery, one of Brooksby's newest additions to its range of dining options, welcomes residents with eye-catching décor, signature cocktails, small plates, and other gastronomic goodies. Diners can also avail themselves of the "community table," where residents can meet for food, friendship, and conversation.
'Casual yet upscale'
"People are really loving the Tannery," notes Sales Director Gina Fernandez. "The menu gives it more of a boutique restaurant feel - with a beautiful bar. Everything about it has a casual yet upscale vibe. The menu was created to match that feeling."
Curious about the Tannery name? According to the Peabody Leatherworkers Museum, the area has been known for its leather production and tanneries, going back as far as the original Native American settlements.
You'll find the same comfortable yet elegant vibe in the Windsor restaurant. Associate Executive Director Justin Paradis says both venues were designed to host more intimate dining experiences.
"We have two newly renovated dining options. The Windsor's layout, which was originally very large and open, now has smaller seating areas. Decorative wall dividers and banquette seating has freshened up the space a lot," Paradis says. "We have a mix of table sizes and styles, all of which create a contemporary feel. The color schemes and the finishes feel like what you would find in a new restaurant opening downtown."
The Windsor's offerings include appetizers, salads, sandwiches, burgers, and entrées that reflect popular favorites and regional flavors. In the mood for a signature cocktail to top off the evening? Just steps away is the Tannery's handsome bar, where residents come to relax and socialize.
No need to dine alone
Unique to the Tannery dining experience is the long "community table." With seating for about a dozen hungry guests, residents are encouraged to take a seat - and watch the active, social nature of the community take over.
"This is a big hit - and a new concept for us," Paradis says. "If you don't have plans to dine with someone, you don't have to worry. The 'community table' not only removes some of the social anxiety, but it gives you an opportunity to engage with others who are dining on their own. It's been amazingly popular."
Resident Judy Selesnick loves the new upgrades at the Town Center, especially the Tannery.
"I think the 'community table' is a great idea," she says. "Sometimes, you want to go to one of the restaurants, but you don't want to sit by yourself. It's also a wonderful thing for new people who have recently moved in and haven't had a chance to form a lot of friendships. Even if you are a couple, you can meet people there."
She adds, "It's busy every night. It's a wonderful idea that has really caught on."
Upgrades everywhere
The Tannery and the Windsor aren't the only spots on campus that are getting freshened up. The Town Center and its adjacent neighborhoods are getting upgrades to achieve a bright, new look as well.
"We're renovating the entire campus - all four neighborhoods," Fernandez says. "All the residence buildings are getting new carpet, new paint, new artwork, and furniture."
The Town Center's shared spaces can also be found on Brooksby's list of renovations, as amenities and resources are being reimagined to better serve the growing community. The lobby gained an open and airy vibe, while the CVS - now full-service - is even larger to include more convenience store items and food offerings. Likewise, the fitness and aquatic centers were overhauled. Upstairs, there is a new lounge area, and all activity spaces - such as the crafts room and a new conference room - were redesigned as flexible, multipurpose rooms to accommodate a variety of activities.
Continued growth
Kingsbury Clubhouse is next up for renovations. And with residents voicing such high praises about the Tannery, Kingsbury's plans include another casual, boutique- or bistro-style restaurant.
"We did a lot of research before making any of these changes," Fernandez says. "And ultimately, the results influenced the choices made. Future renovation plans include our outdoor spaces - new pickleball courts, a stage at Kingsbury, outdoor dining, fire pits, and fountains. So, there are a lot of really exciting things in the works!"
To learn more about affordable, independent senior living at Brooksby Village, request your free brochure to get the scoop on amenities, floor plans, and so much more.
Back