Brooksby Village Residents Take Advantage of Beautiful Outdoor Amenities On Campus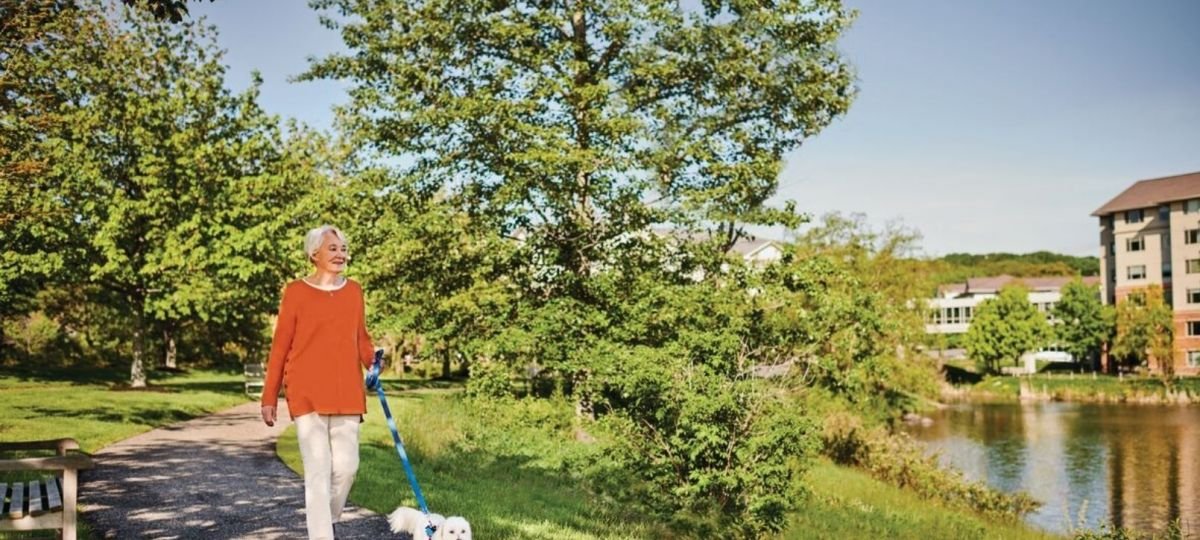 Nestled on 90 picturesque acres, Brooksby Village, an Erickson Senior Living managed retirement community in Peabody, MA gives residents the chance to soak up the community's natural beauty. Rock ledges, woodlands, and wetlands create distinctive backdrops for the daily bustle of community life.
"We offer valuable opportunities to spend time outdoors as part of our distinctive lifestyle with a focus on health and well-being," says Sales Director Suzanne Davis. "Residents can participate in the outdoor activities they enjoy most, independently or while socializing with other community members, all without the burdens of maintaining their own house and yard."
Residents enjoy a variety of outdoor leisure activities, from walking and biking paths and nature trails to gardening, horseshoes, photography, social events, and other programs, all just steps from the door of their apartment home. "Our community was designed to include outdoor amenities and activities to support our residents' active lifestyles," says Davis.
Gardening is good medicine
Dick and Carol Profio moved to Brooksby in 2015 from Chelmsford, Mass., where they maintained a large garden. Now, the couple have their own garden patches at Brooksby, where they grow peppers, tomatoes, zucchini, summer squash, green beans, grape tomatoes, carrots, and asparagus. "One of my favorite activities is to watch the gardens as they grow," says Dick. "Carol and I have mostly vegetables, but it's also fun to walk up and down the garden rows and see all the flowers and plants other gardeners have planted. It's good to enjoy the sun and fresh air. Then, when the vegetables are ripe, we pick straight from our garden to enjoy later that day." For Carol and Dick, socialization is another key benefit of spending time outdoors. "You meet people in the gardens and start to talk," says Carol. "That's how you get to know one another."
More to explore
Just beyond Brooksby's borders are additional expanses for residents to explore and enjoy. The Danvers Rail Trail is a 4.33-mile path linking downtown Danvers with the neighboring towns of Peabody, Wenham, and Topsfield. It runs adjacent to Brooksby, giving residents easy access to the shaded path through a gate on the community's northwest side. The trail is built along the former Boston and Maine Railroad and is maintained by a group of volunteers. The green corridor is ideal for walking, biking, and jogging. To the southeast of the community lies Brooksby Farm, a 275-acre working farm managed by the City of Peabody. Brooksby residents can access the farm through a gate between the two properties. "The lifestyle at Brooksby Village gives residents more time and opportunity to enjoy all the benefits of time spent outdoors," says Davis. "One of the most significant highlights of our community is safe, convenient access to beautiful and well-maintained outdoor spaces and amenities."
Don't wait to begin exploring vibrant senior living at Brooksby Village. Request a brochure.
Back