Brooksby Village Residents Enjoy an Array of Exceptional Culinary Experiences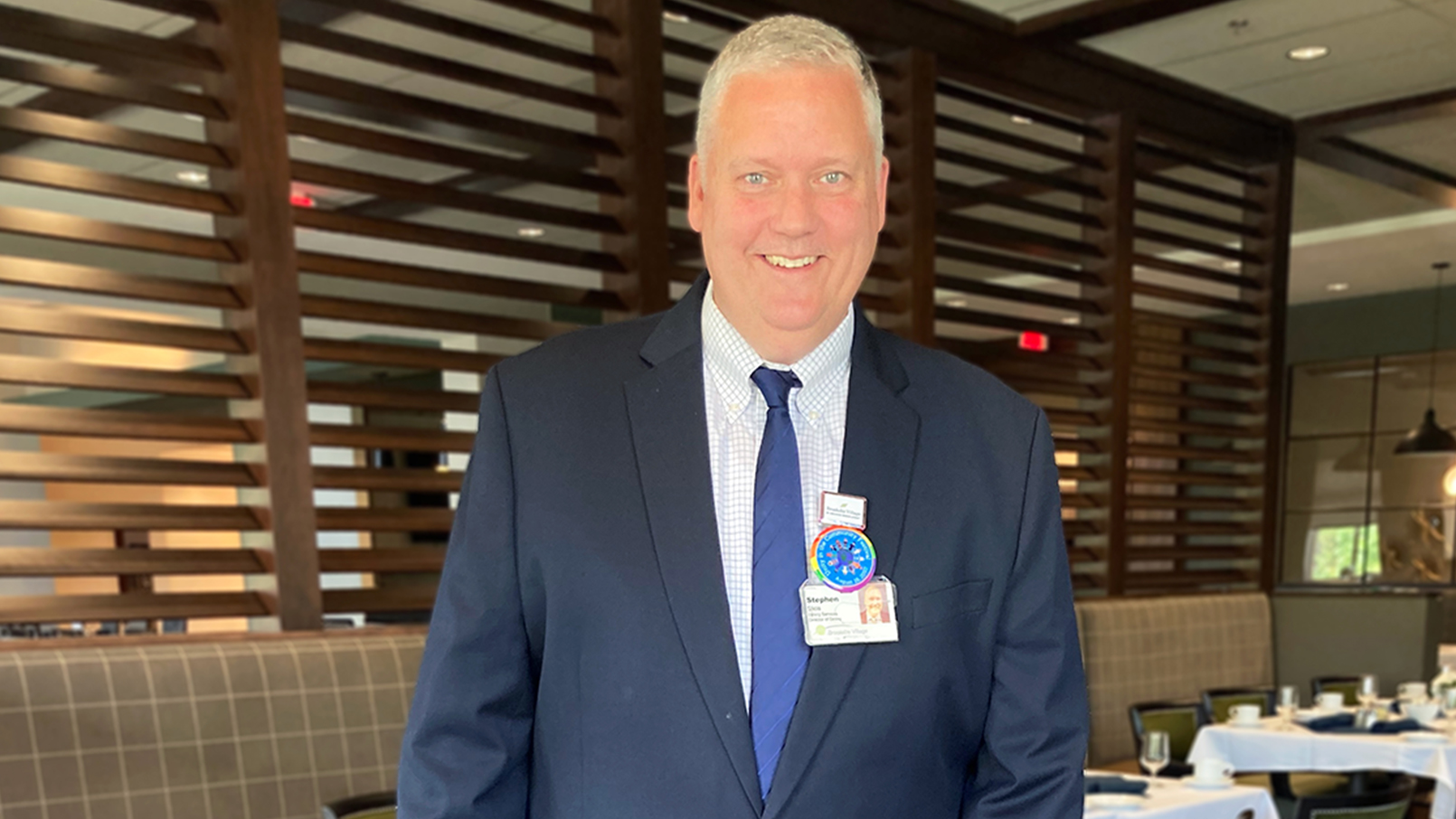 Enjoying a delicious meal is such a simple, yet satisfying, pleasure. At Brooksby Village, an Erickson Senior Living community in Peabody, Mass., residents delight in taste bud-tingling dishes every day of the week.
With six dining venues on campus, Brooksby residents relish true restaurant experiences. And thanks to the Signature Dining program, culinary professionals are serving up made-to-order, flavorful meals, crafted with the freshest ingredients from local vendors.
Variety, another key component of dining at Brooksby Village, also draws residents to the community's restaurants. Expert chefs regularly update menus to feature new selections, regional favorites, vegetarian dishes, and healthy lifestyle choices. There's something that everyone can enjoy.
The best part? Residents say that socializing with neighbors, family, and friends at different dining styles - ranging from bistro-casual, upscale-formal, and even alfresco dining - is the spice of life.
Collaboration matters
As a retired personal chef, resident Mary Lewis appreciates Brooksby's culinary choices. With an expansive background in menu planning and food preparation, her exclamation "I like food!" is an understatement.
Mary, who moved to Brooksby Village in 2018, was eager to join the menu subcommittee of the Resident Advisory Council (RAC), which fosters collaboration between residents and staff.
"Along with the dining committee, the menu subcommittee looks at what's on the menu, where ingredients are sourced from, and passes along comments from residents to the dining team," Mary says.
"We welcome feedback!" says Stephen Slicis, director of dining services at Brooksby. "We want everyone to look forward to an extraordinary experience each time they dine with us. Having their input really helps us personalize their dishes, their service, their menu choices … everything."
The freshest ingredients
"Quality is one of our pillars," adds Slicis. By using in-season produce and locally grown meats and dairy, the talented, creative chefs at Brooksby elevate the community's cuisine.
"Apples, berries, tomatoes, broccoli, kale, squash, zucchini, and most herbs are from local vendors," Slicis says. "Dairy products come from Garelick Farms in Franklin, Mass., ice cream comes from Hood out of Boston, and some of our beef comes from Buckhead Meat of New England."
And with the Atlantic Ocean just a few miles away, it's no surprise that fresh fish and seafood also make an appearance on restaurant menus.
Executive Chef Sara MacLean says that as the seasons change, the regional food offerings change too. "This fall, the menus at Brooksby Village dining venues will reflect the season's best, including pumpkin bisque and hearty pot roast," MacLean says. "And we will be featuring homemade apple crisp with local apples at our Windsor and Overlook restaurants."
To create the greatest variety, the culinary team ensures that as new menu items are added, each restaurant maintains its own personality. Diners can choose where they want to eat based on the desired experience and menu.
The Tannery, Brooksby's sixth and newest restaurant, is an upscale bistro, delivering a fun, stylish, and convenient option.
Nutrition information
Residents can preview menus, check out meal plan balances, and access nutrition information about entrées through the My Erickson® app, which is accessible to residents on any smart device.
The app is also a straightforward and easy way to make reservations for two - or for a group of friends - at favorite spots, including the Overlook, the newly renovated Windsor, the Tannery, and the Harvest Grille.
For those with special dietary considerations, menu choices also include vegetarian, gluten-free, low-sodium, and low-sugar options. Restaurants recently introduced plant-based alternatives, such as Beyond Burger and Beyond Sausage. And vegetarian options, like potato masala and vegetarian tofu stir-fry, are available.
Something for everyone
Among all the restaurants' menu options, comfort foods top the list of resident favorites - Yankee pot roast and American chop suey always earn rave reviews. Filet mignon, salmon, swordfish, steak tips, and pasta with shrimp are honorable mentions.
With the holiday season approaching, residents are looking forward to sharing a joyful, meaningful meal with family and friends - without the chores of meal planning, shopping, preparing the food, and cleaning up.
A Seder meal will be available for Jewish residents and their guests, and special holiday menus will be offered for Thanksgiving, Christmas, and New Year's.
To taste Brooksby's festive and flavorful dining options for yourself, Sales Director Gina Fernandez recommends reserving a spot at one of the community's monthly informational luncheons.
"Our luncheons are a great way for guests to enjoy many of the same menu items our residents choose from daily," she says.
Invest in your future self at Brooksby. From top-notch amenities to affordable, maintenance-free apartment homes, you are sure to live your retirement to the fullest. Request more information today!
Sara Martin contributed to this article.
Back