Brooksby Village Residents Appreciate New, Upgraded Spaces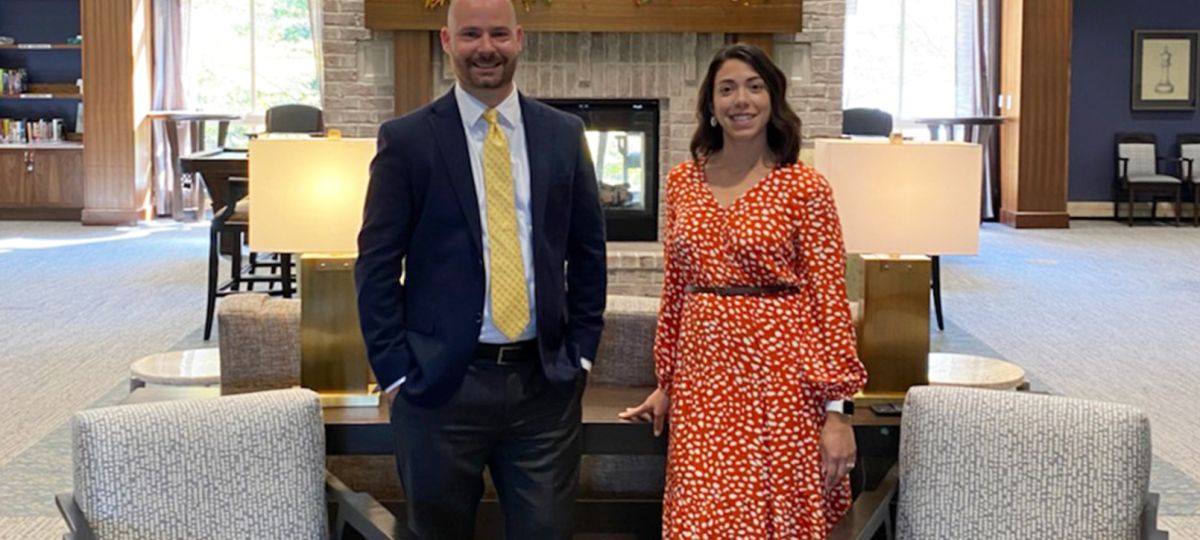 As the new year rolls in, exciting new changes are rolling out at Brooksby Village, an Erickson Senior Living community in Peabody, Mass.
The community's Town Center neighborhood, always a busy hub of activity amidst the picturesque 90-acre campus, underwent a 16-month-long renovation. New carpet, a fresh color palette, updated artwork, and comfortable, stylish furniture usher in a modern vibe that residents are loving. 
"The Town Center is a fun place," says resident Kathy Blazon, who is thrilled with the neighborhood's new updates and happenings. "And now, it's so inviting - very clean looking and bright."
Gina Fernandez, sales director at Brooksby, is happy to see residents already taking advantage of the refurbished space.
"People are even more excited to spend time there!" Fernandez says. "The restaurants, our fitness and aquatic centers, the lobby, and the convenience shop - not to mention all hallways and residential areas - have a new look. It's inspiring everyone, staff and residents alike, to get out and about in the community."
On a mission
Whether building a brand-new community or enhancing an existing one, like Brooksby Village, Erickson Senior Living strives to improve the senior living landscape.
"Our charge is to create a home where retirees can enjoy active, engaged lifestyles," says Justin Paradis, Brooksby's associate executive director. "And just as a resident would likely improve their own apartment home over time to adapt to new styles or upgrades, we are doing the same for Brooksby."
Paradis notes that in offering more social opportunities, upgrading technology, and providing cosmetic enhancements to the Town Center, current and future residents will continue to be drawn to Brooksby's vibrant environment for years to come.
A team effort
Valuing the opinions of the community, staff encouraged residents to give input on renovation plans.
"Overall themes in the design were informed by feedback that was provided by current and prospective residents," Paradis says. "Such themes included smaller dining venues, even more variety in restaurant menus, new technology, additional meeting spaces, and flexible social gathering locations."
Brooksby's leaders partnered with members of the Resident Advisory Council (RAC) for the duration of the project. A communication committee, comprising staff and resident council members, met weekly to provide updates to residents and gather opinions.
"As a result of everyone's input," notes Paradis, "the Fireside Lounge, meeting spaces, and the on-site medical center all have a new look. A new salon is open, and we expanded the CVS convenience shop to provide a wider selection of retail products, so residents have easy access to anything they might need."
He adds, "We also designed and delivered new eateries. The Tannery, which offers lighter fare in a casual, boutique-style setting, is an absolute hit."
Fan favorites
For Kathy, hearing about the Town Center's new restaurants were a game changer for her and her family, who visit quite often. In fact, many residents would say the same.
"We go to all the different restaurants on campus, but now that the Town Center has the Windsor and the Tannery, we've found our favorite spot," Kathy says. "When we went over to the Windsor for the first time, they were quite impressed. They said, 'This is like a high-end restaurant.'"
The Tannery, known for its spacious bar area and community table, is always buzzing with conversation and laughter. 
"The community table is a great opportunity for residents to get to know their neighbors," explains Fernandez. "Ask the host or hostess to be seated there, and soon enough, you'll be surrounded by new people to chat with. Our restaurants, especially the Tannery, represent the social atmosphere here at Brooksby."
Menus at these hot spots feature fresh takes on resident favorites.
"I love seeing the chefs treat our new eateries like a test kitchen," says Stephen Slicis, Brooksby's director of dining services. "Our chefs are playing with exciting new recipes and plating dishes in fun, unique ways."
Slicis notes that, currently, the filet mignon and a barbeque burger topped with onion rings are real crowd pleasers. In the winter months, chili with cheese and French onion soup are popular comfort-food dishes.
"The biggest fan favorite is our chicken wings, Buffalo-style or plain. They enjoy them a lot," says Slicis.
A 'new energy'
"The renovations have truly sparked a new energy here at Brooksby," says Fernandez.
"It's just amazing," agrees Paradis. "Our community has been transformed into an even more stunning, lively place, and we couldn't be more excited about it!"
To learn more about affordable, independent senior living at Brooksby Village, request your free brochure to get the scoop on amenities, floor plans, and so much more.
Back