Brooksby Resident Donates WWII Relic to Local Foundation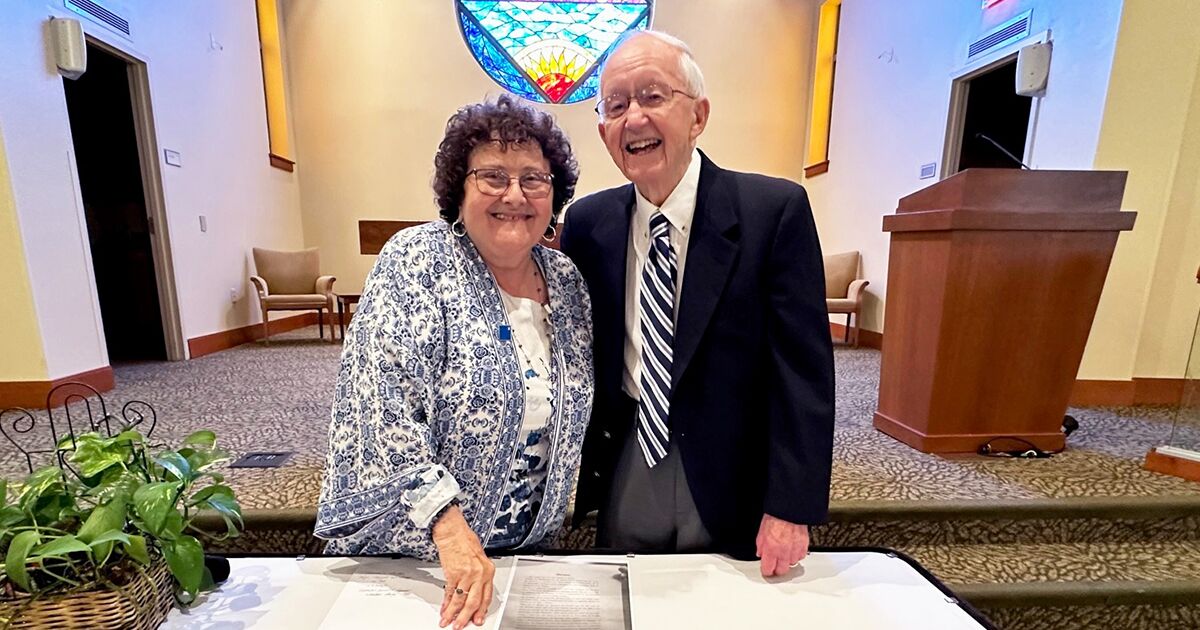 The Lappin Foundation in Beverly, Mass., strives to enhance Jewish identity and ties with Israel while offering educational resources on Judaism, anti-Semitism, and the Holocaust.
Their most recent donation, a scrapbook containing images from the Nazi party, remained in U.S. Army veteran Don Thomas' barracks bag for 77 years--until recent events prompted him to bring it to light.
"When newspapers started talking about a renewal of Nazi sympathizers, right in my own hometown, and swastikas appearing, I said, 'This cannot stand,'" Don recalls. "I called my grandson and said, 'Get the book to me. I know what I'm gonna do with it.'"
As a resident of Brooksby Village, an Erickson Senior Living community in Peabody, Mass., Don wanted to help educate people about the very real horrors of the Nazi party and the Holocaust.
'Something special'
Don was stationed in Frankfurt, Germany, during World War II.
In 1945, he discovered a book in the apartment he occupied while working in the U.S. Forces European Theater headquarters during post-war reconstruction of Germany. As a young corporal, he realized it was evidence of Hitler's Nazi machine, so he took the book with him when he was discharged in July 1946.
Titled Deutschland Erwacht, or Germany Awakes, the book traces the rise of Hitler and the Nazi party (1922-1935). The large-format scrapbook was offered as a premium by German cigarette companies. Smokers could receive pictures glorifying the Third Reich to paste into the book.
The most ominous photo is a 48-inch panorama of thousands of Nazi officials, soldiers, and supporters attending the 1933 party rally in Nuremberg--amid a sea of swastikas.
"As a 19-year-old soldier, I didn't know it was a propaganda book," Don recalls. "I just knew it was something important and that I would not leave it in that house." 
Brought to light
He adds, "I can assure you, after I got home, I wasn't interested in stuff from my army experiences."
So, the book remained tucked away in Don's barracks bag for more than three quarters of a century. Although the book was out of sight, it wasn't completely out of mind. 
As Don read the newspapers' headlines, he recalled the book and knew he had to do something, but he didn't know where to start. Seeking advice from Brooksby's Pastoral Ministries staff, Don was gratified to meet Chaplain Anna Smulowitz Schutz. 
In good hands
A daughter of Holocaust survivors, Anna was born in a displaced persons camp in post-war Germany and is devoted to Holocaust education. Terezin: Children of the Holocaust, her play about the Theresienstadt concentration camp, has been performed around the world. In 2016, she was instrumental in the documentary Out of Darkness, profiling Brooksby's WWII survivors and liberators.
"Don came into our office about a year ago," Smulowitz Schutz says. "He pulled out this book and opened it. The first picture was of Adolf Hitler--the full length of the book." Other photos showed Heinrich Himmler and Hermann Göring.
"I remember Don saying, 'I think people need to see this book,'" she says. "He wanted people to see that the hate that built Nazi ideology still stands and that it needs to be quelled through education and understanding."
Helpful resources
They quickly agreed that the book needed to be preserved. 
Through connections at the United States Holocaust Memorial Museum in Washington, D.C., Smulowitz Schutz had the book examined. Soon after, she reached out to Deborah L. Coltin, president and CEO of the Lappin Foundation, to see if they would like to adopt the relic. 
"I was honored by the request for the Lappin Foundation to accept the book," Coltin says. "I was in awe that a WWII veteran cared so much about the state of anti-Semitism today, especially since he is not Jewish."
Thanks to Smulowitz Schutz's connections, Don safely handed off the book to the foundation at a ceremony in Brooksby's chapel this past June.
Coltin believes the book will be a useful tool in the Holocaust symposium that the Lappin Foundation offers schools.
"It's a way to bring the past to life for students," she says. "As we move farther away in time from the Holocaust, artifacts keep the event real. They are proof of what existed. They give us a glimpse into the past and help us make connections that are often left to the imagination."
For generations to come
In the future, Don looks forward to moving the book to Boston's new Holocaust museum, which is under development near the New England Holocaust Memorial.
"I knew I had to find a safe place for it, so that future generations will know what I found," Don says.
To learn more about affordable, independent senior living at Brooksby Village, request your free brochure to get the scoop on amenities, floor plans, and so much more.
Back