Retire Your Worries at Ann's Choice
Jill Dutton
September 12, 2023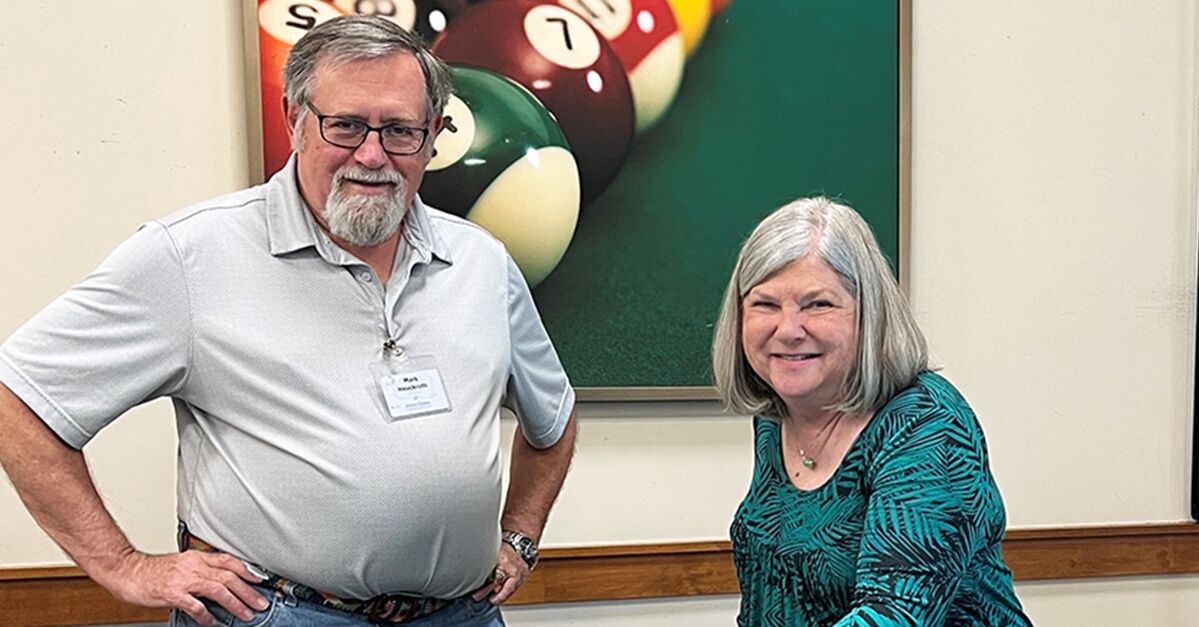 "I love having the option of whether to cook or not!" says Sondra Heuckroth, who moved to Ann's Choice, an Erickson Senior Living community in Bucks County, Pa., with her husband Mark in February.
Thanks to the monthly service package, which includes their chosen meal plan, the Heuckroths enjoy delicious, made-to-order dishes at the community's on-site restaurants - and peace of mind for the future.
"Our predictable monthly service package also eliminates the worry of unexpected costs popping up," explains Sales Director Deborah Olcese. "That way, you are able to better plan for the rest of your retirement."
For the Heuckroths, the package is just one reason why moving to Ann's Choice has proven to be a smart financial decision.
All in one place
Before selecting an apartment home at Ann's Choice, Sondra and Mark did an extensive amount of research, visiting 14 different retirement communities to compare them. 
"Our main criterion was to find a community that provided continuing care in the same physical location," says Mark. "That eliminated a lot of the places we visited, as they didn't have levels of care on site."
Sondra adds, "We also wanted to find a community that offered a large variety of activities that would fit with our lifestyle. Ann's Choice offered the convenient care and the activities we wanted, making it the obvious choice for us!"
Since settling into their apartment home, the Heuckroths have been making the most of their investment. 
Mark, who joined the chorus, has already performed in his first concert. Sondra had never played billiards before, but she now competes regularly with friends. 
High value
"Moving to Ann's Choice is a decision that makes good financial sense," says Olcese. "Like the Heuckroths, people who live here gain access to much more than just a maintenance-free apartment home. Chores like mowing the grass and shoveling snow are a thing of the past, which means that you get to spend more time doing what you love."
At the heart of the community's financial structure is the 90% refundable entrance deposit,* which goes back to you or your beneficiaries, if or when you leave the community. 
"That puts a lot of people at ease, knowing that their estate will be left to family," she adds. 
The monthly service package, which covers everything from appliance repairs and utilities to a variety of meals, adds even more value to the Erickson Senior Living lifestyle. 
"It includes pretty much everything, except for landline telephone and computer access in apartment homes," explains Olcese. "Through the monthly service package, you don't have to worry about paying property taxes or a water bill. Those costs - as well as the unexpected ones - can really add up when you have a house."
The wide array of activities and amenities provides a big bang for the buck too. 
With five restaurants, an on-site fitness center, high quality care at the medical center, and over 150 clubs just a short, indoor stroll away, there's lots to love at the 103-acre community. 
 'Eliminating upkeep'
John "Mark" and Marilyn Bernheisel took advantage of the red-hot housing market before moving to Ann's Choice in March. 
"There was a bidding war for our house," recalls Marilyn, "so we were able to sell quickly."
Mark and Marilyn selected a two-bedroom, two-bathroom apartment home - and left costly maintenance behind.
"Eliminating upkeep had a large influence on our decision," she adds. "It's great to not have to bother our sons, who have families of their own, to come help us any time we need something fixed."
Whether you need a light bulb replaced or a squeaky faucet fixed, the general services team is just a quick call away. 
"Having the medical center on campus was another benefit," Marilyn says. "If there's a snowstorm, it's comforting to know that we don't have to drive to our appointments. In fact, we don't even have to step outside to get to an activity. We can walk the entire way through climate-controlled walkways!"
You've earned it!
You've worked hard to save and plan for a financially stable retirement. For people like the Heuckroths and the Bernheisels, Ann's Choice makes it easier to enjoy this next chapter. 
"The financial benefits are abundant," says Marilyn. "The monthly service package makes it easy to manage our retirement budget while enjoying a vibrant and worry-free lifestyle." 
Invest in your future self at Ann's Choice. From top-notch amenities to affordable, maintenance-free apartment homes, you are sure to live your retirement to the fullest. Request more information today!
*As per the Residence and Care Agreement.
Back