The Power of Holiday Giving at Ann's Choice
Dorrie Anshel
December 21, 2021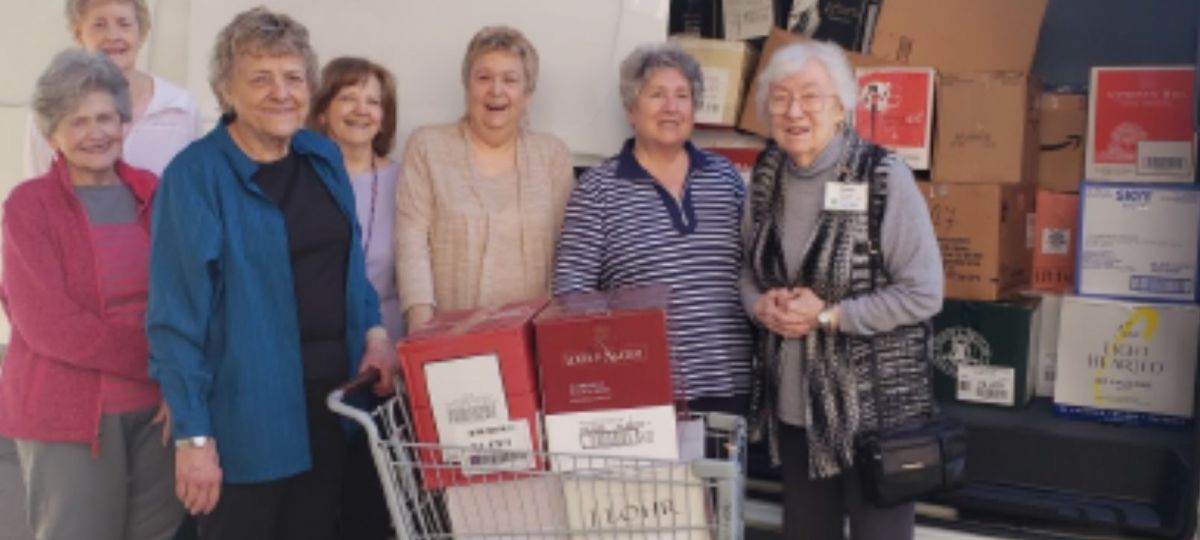 There's something magical about the holiday season's power to bring people together.
That power is in full force at Ann's Choice, where the three resident religious councils - Catholic, Jewish, and Protestant - multiply their holiday giving to support Samaritan's Purse, an international non-profit that helps communities and individuals recover from disease, famine, war, and natural disasters.
Inspired by the story of the Good Samaritan, who stops to help a stranger in need while others pass him by, the organization provides food, shelter, medicines, equipment, building supplies, and manpower all year long. Lynn Swan, a member of the Protestant Fellowship Council, brought the project to Ann's Choice three years ago, and invited the other faith groups to participate.
At the holidays, their focus turns to creating memorable Christmases for children in need.
According to Phyllis Halpern, president of the Jewish Residents' Council, "Even though our members do not celebrate Christmas, we unanimously agreed to participate. We get a warm feeling knowing that we are helping children around the world smile at the holidays. It's easy to get behind such a wonderful endeavor."
In early November the three groups start collecting new dolls, stuffed animals, toys, and the batteries to power them. They also gather new combs, brushes, washcloths, toothbrushes, school supplies, socks, sunglasses, and jewelry. Those who would like to donate money can do so, as well.
The council members transform the Ann's Choice multi-purpose room into a busy assembly line, where they sort and pack the donations in specially decorated holiday boxes. Residents then deliver them locally for shipment to 170 countries and territories. "The first year we filled 80 boxes, then 100, and we're hoping to exceed 100 this year," says Lynn.
The amount of goods collected is "staggering," says Phyllis. "Ann's Choice residents are so generous, and their kindness makes a difference."
Individual Projects Add Up
The Catholic Residents' Council has another pet holiday project called "Father Joe Watson's Needy Parishioners." The council's 12 members collect funds through November and give the proceeds to Father Watson in early December.
Catholic Council President John McSorley says, "Father Watson knows who the neediest are and distributes the money as he sees fit. He doesn't reveal the donors, and that's fine with us – we don't want recognition, just the good feeling you get from helping others." Last year the group raised $7,500 and hopes to surpass that amount this year. 
The Protestant Council supports a special ministry at the PARX Racetrack in Bensalem, PA. "Reverend Rick Bunker started this mission for the people who live and work behind the track, and there are close to 1,000. It's a whole city back there," says Lynn, "and the workers need support. We collect school supplies, backpacks, and hygiene products for them. This year we collected more than 100 pounds of goods."
Many residents find other meaningful ways to contribute to the surrounding community. For the past six years Elise Bratis has chaired the Ann's Choice Food drive, which takes place at Thanksgiving. She says, "The residents are quite generous, and we get several tons of food and other items each year to donate to local food banks." A committee of resident volunteers assists with collecting and packing the donations for delivery.
Jeff Watson, Erickson Senior Living's Director of Operations, marvels at the spirit of giving that permeates Ann's Choice, especially at this time of year. "Even during this busy time of the year, residents are so generous with their time, talents, and treasures, not only to do good in the world, but to also feel good in the world. It's this spirit of kindness that always radiates throughout our campuses and enables those who call Ann's Choice home to make a joyful difference in the lives of so many."
Consider being part of a strong and caring senior living community like Ann's Choice. Beautiful walking paths, gardens, resort-style amenities, an on-site medical center staffed by full-time medical professionals, and new friends await. Request a brochure or a visit now!
Back