Pipe Organ Player Enjoys Performing for Neighbors at Ann's Choice
Dorrie Anshel
October 13, 2021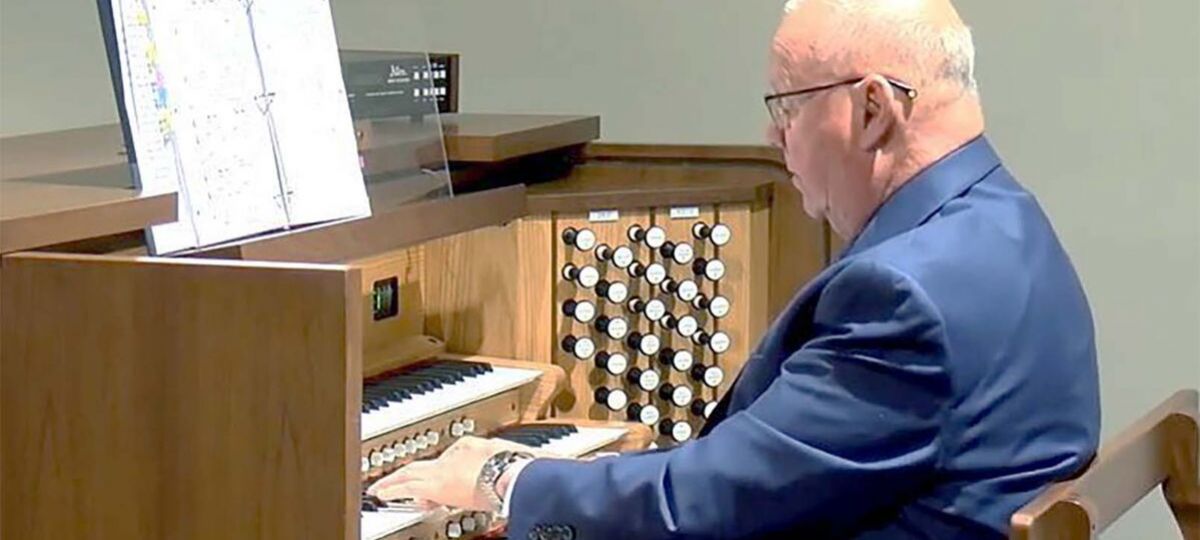 Bud Williams is too modest to consider himself a keyboard virtuoso. However, his friends and neighbors at Ann's Choice, the Erickson Senior Living community in Bucks County, Pa., say the organ music he orchestrates is heavenly.
Bud and his wife Cheryl moved to Ann's Choice four years ago, after he'd worked for several years as the community's senior facilities manager. "I had a long career in industrial maintenance management, and I just wanted to repair things. I took the job at Ann's Choice, and before I knew it, I was in charge of the entire operation," he says with a chuckle.
Having observed Ann's Choice inside and out, Bud grew to appreciate the community's exceptional value, with its amenity-rich, active lifestyle. "I told Cheryl that this place is a good deal for the dollar, and we decided to move in," he says. "It was a wonderful decision."
An early start
Bud has enjoyed making music for most of his life. When he was five, his mother told him, "You're going to learn to play the piano, whether you like it or not." Luckily for Bud, he did like it, and consequently, studied music for two decades. 
During those formative years, he sang in his church choir, marveling at the imposing pipe organ. He would play the keyboard after services, even when his legs were too short to reach the pedals.
Bud's high school also had an organ, and interested students were invited to take lessons. He signed up and began studying with one of the organists who played at Wanamaker's department store in Philadelphia. Bud filled in for his church's organist for a year, gaining valuable experience by putting his lesson time to use. Soon after, he joined Penns Park Methodist Church and served as its choir director and organist for 17 years.
While Bud worked at Ann's Choice, he would often slip into the chapel at 6:30 a.m. to play the electric organ for fun, he recalls. Residents often stopped by to listen. "If I skipped a day, I'd get calls asking, 'Where were you this morning?'" he laughs.
"That organ is a gorgeous instrument," Bud says. "I love to play it for everyone's enjoyment. It does so much, and with such good quality sound."
Soul music
Once Bud began entertaining his nearby neighbors, he thought of the residents in the assisted living and advanced care neighborhoods. "I wanted to give them a little music too," he says.
He collaborated with resident John Hodges, a fellow member of the Ann's Choice Protestant Council. John's career background in information technology made him the ideal partner. "I'm reasonably good with PowerPoint, Word, and Excel," says John. "I was happy to put the graphics and photos together to accompany Bud's playing."
The two took their idea to Chelsea Rounds, coordinator of the in-house TV studio. She was delighted to record and air the programs. The first, "Favorite Hymns of Faith," aired early last year to great acclaim. They followed up in May with "Hope," a title Chelsea suggested. "It went over like gangbusters," says Bud. "People really liked the music, and the words and pictures John put together had such a positive impact."
John says, "Viewers could relate to many of the places we included. We'd hear, 'Oh, I've been there,' which brought back lots of wonderful memories. It was so popular that we did a program for the Fourth of July, and another called 'Lessons and Carols' for Advent."
The trio created a special holiday program, "Musical Reflections," featuring 12 staff members and residents in total, who introduced their favorite religious music. "It was open to all faiths, so it took a lot of time to learn unfamiliar liturgical pieces," says Bud. "The feedback was incredible. Everyone loved it."
Sharing gifts
Bud and John continue to share their gifts through new programs. "Bringing hope and optimism to our friends and neighbors is a pleasure," says John. "And Chelsea is wonderful to work with. She's so supportive and respectful of what we're trying to accomplish."
Bud agrees. "If these programs inspire people to have faith in the future, we've done our job—with Chelsea's incredible help. We couldn't have done this without her."
Community, quality care, and comfort are just a few of the hallmarks that make Ann's Choice the perfect independent living community for seniors. Request a brochure to take a closer look at Ann's Choice and the beautiful, maintenance-free apartment homes.
Back