Musical Couple Shares Their Talents at Ann's Choice
Dorrie Anshel
February 22, 2022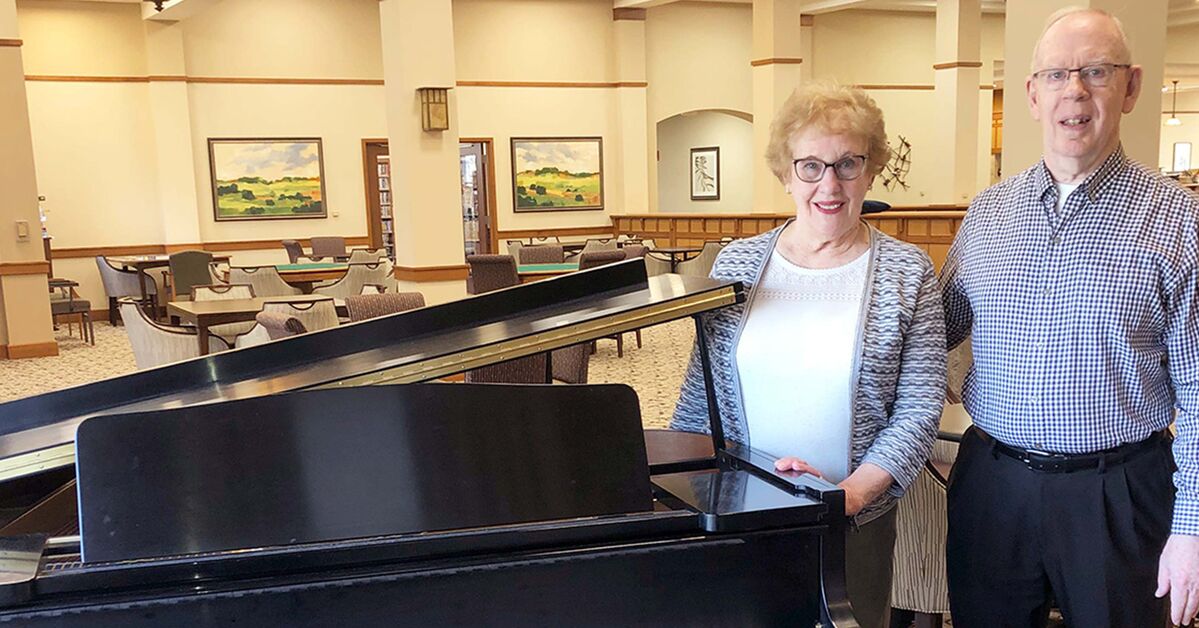 Explore Ann and John Keesey's family tree, and you'll find music at the roots. The retired music teachers and church musicians recently relocated from Atlanta, Ga., to Ann's Choice, the Erickson Senior Living community in Bucks County, Pa., to be closer to their daughter Janice.
The apple doesn't fall far
Ann's mother was a music teacher, and her talent would be passed on to several generations.
Janice and her husband Matt share the music directorship at Supplee Presbyterian Church in nearby Maple Glen. Matt also directs the marching band at Temple University.
Janice's son Scott, who also lives in Atlanta, is a full-time church musician. Janices's second son Chris - a tech guy by profession - plays drums for a popular local band in Columbus, Ohio.
Is this a case of nature or nurture? Ann and John say a bit of both. "Our family grew up playing and loving music," she says. "It defines so much of who we are - it's no surprise that everyone is involved in music in some form or another."
A wise decision
Ann and John always knew they would retire near at least one of their children. Several years ago, they began researching retirement communities in Bucks County, Pa., Atlanta, Ga., and Columbus, Ohio. After comparing what each of the communities had to offer, they agreed that Ann's Choice met the criteria most important to them. At the top of their list? Finding a continuing care retirement community (CCRC) where higher levels of medical care would be available, should they ever need them. 
"Ann's parents and my mom lived in CCRCs, and we liked the concept," says John. "But we didn't like the idea of paying upfront for care we might never use - with no possibility of a refund, either. We discovered that Ann's Choice is 'pay as you go,' so if you don't need those extra levels of care, it costs you nothing. That felt like a wiser financial decision to us."
The Keeseys were delighted to learn that when residents no longer live in the community, 90% of their entrance deposit is returned to them or their heirs. The 90% refundable entrance deposit is outlined in detail in the Residence and Care Agreement.
"It was the highest refund we found during our research process," says John. "We hope that money will go to our children one day as our legacy."
Old and new connections
The proximity to extended family really sealed the deal on Ann's Choice for the Keeseys. Ann's brother, several of her cousins, and her 105-year-old aunt live close by.
Having the SEPTA [a regional rail system] just a five-minute drive or shuttle ride from the community is another huge perk. "We hop on the train and we are at Janice's house in no time," says Ann. "It's so easy and convenient!"
Since arriving at Ann's Choice six months ago, the couple has made lots of new friends. To expand their social circle, they often go to dinner without a reservation and ask to be seated with people they haven't met.
To make it easy for neighbors to remember their names, they introduce themselves in a novel way. "I'm Ann for Ann's Choice, and John is for Johnsville Boulevard, which is the main road just outside the campus," says Ann. "People get it right away, and it makes us feel like moving here was meant to be."
So much to do
The couple also appreciates the range of activities offered at Ann's Choice. "There's always something to do," says Ann. "You cannot be bored here!"
Not surprisingly, the musical duo participates in the choir and the Second Time Around band, a group of residents who meet weekly to perform. As a lifelong tennis player, John is excited to try pickleball. Ann leads Bible study groups at their daughter's church. She also hopes to start a handbell group for fellow residents - an instrument she's been involved with her entire musical career.
The Keeseys are thoroughly pleased with their decision to move to Ann's Choice. Says John, "This community is a well-run machine - impressive from top to bottom. The staff is caring and engaging, and everything is done so well."
Ann agrees. "It's wonderful that so many different types of people can have their needs met here. They really have thought of everything, and we're so happy to be a part of it."
To learn more about affordable, independent senior living at Ann's Choice, request your free brochure to get the scoop on amenities, floor plans, and so much more.
Back