'Living their best lives together' at Ann's Choice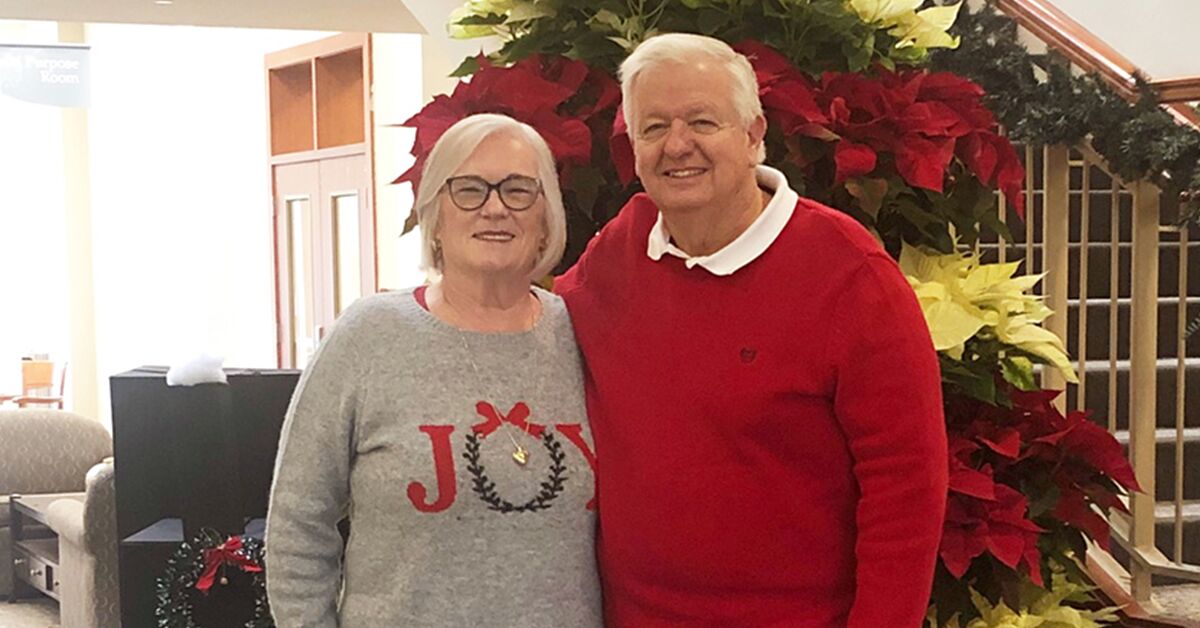 Despite spending 47 happy years in their four-bedroom house, Kathy and Steve Romine decided to reconsider their retirement plans.
"I was diagnosed with cancer in October 2021," recalls Kathy, who is grateful to currently be in remission. "It put the important things in focus. Our house meant a lot to us, but it was getting to be too much. We were always wondering when we'd have to replace the roof again, or when the hot water heater would go out."
Ready to explore their senior living options, Kathy signed them up for a luncheon at Ann's Choice, an Erickson Senior Living community in Bucks County, Pa.
Surprisingly, they crossed paths with a neighbor during their tour of the community - Ryan Doherty, the sales counselor at the time.
"That made our experience even better," Kathy says. "He has a wonderful personality - and somehow knows and remembers everyone's names! I was sold."
Crunching the numbers
While an apartment home's layout caught their eye, Steve was hesitant about moving.
"We had just put in three new bathrooms and all new windows, and I was asking him to think about leaving," says Kathy, with a laugh. "I told him, 'If I were to get sick again, I would like to know that he's in a place where there's a support system in place. I want our kids to know that we'll be taken care of, that they don't have to worry about us."
After speaking more with Doherty and reading some brochures he sent, Steve was ready to sit down and crunch the numbers.
"We looked at how much the monthly service packages would cost compared to our current expenses - taxes, gas and electric, homeowner's insurance, and so on," she explains. "We realized that we'd be doing better, financially, at Ann's Choice than we were in our house."
They were ready to make the move. However, Kathy notes, "We waited a tad too long to act. The apartment home we toured was taken by another couple."
Patience is key
Christmas was right around the corner, though, so the Romines decided to spend the holiday season in their house.
"It was a lot of work. There were so many holiday tasks, like decorating the house and hosting the family for Christmas," says Kathy. "It solidified my desire to move to Ann's Choice."
After the holidays, Kathy called Doherty and told him they'd love to move in by spring. Unexpectedly, he responded, "Are you available today to tour an apartment home? There's a two-bedroom that became available."
"We immediately said yes," she recalls. "We ended up liking this apartment home even more than the first one. I always say God does everything for a reason. We lost that first one so we could find this one. That's the way I look at it!"
Using a preferred real estate agent through the Erickson Realty and Moving Services program, the couple sold their home at the first open house - at $30,000 over asking price.
"Over 200 people came through the house," she adds. "Ryan said that trying to get home that weekend was like going through a maze! He couldn't get down the street because of all the cars. That's how crazy it was."
Life at Ann's Choice
Soon after settling in at Ann's Choice, Steve and Kathy were greeted by neighbors.
"Our neighbor across the hall came over and welcomed us," Kathy recalls. "She said she was so happy to find out that there were 'young' people moving in! We were flattered."
By visiting the community's on-site restaurants for dinner, the Romines made fast friends.
"We've really enjoyed meeting new people at dinner and hearing their stories. There are such educated, interesting people here," she adds.
And thanks to the variety of clubs and activities, the couple's circle of friends continues to grow. Kathy joined the Italian Club, the Pottery Club, and the Walking Club, and Steve enjoys playing billiards.
"When I have the chance," says Steve. "We haven't had much free time yet. We've been helping my mom and our son's mother-in-law move to Ann's Choice! Our extended family is living their best lives together in the same community."
"And, we're all in the same building. How awesome is that?" Kathy adds.
To learn more about affordable, independent senior living at Ann's Choice, request your free brochure to get the scoop on amenities, floor plans, and so much more.
Back