A Lifelong Love of Performing Continues for This Ann's Choice Resident
Jill Dutton
November 14, 2022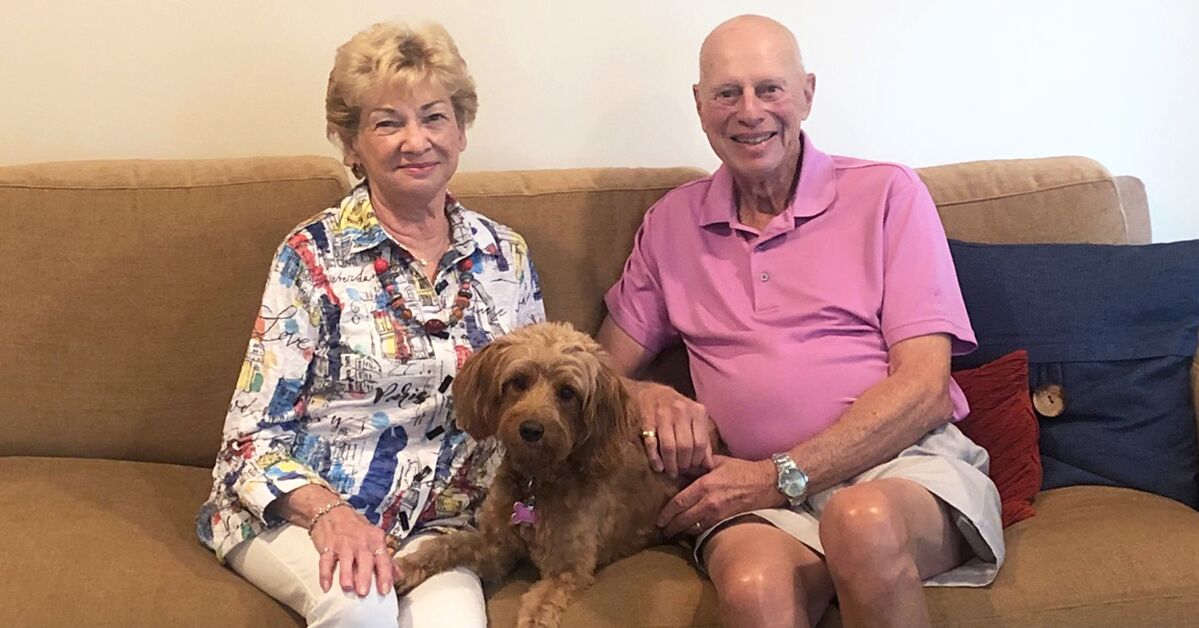 As soon as Marty and Lois Sherman moved into their apartment home at Ann's Choice, the Erickson Senior Living community located in Warminster, Pa., they got to work immersing themselves in community life.
"The secret," Marty says, "is to get involved in various activities. That's how you meet people. And once you meet people, then you say, 'Hey, let's have dinner,' and you get a chance to sit and discover each other's life stories."
Marty also got to work in the literal sense. "I'm still working at age 80 because I love what I do," he says.
After 36 years in retail, Marty pivoted and became a Medicare and long-term care specialist, advising people on their insurance and health care options. "In addition to those jobs, I was a professional drummer. I worked predominantly on weekends at weddings, country clubs, and hotels."
Striking the right chord
In fact, when the Shermans arrived at Ann's Choice, an interesting encounter encouraged Marty to pursue his love of performing at the community.
"Lois and I were leaving the sales office with our key when a woman walked up to me," recalls Marty. "She said, 'Excuse me, are you a drummer?'" 
That resident happened to be the leader of the Second Time Around Band, and the band needed a drummer.
Soon enough, Marty found himself at band practices each week. The band, with just over a dozen members, performs what Marty calls the "good old American songbook" at concerts throughout the year. He's even tested his vocals, singing Frank Sinatra's "The Lady is a Tramp" at their last gig.
A variety of interests
While Marty spends his free time practicing with the band, Lois stays very involved with the pottery group. She also plays cards each week and belongs to the photography club.
"Because of all that involvement Lois has," Marty says, "she's made many friends - as have I - and now we have a bunch of people to have dinners with, which is fun."
Marty also volunteers as a resident ambassador, which gives him the opportunity to chat with prospective residents at the community's sales events.
"I've always loved people, so I'm happy to answer all their questions," says Marty. "They'll ask questions such as, 'Why did you come here?' and 'What do you like about it?'"
Worry-free lifestyle
When chatting with prospective residents, Marty is always eager to share the easygoing lifestyle that he and Lois appreciate and enjoy.
"I tell them, 'Well, I'm not paying real estate taxes anymore. I'm not paying an electric bill. I'm not paying the homeowners' association. I don't even have to change a light bulb. I just call and someone will come to address my maintenance issues,'" he explains. "I find that my life is simplified, and that's exactly what we were looking for when we moved here."
The continuum of care and financial stability at Ann's Choice were also two significant draws.
"Number one, should we ever need more care, it's available. Number two, when or if we decide to leave the community, 90% of our entrance deposit will go back to our estate," adds Marty. "That's important to me, because I want to make sure that the bulk of our money goes to our children and grandchildren."
Worth waiting for
Recognizing that the community's active, vibrant lifestyle was at high demand, the Shermans joined the priority list before their move, granting them the right of first refusal when an apartment home became available.
"We put a lot of demands on Ryan, our sales counselor, for what we needed and where it was located. Because of that, accommodations weren't readily available," says Marty. "We were willing to wait for the right space, and sure enough, Ryan called us and said he found what we were looking for."
The priority list also allowed the Shermans to learn more about the community and take advantage of its offerings before they moved in.
"That included everything from attending a lecture series, watching other performances, and going to movies on Sunday nights - you name it," Marty says. "I was even involved with the theatre and helped direct a production of a one-act play. Even though I wasn't yet a resident, I was really involved."
To learn more about affordable, independent senior living at Ann's Choice, request your free brochure to get the scoop on amenities, floor plans, and so much more.
Back