A Fresh, New Look to The First Clubhouse at Ann's Choice
Jill Dutton
November 3, 2023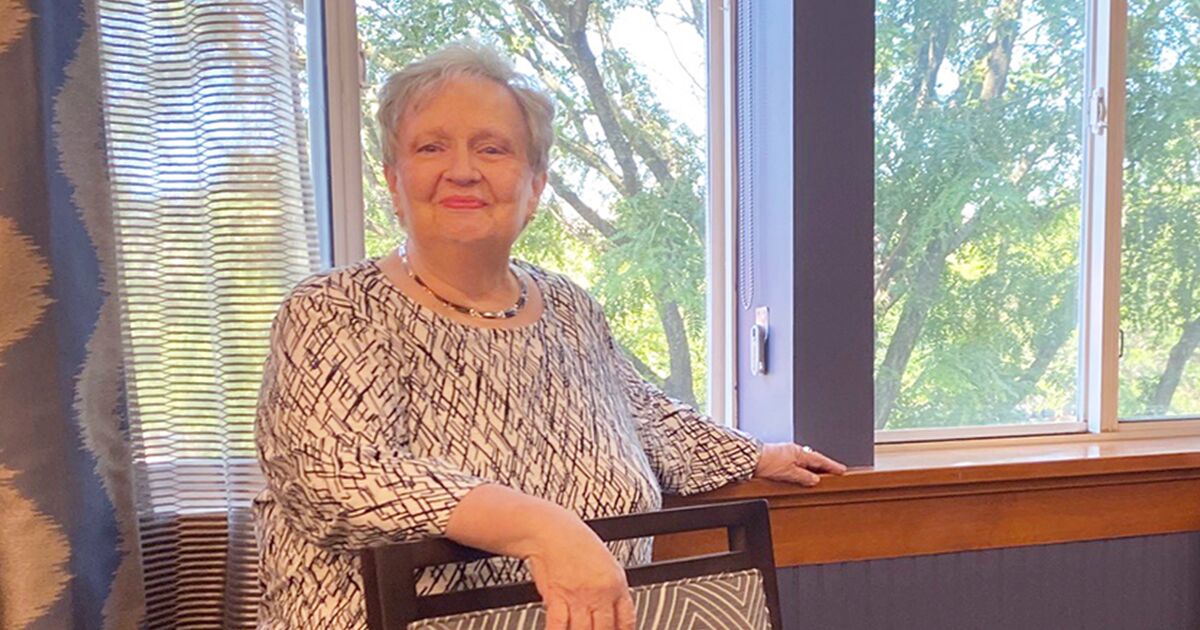 Joy Koenig loves her life at Ann's Choice, an Erickson Senior Living community in Bucks County, Pa.--so much so that she volunteers as a resident ambassador, meeting with retirees who are considering a move to the vibrant community. 
Whether they're interested in savoring a meal at an on-campus restaurant or checking out the top-notch amenities, there's one place Joy has to take them: Village Clubhouse. 
"Village Clubhouse is the perfect place to meet up for dinner or a class," Joy says. "You're pretty much guaranteed to run into other residents and have a friendly exchange there!"
The clubhouses at Ann's Choice are hubs of social activity, providing plenty of opportunities for meaningful connection. Because Village Clubhouse is such an integral part of community life, residents and staff alike are excited to welcome the building's recent renovations. 
A social hub
The enhancements fulfill a vision to improve upon the clubhouse's existing amenities and create an even more inviting space that encourages social interaction.
Village Clubhouse's first floor now boasts a new fitness area, complete with a space for exercise classes and additional state-of-the-art equipment. A media space, where residents can find computers, TVs, and books, has also been added to the first floor.
The reception area, bank, hair salon, medical center, and executive offices are being renovated as well. Despite all these changes, residents didn't have to pardon any dust. 
"Anyone who has renovated a room in their house knows how frustrating and messy it can be. But we didn't experience that at all!" notes Joy. "The process was so well organized. They did a great job of accommodating residents during the enhancements. I applaud them for that." 
Delicious dining
Village Clubhouse's second floor, home to the popular Fireside Restaurant, received a facelift as well. 
"Fireside Restaurant was completely renovated, and it looks great," says Dining Director George Millili. "New carpeting, window treatments, light fixtures, tables, and chairs have really livened up the space."
The Fireside Lounge, an area where residents often sit by the fireplace and play card games or billiards, was updated to carry the new, sophisticated theme throughout. 
"And Embers Tavern, our new bar, has been a real hit," he adds. "There's a TV, so residents like to watch a local sports game while having a drink or two with friends."
Six-top tables and banquet seating across the two dining venues have made it easier for larger groups of residents to gather for a meal. 
"The upgrades inspired us to take a new approach to our menus," says Millili. "Now, residents experience an elevated level of fine dining. And thanks to the community's Signature Dining program, our chefs continue to prepare made-to-order meals that are sure to please even the pickiest palate. That's the one thing that hasn't changed!"
'Coming together'
Like the renovations downstairs, Joy and her neighbors encountered no issues during the Fireside's changes. 
"While the dining room was closed, they took the lounge and made it into a buffet area so you could sit there and enjoy dinner," she explains. "It wasn't inconvenient in any way."
Joy also notes that the Fireside's new design--creating a warm and inviting atmosphere--came as no surprise to her. 
"From the first day, there was a video you could watch that showed what they were working on," she says. "I like the updates! I like the colors and the carpet. Just this week I went over, and they have the new window treatments and furniture installed. I can really see it coming together."
Investing in the future
Now that Village Clubhouse's upgrades are complete, Ann's Choice residents are finding more ways to connect than ever before. Swing by the salon with a friend for a day of pampering, catch up with a neighbor over a cocktail, or sign up for a group fitness class.
Joy, who is looking forward to welcoming even more prospective residents on campus, has wasted no time taking advantage of all the new amenities available to her. 
"If you want to connect with others in retirement, Ann's Choice is a great place for that!" she says. "It's so nice to be around others."
Erickson Senior Living, dedicated to providing residents with an industry-leading experience, continues to look for ways in which its communities' amenities and services can improve. 
"It's an exciting time here at Ann's Choice," says Millili. "These changes reflect Erickson Senior Living's investment in residents' well-being."
To learn more about affordable, independent senior living at Ann's Choice, request your free brochure to get the scoop on amenities, floor plans, and so much more.
Back