Enjoying A Robust Social Calendar at Ann's Choice
Jill Dutton
January 3, 2023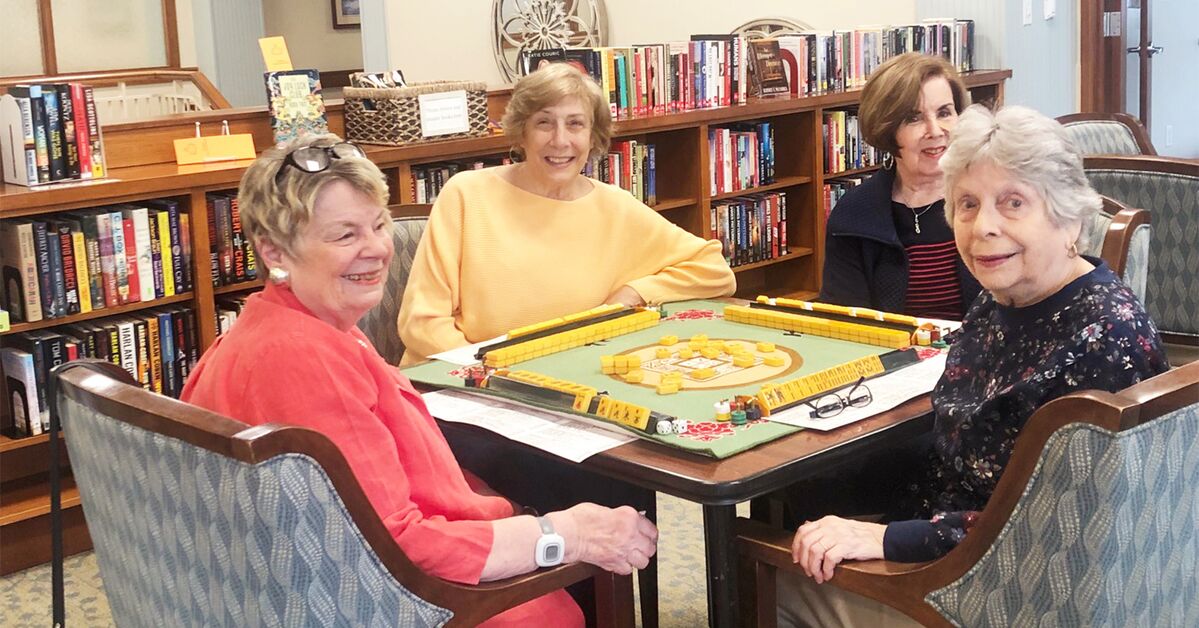 When Ann and Andy George moved from Northern New Jersey to Ann's Choice, an Erickson Senior Living community in Bucks County, Pa., four years ago, they didn't know a soul. But thanks to the community's active, social environment, their circle of friends quickly expanded.
"Our first introduction to people was through the restaurants," recalls Ann. "Everyone was so friendly. When we arrived, the staff would ask, 'Are you eating with anyone tonight?' If we said 'no,' they would sit us at a table for four so we could meet new people."
Ann says that eating with neighbors was a good starting point, as it introduced them to a large number of people in a short amount of time. "We established a lot of friendships in the community that way. After a while, it got to the point where we would bump into someone on the way to dinner whom we had eaten with before!" she notes.
Now, in addition to dining with friends on occasion, the couple immerses themselves in the myriad clubs and events on campus that are designed for every interest.
The value of friendship
"Having enjoyable social connections is an important, yet often overlooked, aspect of personal health and well-being," says Dr. Matt Narrett, chief medical officer at Erickson Senior Living. "From a robust calendar of events and dozens of clubs to sharing a meal together with friends, our communities are designed to maximize engagement opportunities."
Trisha Malabuyo, resident life director at Ann's Choice, has seen many community members develop new and reignite existing relationships on campus.
"Our casino nights here are pretty popular," says Malabuyo. "One casino night, I saw a recently widowed woman purchase a ticket. She was explaining to me that, with her husband gone, she was worried that she wouldn't have any friendships for support. But, sitting among other people that night, she connected with peers who have lived through her same situation - and who are also seeking new friendships during this new stage of life."
Finding common ground
Ann and Andy had a similar experience, in which they were able to bond with peers.
Andy, who was in a bicycle accident years ago, suffered a spinal cord injury and has been using a wheelchair ever since. Handling home maintenance and upkeep alone became a burden for Ann, so the couple decided to research senior living options. The Georges ultimately chose Ann's Choice because of the access to quality, on-site continuing care and proximity to family.
"Our daughter, son-in-law, and two grandsons only live 25 minutes away from Ann's Choice," says Ann.
Soon after their move, the Georges were introduced to another couple whose husband uses a wheelchair.
"People are great about introducing you to other people," explains Ann. "We really clicked. We have dinner together every Tuesday with that couple - and we didn't even know each other before that introduction!"
A social butterfly
Like many other residents, Ann has truly embraced her new active lifestyle at Ann's Choice.
"The more you participate, the more you see, the more you get to socialize," Ann says. "And that's so important - to make connections!"
Playing mah-jongg and participating in the Aqua Sculpt class at the community's aquatic center are some of her favorite activities, she says. 
"They have bridge games going on all the time. And there's a group that plays pinochle and another that plays canasta. Clearly, card games are big here," she jokes.
Ann was involved with the short story program as well, but she found that her calendar was getting too full.
'Put yourself out there'
Malabuyo finds shared spaces around the community, such as the fitness center and bar and lounge areas, to be very social spaces. "People might gather an hour before dinner just to hang out. Every night is a social event," says Malabuyo.
While Ann appreciates the ability to meet others around campus, she also loves hosting private dinners to meet and greet her floormates. 
"I feel fortunate to live on such a wonderful floor," says Ann. "We get together pretty regularly. We acquire a room and everyone on our floor is invited. And we're always welcoming new neighbors because there's always new people moving into the building!"
Ann notes that, because of her effort to connect with others, she now has more friends than she's ever had before.
"If you're willing to talk, you can make friends easily here. You have to put yourself out there, though. The opportunity to create a rich social life is definitely here."
Invest in your future self at Ann's Choice. From top-notch amenities to affordable, maintenance-free apartment homes, you are sure to live your retirement to the fullest. Request more information today!
Back