Enjoying The Great Outdoors at Ann's Choice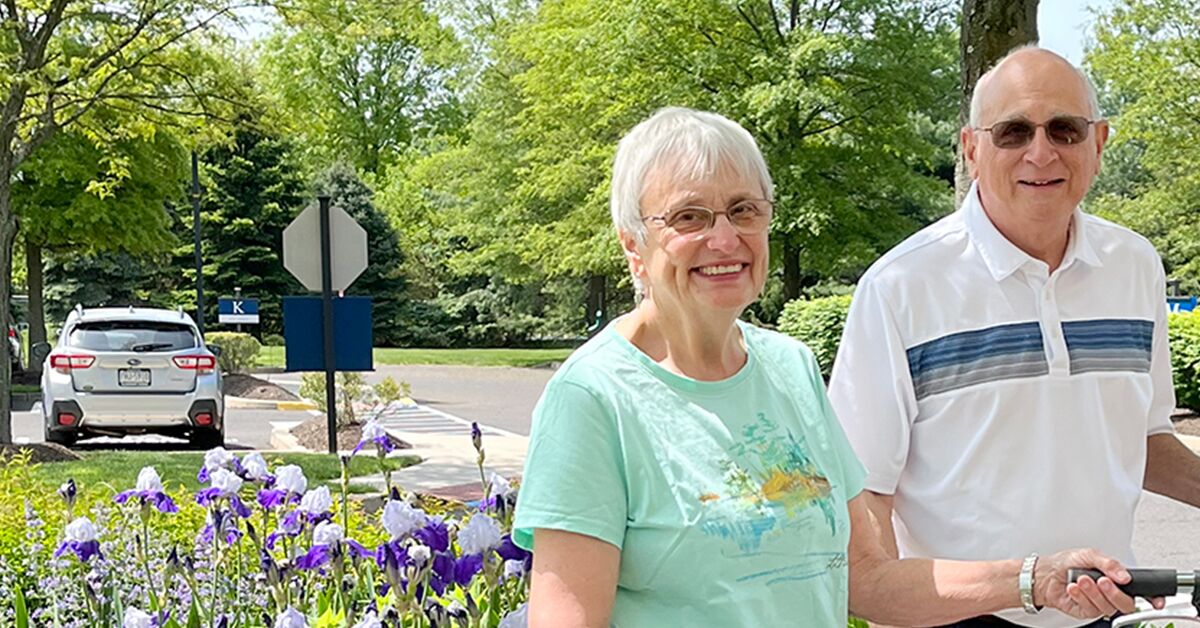 With 103 acres of enviable green space, it's no surprise that Barbara and Pat Fillette find any reason to hop on their bikes at Ann's Choice, the Erickson Senior Living community in Bucks County, Pa.
"We ride all over campus!" says Barbara. "Besides taking in the beautiful scenery, we like riding to get our mail and to grab a meal at one of the on-site restaurants." 
Barbara and Pat keep their bikes on the outdoor patio attached to their apartment home, which overlooks Warminster Community Park. 
"We enjoy entertaining friends and family on the patio," she adds. "When the grandchildren come over, we play bocce at the court on campus or have a picnic in the open grassy areas."
Studies suggest that being outdoors supports physical conditioning, mental well-being, and overall happiness. At Ann's Choice, these benefits begin just steps from residents' front doors. The Fillettes and their neighbors maximize their time spent outside by socializing with friends and participating in a variety of activities.
Outdoor amenities abound
"The health benefits of spending time outdoors are just icing on the cake for our active community members," says Resident Life Manager Beth Muller. 
Adults over 70 who spend time outdoors experience fewer sleep difficulties and improved mobility, according to research reported in the Journal of Aging and Health. Studies also show that going outside lowers blood pressure, reduces stress, and improves mood and focus.
Recognizing the importance of these findings, Erickson Senior Living prides itself on offering safe, accessible outdoor environments that encourage everyone to get active and socialize, enhancing their overall well-being. 
Warminster Community Park, which features a three-mile walking trail, kiddie park, basketball court, picnic pavilion, two playgrounds, sports field, and dog park, is accessible to all residents.
"The park abuts campus - that's a real advantage," Muller says. "For anyone interested in walking or moderate hiking, this is the place to be. Plus, what grandkids wouldn't love the playgrounds!"
Residents with a competitive spirit will appreciate the community's horseshoe pit and tennis and pickleball courts, which draw quite the crowd. 
"Exercising outdoors increases my sense of well-being," agrees Barbara. "Soaking up some vitamin D and fresh air is good for you too."
Staying active
Since moving to Ann's Choice three years ago, Barbara has made many new friends playing pickleball and even sprouted a green thumb. 
"I love having my hands in the soil," she says. Colorful perennials and annuals bloom in the beautiful potted garden on their patio.
And while the couple doesn't have a canine companion of their own, they're happy to have an enclosed dog park on campus. 
"When our daughter travels to see us, her two-year-old terrier named Maisie comes with her," notes Barbara. "The new dog park isn't far from our apartment home, so it's perfect! Maisie enjoys the park and playing with the other dogs."
Investing in well-being
Recently, Erickson Senior Living provided a multimillion-dollar investment through its Well-Being Fund to support the addition of enhanced health and well-being amenities and services to residents in its communities across the country.
At Ann's Choice, funds were used to install a new dog park, putting green, meditation garden, and disc golf course. 
"My office overlooks the disc golf course. It brings me joy to see everyone and their families taking advantage of this new amenity. The Well-Being Fund has been such a blessing," Muller says.
The meditation garden, located near the gazebo, was designed to promote mind-body awareness. Each bench corresponds to a sense, encouraging visitors to focus on what they see, hear, smell, or feel in that moment. A booklet provided at each bench gives suggestions on ways to meditate through the senses. 
Muller led the creation and installation of the meditation garden's signage and booklets. To introduce residents to the new meditation garden, staff members held a guided walk, which was very well attended.
"In a few months, we'll change up the arrangement to keep it fresh for repeat visitors," she adds.
Get outside!
Thanks to resident-led efforts and investments in outdoor spaces, an increasing number of people at Ann's Choice are finding ways to spend time outside, which is proving to be an integral part of their active, worry-free lifestyles.
"I'm proud of the many ways Ann's Choice invests in resources and unique activities for residents," adds Muller. "The best part of my job is seeing them thrive!"
Invest in your future self at Ann's Choice. From top-notch amenities to affordable, maintenance-free apartment homes, you are sure to live your retirement to the fullest. Request more information today!
Back