Design Your Dream Dwelling at Ann's Choice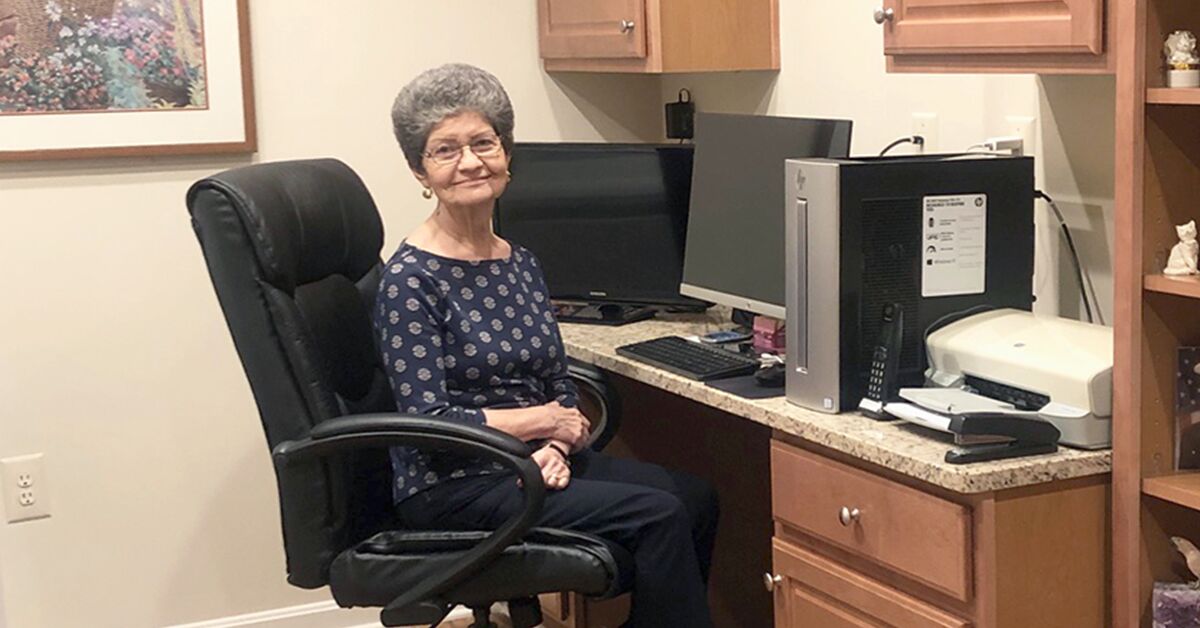 At Erickson Senior Living communities, many people appreciate the opportunity for a fresh start - the ability to customize new, beautiful spaces where they can live the carefree retirement they've always imagined. 
Thomas and Linda James found their fresh start at Ann's Choice, an Erickson Senior Living community in Bucks County, Pa., in late 2020.
They were especially interested in an open, spacious floor plan, so the Ann's Choice sales team contacted the couple when a "combination" apartment home became available. 
"We just love the floor plan!" Linda says. "It's everything that we wanted."
The combination apartment home, which merged two separate units into one, boasts an airy and inviting living space that's perfect for entertaining. And after a few modifications, including fresh window treatments and a new office space, the couple now enjoys living in their dream home.
Plan, plan, plan!
Thomas and Linda's seamless move to Ann's Choice was enhanced by the help of Planning and Moving Consultant Lisa Sicilia.
"When people move to a senior living community, they're looking for an apartment home that suits the way they want to live," explains Sicilia. "After years of maintaining rarely-used spaces, they appreciate a thoughtfully designed living space that perfectly meets their wants and needs."
During a home visit with the couple, Sicilia used a copy of their future apartment home's floor plan to help them choose what pieces of furniture and décor would be coming with them. 
"It helped immensely, to visualize what we wanted to keep," explains Linda. "Knowing before the move what would work in the space, and where, was a game changer." 
Customize your space
To personalize their apartment home, Thomas and Linda were referred to preferred contractors and vendors, all of whom were vetted by Ann's Choice. 
Some choose a one-bedroom apartment home, knowing that they will spend most of their time out and about, enjoying the community's amazing amenities and social activities, which are easily accessible via climate-controlled walkways. 
Others, like Linda and Thomas, choose a spacious two-bedroom apartment home with plans of transforming the second room into a functional space.
In their second bedroom, which Linda uses as an office, they had cabinetry, a built-in desk, and bookshelves installed to create the perfect work space. And throughout their new home, lively window treatments were carefully selected and hung.
"Everything is absolutely beautiful. She helped us pick out the window treatments we wanted," says Linda of the preferred vendor they worked with. "Having help was invaluable. She brought multiple samples of drape and curtain material to our apartment home. In addition to the samples she brings, she has even more choices in her office!"
'A world of difference'
Terry Maricondo, who moved to Ann's Choice in the fall of 2022, enjoys a larger apartment home as well. 
"I love the layout, and it's such a gift to have more room to spread out," says Terry, who, like Thomas and Linda, took advantage of the moving services available.
"Lisa's help with planning what furniture I could bring helped immensely," she adds.
Terry felt fortunate that her apartment home didn't need many changes to suit her taste. But, she still added personal touches by installing a subway tile backsplash in the kitchen, changing the paint color on the walls, and adding organizers to her closets. Swapping the carpeting for hardwood flooring was the final touch.
"Selecting preferred vendors made the entire installation process seamless," says Terry. "It made a world of difference in my decision to move to Ann's Choice, knowing that I could make any changes that I wanted."
Make yourself at home
Linda, Thomas, and Terry agree that their apartment homes are just the tip of the iceberg when it comes to vibrant living at Ann's Choice. 
Terry was delighted to find a knowledgeable personal trainer at the community's fitness center. In addition to strength training twice a week with her trainer, she joins Drums Alive classes and participates in the walking club. 
And, she loves that billiards tables are just a short stroll away from her apartment home! 
"I am so thankful for our apartment home, and I'm happy that we're here," agrees Linda.
Invest in your future self at Ann's Choice. From top-notch amenities to affordable, maintenance-free apartment homes, you are sure to live your retirement to the fullest. Request more information today!
Back