Choosing A Worry-Free Retirement at Ann's Choice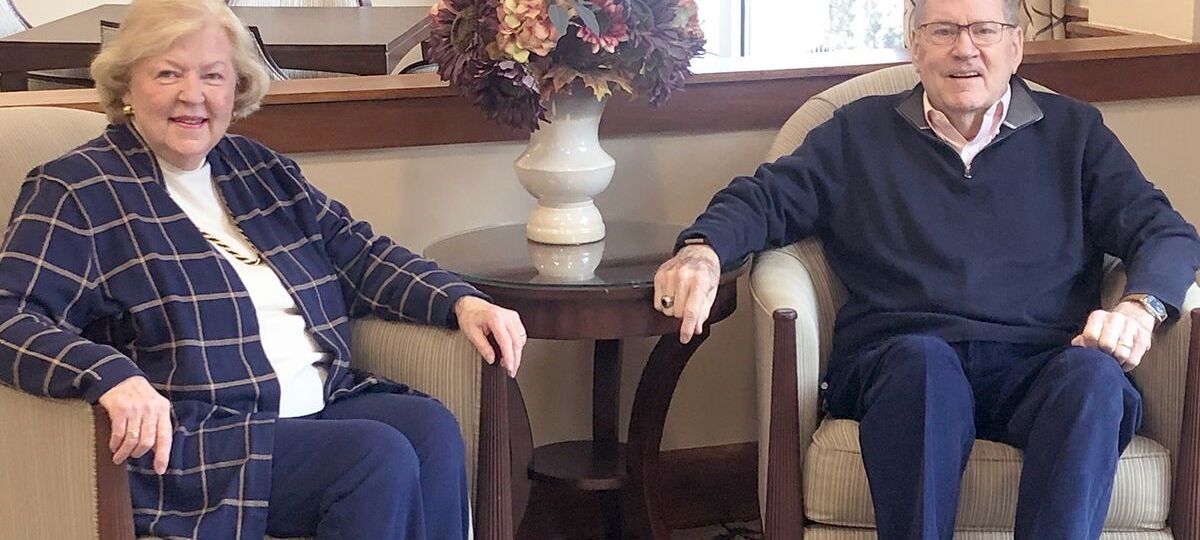 Two key benefits stood out to Dr. Kenneth Kastle and his wife Merilyn when they were considering a move to Ann's Choice, an Erickson Senior Living community in Bucks County, Pa.
"It's a continuing care retirement community - that comfort covers two sides of a coin," says Kenneth. First, he points to the community's 90% refundable entrance deposit, as per the Residence and Care Agreement. "We may have a substantial amount of money to leave to our daughters."
Second, he addresses the home for life promise, which says that no resident who, through no fault of their own, outlives their financial resources will need to move. "We have the security of knowing we won't have to leave here. It means our girls will never have to be concerned about taking care of us."
The financial structure and superior value of Ann's Choice, plus the abundance of amenities and services, convinced the couple to make the move in 2018.
Predictable expenses
Living at Ann's Choice also provides peace of mind, notes Deborah Olcese, sales director at Ann's Choice. "Pretty much everything is taken care of."
"They only have to write two checks each month when they live here," she explains, "One to the phone company for landline and private, home Wi-Fi, and the other for their monthly service package, which covers everything else."
The monthly service package covers utilities, maintenance, appliance replacement and repair, scheduled transportation, landscaping, and more. It also includes flexible meal plan options that give residents the opportunity to dine in the community's multiple on-site restaurants, making it easy to eat healthy or satisfy a craving for something savory. Ann's Choice prides itself on providing an exceptional dining experience with a variety of delicious options.
Olcese notes that many people who own a house find that there are heavy maintenance costs and unpredictable expenses, even after the mortgage is paid off.
"It's unbelievable the number of expenses that continue," she says. "Property taxes, homeowners' fees, maintenance and repairs, and the unexpected - like roofing or a new sidewalk - which can really throw a wrench in the works."
Worry-free living
"Once you're here, the goal is just to enjoy life and not have to worry about all these little nuisances," adds Olcese.
Resident Dr. John Cutting agrees. John and his wife Jacklyn have lived at Ann's Choice a little over four years and appreciate the convenience of the monthly service package.
"It's nice to have everything paid for," says John. "I pay for my phone and internet usage and some groceries, but it's nice to have one package cover everything else. The apartment home prices are reasonable; the food is good. I'm very happy. We got what we needed when we came here."
Ryan Kroll, senior sales associate at Ann's Choice, recognizes the worry-free nature of the community as well.
"Residents know what costs are going to cover their necessities, and that amount will not change throughout the year, even if severe weather strikes," says Kroll. "My grandmother lives here. Before she moved here, she had a pretty significant heating and air conditioning bill. Here, her monthly service package covers everything."
Residents are enjoying value for price paid because they're getting more than just a stylish, maintenance-free apartment home - they gain a whole community filled with amenities, activities, and services.
Kroll continues, "What I hear from our residents is excitement. Ann's Choice offers so much! I look at the community like a one-stop shop - it has anything you can think of" - all of which is available with a simple, affordable monthly cost.
Well cared for
"Residents have the security of knowing they're cared for here," says Kroll, physically and financially. "Our health services and financial benefits are the two greatest things."
The on-site medical center, staffed with professionals specializing in senior care, can address every health need. Additional levels of care are available as well, but you only pay for those costs down the road, if need be. 
"There's a burden that's lifted," Kenneth says. "The weight of being responsible for a house is off your shoulders, and there's the financial security of knowing we'll be taken care of as we continue to get older. That's a gift right there."
To learn more about affordable, independent senior living at Ann's Choice, request your free brochure to get the scoop on amenities, floor plans, and so much more.
Back