Ann's Choice Sales Team Members Earn Promotions
Jill Dutton
April 18, 2023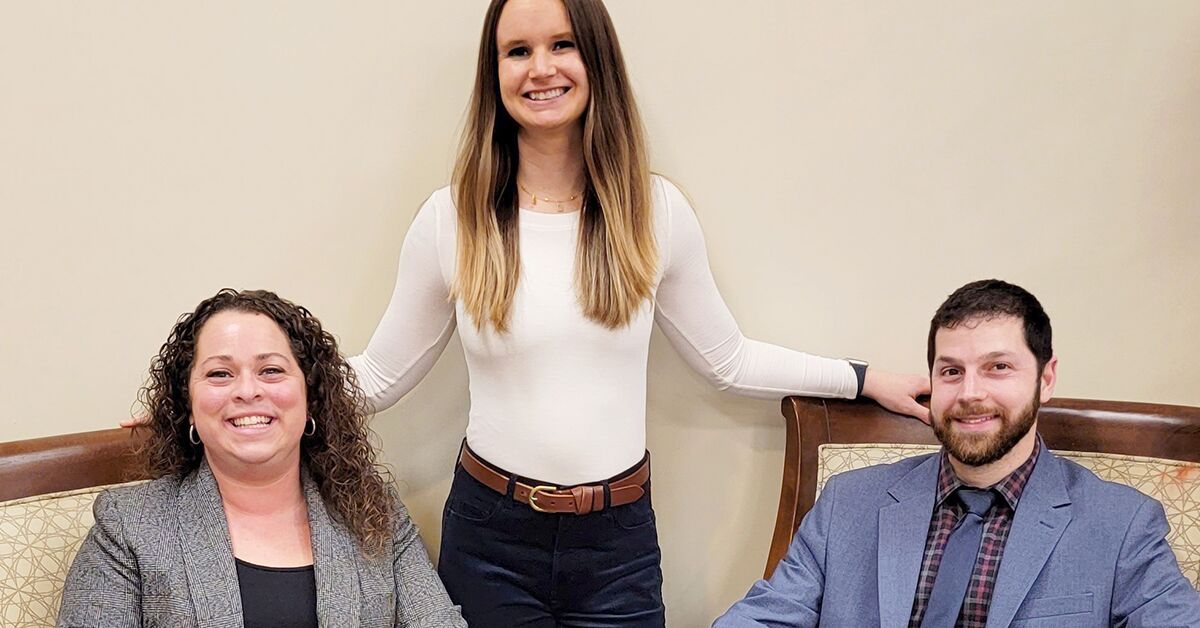 "The opportunities for professional growth are truly endless here, regardless of what you want to do with your career," says Emily Neary, who was recently promoted to sales counselor at Ann's Choice, an Erickson Senior Living community in Bucks County, Pa.
At Erickson Senior Living communities, employees pride themselves on working hard to offer the best resident experience possible. In return, these high-performing staffers - a number of whom started in dining services as high school students - are celebrated and given the chance to grow in their careers.
"If you put the work in, they're going to recognize that and help you take the next step," Neary adds. "In turn, we are able to serve residents in positions that best suit our talents - so they can enjoy the carefree retirement they deserve."
Getting her start
At 15, Neary was looking for a rewarding job, so she applied to become a server at Signatures, one of the on-site restaurants at Ann's Choice. After graduating high school, Neary started working there full-time while she decided what to do in her career.
"Chatting with the residents was the best part of that job!" notes Neary. "I didn't originally intend to continue my education, but after about a year and a half of working full-time, I made the decision to go back to school. Ann's Choice has supported me every step of the way."
Over the past 11 years, Neary has continued to pursue her higher education studies while working full-time, thanks to the tuition reimbursement program at Ann's Choice. "I'm on track to finish my associate's degree this year," she says. "I feel so fortunate."
Sharing the love
After a few years at Signatures, Neary was promoted to an administrative assistant position, in which she split her time between dining services and resident life. Two years later, she moved to the finance office.
"But I quickly realized that I missed interacting with residents," she explains. "They share great stories and, even more valuable, wisdom."
In 2020, Neary joined the sales team as a sales associate, eager to tell prospective residents about the benefits of the Erickson Senior Living lifestyle.
"As a sales associate, I was taking a lot of appointments and helping people prepare for their move to Ann's Choice," she says. "This year, I was promoted to sales counselor, and I've loved every minute of it!"
When asked about her future at Ann's Choice, she says, "It's kind of up in the air, which is awesome! There are so many great opportunities here, and I'm excited to explore those."
Drawn to Ann's Choice
Sales Counselor Holly Henderson also got her start at Ann's Choice during her high school years.
"I was 14 when they started building Ann's Choice," she recalls. "In preparation for the community's opening, they were looking for high school students to work as servers in the restaurants. I applied and got the job."
When she graduated high school, Henderson utilized the scholarship program at Ann's Choice to attend East Stroudsburg University, where she majored in hospitality management.
"I had never heard of a company giving you money to go to school. It's an amazing benefit!" Henderson says. "Of course, I came back and worked as a server during summers and breaks."
As a result of her dedication and expertise, she quickly rose through the ranks at Ann's Choice as a service coach, administrative assistant in dining, and assistant general manager. She later served in resident life, where she worked as an administrative assistant and a community resources coordinator.
Like Neary, Henderson found that the best part of her day-to-day life at Ann's Choice was connecting with residents.
"I had worked in all of the restaurants here for basically half of my life, so I knew residents by name, how the community ran, and how we all work together as a team," she explains. "Ann's Choice is great at helping you finding a role that fits your talents, so they suggested that I move into sales."
In 2017, Henderson joined the sales team as a sales associate, followed by a promotion to sales event associate. Her most recent promotion elevated her role to sales counselor.
Neary and Henderson were promoted alongside another former dining staff member, Ryan Kroll, who has served as sales manager since the beginning of 2023.
Rewarding careers
Now, Neary and Henderson both work with priority list members, helping them take the first steps to find their dream apartment home.
"Leaving the house that you've spent 40, 50, or 60 years in can be overwhelming," notes Neary. "I like to be that person they can trust and rely on to have their best interests in mind."
"Helping priority list members is rewarding," agrees Henderson. "But we got here thanks to the support of teammates and colleagues!"
To learn more about affordable, independent senior living at Ann's Choice, request your free brochure to get the scoop on amenities, floor plans, and so much more.
Back