Ann's Choice Residents Watch and Cheer on Local Sports Teams
Jill Dutton
September 7, 2023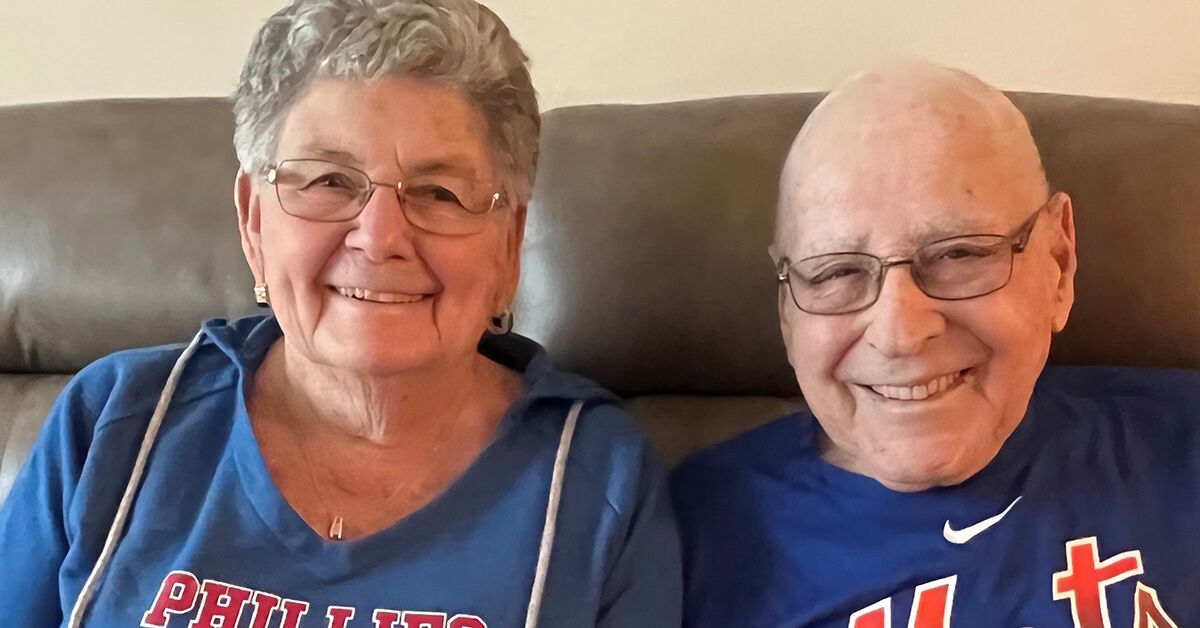 Not many people can say they've stepped foot on the baseball field at Citizens Bank Park - except for Peter Worms and fellow Phillies fanatics at Ann's Choice, an Erickson Senior Living community in Bucks County, Pa.
In the spring, Peter and about 30 of his neighbors attended a Phillies game and had the opportunity to walk the field on Seniors Stroll the Bases day.
"I like baseball a great deal, so attending the Phillies game was a delightful outing. Going with other fans, enjoying a hotdog, and watching a live game - it was all very nice," he says. 
"Everyone was hyped to watch the Phillies play, despite the poor weather conditions," says Lydia Wills, trip coordinator for Ann's Choice. "The brief rain shower did not stop them from supporting the team and dressing for the occasion in their Phillies gear. Some even had Phillies blankets to keep them warm!"
Shared enthusiasm
Like Peter and his wife Ruth, many Ann's Choice residents are enthusiastic about sports, so it's not uncommon to see passionate fans adorned in jerseys, hats, or scarves in support of the Phillies, Eagles, and other beloved local teams.
Excitement builds on game days as banners in team colors are hung on the walls and ceilings of on-site restaurants, where residents gather to cheer on their favorite athletes - and sometimes rib friends in the spirit of competition. 
Staff members at Ann's Choice share the same energy, creating an engaging environment for residents to share their passion over a game. On Fridays, employees dress in their favorite team's garb to show their spirit. 
When the Eagles were preparing to battle the Kansas City Chiefs in February for Superbowl LVII, anticipation at the community was palpable! 
Friendly competition
During baseball season, Phillies-themed flags and décor adorn apartment home doorways as well.
"Some residents put items outside their doors," Peter says. "There's a neighbor downstairs who has a gnome outside their door wearing a Phillies scarf. The gnome faces outward when the Phillies win, but is turned backward when they lose. And when they're away from home, we change it for them!" 
Despite his trip to Citizens Bank Park, Peter isn't a whole-hearted Phillies fan. 
"Having grown up in Manhattan, N.Y., I admit that I've always been a frustrated Mets fan," he says, with a laugh. 
Ruth, a Phillies fan through and through, is quick to turn on the TV when their teams go head-to-head. "Our friendly rivalry only enhances the enjoyment of the game!" adds Peter. 
When they're not watching baseball together, Peter and Ruth visit the pool three times a week, play bridge with friends, and walk the beautifully landscaped campus at Ann's Choice. 
They also keep a close eye on the community's event calendar, populated by Wills with tons of engaging trips. 
Take me out
"My role is to find and organize the best outings for residents," says Wills. 
Seeing how many people attended the Seniors Stroll the Bases day, Wills planned two more outings; to cheer on the Trenton Thunder, a collegiate summer baseball team of the MLB Draft League, and to watch the Lehigh Valley IronPigs, a minor league baseball team of the International League and the Triple-A affiliate of the Philadelphia Phillies.
"It's rewarding to see residents come alive as they display hometown pride and forge lasting memories," notes Wills. 
In the spirit of baseball, she is currently planning a lunch and show at the Bucks County Playhouse for residents to see Tommy and Me, an autobiographical show about the Phillies' sports commentator, Ray Didinger.
"While watching a sporting event at a stadium is a treasured activity among residents, there are lots of other trips to enjoy," Wills adds. 
She has also coordinated trips to Holland and Belgium and a getaway to Mackinac Island in Michigan. For fans of the arts, local excursions to see Shen Yun, a performing arts company, and the Sight & Sound Theatre's production of Moses were a huge hit.
At home
At Ann's Choice, sports fans have found a place to call home, where their love of the game is celebrated and embraced.
"The camaraderie here means a lot to our residents," notes Wills. "Whether you're a fan of baseball, football, or both, it's easy to bond with others because they're going to be as passionate as you are!"
To learn more about affordable, independent senior living at Ann's Choice, request your free brochure to get the scoop on amenities, floor plans, and so much more.
Back