Ann's Choice Residents Find the Key to a Healthy, Happy Life
Jill Dutton
October 26, 2022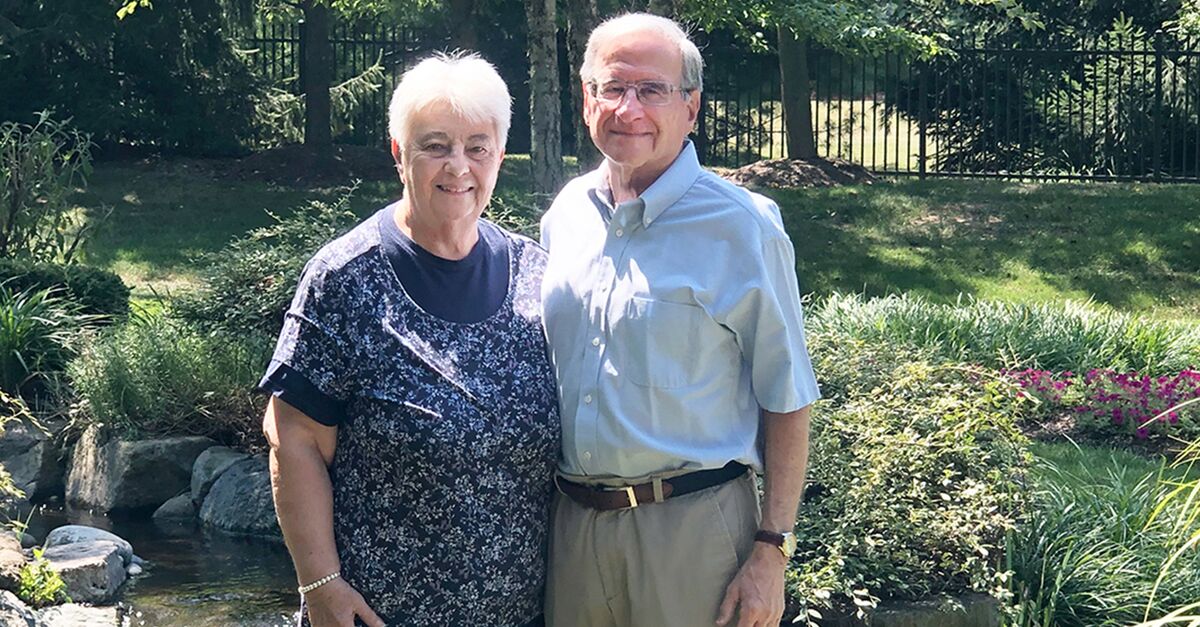 In the short time since Don and Jennifer Pullano moved to Ann's Choice, the Erickson Senior Living community in Bucks County, Pa., they say their overall health has increased tenfold.
With an abundance of amenities and resources to support their physical, mental, and spiritual well-being, it's no surprise that the Pullanos - and many others - are thriving at the continuing care retirement community.
"One of the reasons Ann's Choice appealed to us," Don explains, "is its large variety of clubs and activities that you can partake in."
A perfect pair
On their first day at Ann's Choice in March, Don and Jennifer recall, they met another couple who quickly became close friends.
"We just clicked with them," Jennifer says. "They asked us, 'Do you play bocce?' Being of Italian descent, I said, 'We certainly do!'"
Finding groups that cater to their personal interests was also a huge win, the couple says. In addition to playing bocce regularly, they participate in the Italian Club and visit the fitness center three days a week.
Jennifer joined the Village Potters, a pottery club; a Catholic rosary and prayer group; and Color Me Calm, an adult coloring group comprised of about 20 women who gather, chat, and create artwork.
Jennifer says all of these clubs enhance her sense of mental well-being, but the coloring club especially, as "It's very relaxing. You're not thinking, you're just doing."
Don says he enjoys the History Club, plans to join the veteran's group, and might "dabble in the philosophy club."
Meeting residents' needs
Just as Don and Jennifer found clubs specific to their interests, Fitness Coordinator Tara Beach says the fitness classes at Ann's Choice are created with the same intention.
"We run the gamut of opportunity to get your body moving," says Beach. "The classes are designed to be fun, too, so residents can make those important social connections. We meet people where they are and take them to the next level, based on their goals."
Of the Drums Alive class that Beach teaches, she says the benefits are significant.
"We each take a big yoga ball and use drumsticks to beat on it, to the rhythm of the music. While you are working hard, moving your arms up and down exerting force, you're also exercising your mind," explains Beach. "It's an excellent way to improve overall fitness, as well as your memory cognition. The class also helps slow the effects of dementia and Parkinson's because you are using your brain to remember patterns and beats."
Beach adds that she is always looking for ways to expand the community's range of well-being offerings, a goal supported wholeheartedly by Erickson Senior Living.
Enhancing well-being
This year, Erickson Senior Living provided a multimillion-dollar investment, through its Well-Being Fund, to support the addition of enhanced health and well-being programs and services to residents.
Incorporating findings from the company's research partnership with Harvard University and the Benson Henry Institute (BHI) for Mind Body Medicine at Massachusetts General Hospital, these additions are designed to enhance the physical, emotional, and social well-being of residents.
In 2021, residents at selected Erickson Senior Living communities participated in the Embrace Well-Being and Flourish study, which used the BHI's SMART (Stress Management and Resilience Training) curriculum to provide them with practical strategies for managing stress and improving resiliency. Results of the study showed statistically significant changes, including increases in resilience, coping, and positive emotions, while decreases in distress and social isolation were seen.
Seeing the investment
Residents at all Erickson Senior Living communities now have greater access to tools and strategies that support resilience and overall health and well-being. Examples include Wellbeats, a new fitness app which allows residents to participate in on-demand and live exercise, yoga, and meditation classes from any location.
At Ann's Choice, visitors at the upgraded fitness center now enjoy brand-new NuStep and Matrix elliptical machines, recumbent bikes, treadmills, strength equipment, Echelon rowers, and Reflect fitness mirrors.
"Many people tell me how much they appreciate all there is to do here," adds Beach. "These investments from the Well-Being Fund - on amenities that residents love and enjoy - have already started to have an impact."
Don and Jennifer agree. "We're on the young side, but we thought it would be wise for us to come here sooner than later," Don adds. Seeing that community members - and Erickson Senior Living - care about their well-being as much as they do, the Pullanos are excited for their future at Ann's Choice.
Invest in your future self at Ann's Choice. From top-notch amenities to affordable, maintenance-free apartment homes, you are sure to live your retirement to the fullest. Request more information today!
Back