Ann's Choice Residents Enjoy Spending Time Outdoors
Sara Martin
August 24, 2021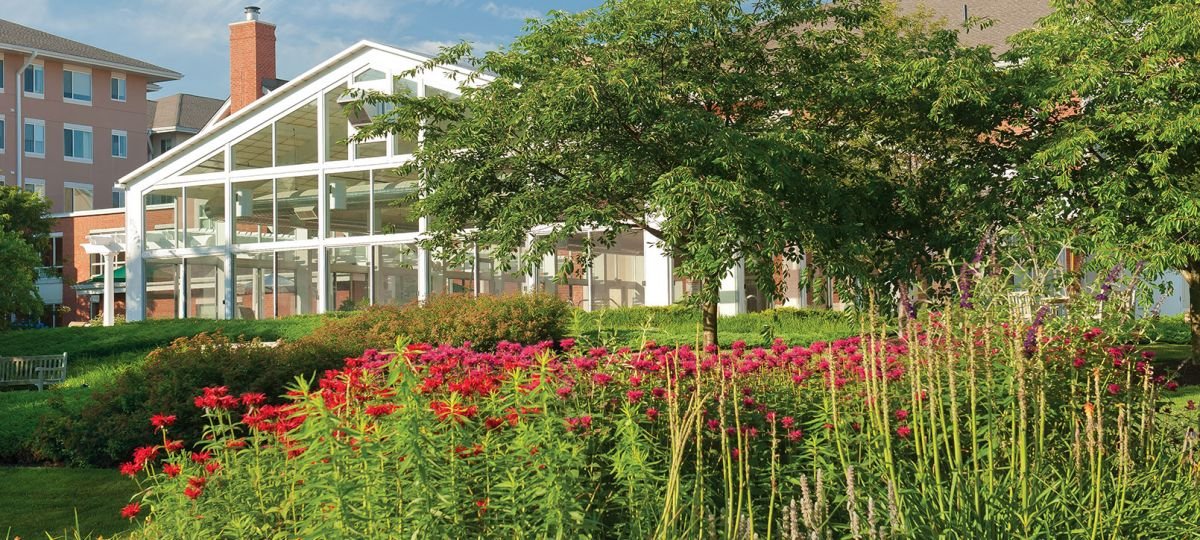 When Harry and Rosemary Beam were considering a move from their home of 57 years in Northeast Philadelphia, they had their eye on one place for quite some time. "We'd driven past Ann's Choice for many years and always liked it up in this area," says Harry, who retired from a career in communications. The appeal of the beautiful grounds at Ann's Choice, the Erickson Senior Living-managed community in scenic Bucks County, Pa., was a significant factor in the couple's decision to move in June 2016.
"The road leading up to Ann's Choice is lined with trees, and there are seasonal flowers around the main entrance," says Harry. "Once you're on the campus, the grounds are very pretty."
Beautiful walking paths, gardens, ponds, gazebo, and abundant amenities, including tennis courts, pickleball court, and a putting green provide residents with various options to enjoy all the benefits of spending time outdoors.
Access to nature
A study conducted by graduate students at the University of Minnesota found that everyday access to nature improves quality of life in older adults. The study looked at ways "green space," such as parks and gardens, and "blue space," like lakes, streams, and fountains, promote the physical, mental, and social health of seniors. "We zoomed in to everyday life for seniors between the ages of 65 and 85," said Jessica Finley, the study's lead author. "We discovered how a relatively mundane experience, such as hearing the sound of water or a bee buzzing among flowers, can have a tremendous impact on overall health."
Maintenance-free lifestyle
Spending time outdoors has a significant bearing on health and well-being, including increased physical fitness, improved mental health and sleep patterns, strengthened immune function, and enhanced relationships.
"At Ann's Choice, residents can make the most of their retirement years while enjoying a wide variety of outdoor leisure activities, from walking paths and nature trails to gardening, photography, social events, and other programs, all just steps from the door of their apartment home," says Sales Director Deborah Olcese. "Residents can participate in the outdoor activities they enjoy most, independently or while socializing with other community members, all without the burdens of maintaining their own house and yard," says Olcese. The aesthetic appeal of Ann's Choice is even more desirable for its maintenance-free lifestyle.
More time for hobbies
"We have a balcony off our apartment, and sometimes I'll sit out there and wave to the mowers," says Harry. "I'm glad I don't have do that anymore." Instead, Harry has more time to pursue a favorite hobby—photography. "I walk around the community and take pictures of the grounds and of activities taking place," he says. "It's a great way to get to know people." Harry captures the natural beauty of Ann's Choice throughout the seasons, and has amassed an impressive digital archive of photos.
Gardening with a purpose
Ruth Kurtz moved to Ann's Choice from Elverson, Pa., in 2010 to be closer to her daughter, who lives nearby. An avid gardener, Ruth saw potential in the resident garden areas on campus. She works with other resident gardeners to plant and harvest tomatoes, peppers, string beans, zucchini, summer squash, and eggplant in eight garden patches, each measuring 10-foot square.
"We harvest the vegetables and donate them to the Warminster Food Bank," says Ruth. "Last year, the Ann's Choice gardeners donated 1,000 pounds of produce to the food bank. That's our goal again this year."
In addition to the joy that comes from helping others, Ruth says spending time in the garden is good medicine. "I'm happiest with my hands in the dirt," says Ruth, a retired elementary art teacher. "There are so many benefits to being outdoors. There's the social component of working alongside other gardeners and sharing a joke or a laugh. Then there's just the feeling you get from being outside."
Over the past year and a half, Ruth says she's walking more, enjoying the beautiful paths around Ann's Choice and the neighboring Warminster Community Park, adjacent to Ann's Choice and accessible through two gates on campus.
"I like to get up and start my day," says Ruth. "Being outdoors is uplifting and gives me a sense of well-being."
Consider being part of a strong and caring senior living community like Ann's Choice. Beautiful walking paths, gardens, resort-style amenities, an on-site medical center staffed by full-time medical professionals, and new friends await. Request a brochure or a visit now!
Back