Ann's Choice Provides Career Growth and a Family Atmosphere in a Dining Services Career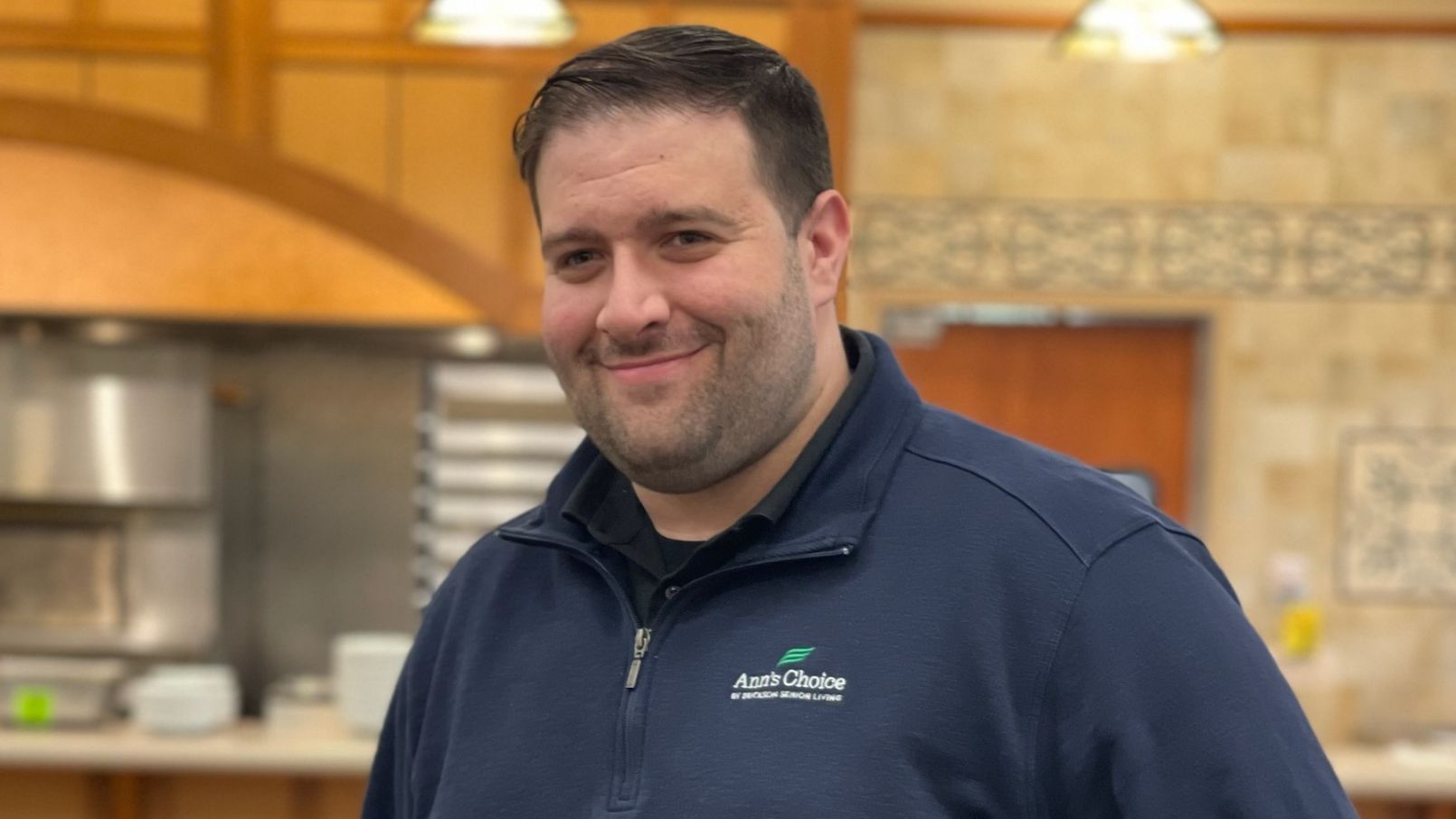 One reason Ann's Choice, an Erickson Senior Living community in Bucks County, is considered a top workplace is by providing its employees with a work environment that encourages professional growth through incredible benefits and educational support. This positive work culture has resulted in numerous dining services team members being promoted over the years into new and exciting roles.
"There has never been a more exciting time to be a part of the Ann's Choice dining services team," said George Millili, the dining director at Ann's Choice. "The rewarding work, diverse training opportunities, and other benefits inherent with our dining services positions provide an ideal pathway for a successful and rewarding career."    
Richard Weise started as a dishwasher at Ann's Choice 17 years ago—his first high school job. He attended culinary school while working in the kitchen, utilizing the company's tuition reimbursement program. Through the years, Weise moved up consistently to prep cook, line cook, and then lead cook. He was later promoted to sous chef, then executive chef, and this year he was promoted again to the general manager of dining.
Ann's Choice's comprehensive total rewards go far beyond an average benefit plan. In addition to multiple healthcare plans and choices, employees can enjoy a full range of services that enables them to build their careers, enjoy a healthy work-life balance, and plan for their future financial security. Additionally, those joining the dining services team (e.g., cooks, chefs, kitchen staff) may qualify for a sign-on bonus.
In addition to the tangible benefits Weise has enjoyed, such as tuition reimbursement and health insurance, there's also the benefit of an encouraging workspace. "There's a family atmosphere working at Ann's Choice—both with the staff and the residents," Weise said. "I started in high school but stayed so long because it feels like family. I even met my wife here, and now, having a daughter and family of my own, the medical benefits are a huge plus."
Some of the many employee benefit differentiators include tuition reimbursement, 401K, generous paid time off, including for volunteering, Erickson Senior Living University class offerings, rapid advancement opportunities, on-site employee health and wellness centers, employee discount programs, and so much more.
Ann's Choice takes immense pride in having a culture of continuous employee recognition, regularly acknowledging effort and achievement. The community's supportive and collaborative environment empowers staff, makes them feel valued, fosters innovations, and opens doors to career development and expanded job opportunities.
Weise said the employee recognition is personally fulfilling and that he has been awarded Employee of the Month for the entire campus on two occasions, and last year he was recognized as Leader of the Year for Ann's Choice.
Since 1983, the Erickson Senior Living's network of communities has been devoted to one mission—helping people live better lives. The company is among the most respected names in senior living with a growing portfolio of retirement communities across the country. We see each day how those driven to make a difference and feel passionate about what they do thrive in an Erickson Senior Living career.
Anyone interested in exploring dining services or other exciting career opportunities at Ann's Choice should browse the company's careers website. 
Back