Active Aging Week Promotes Fun Ways to Get Fit for Seniors
By Michele Harris
August 27, 2021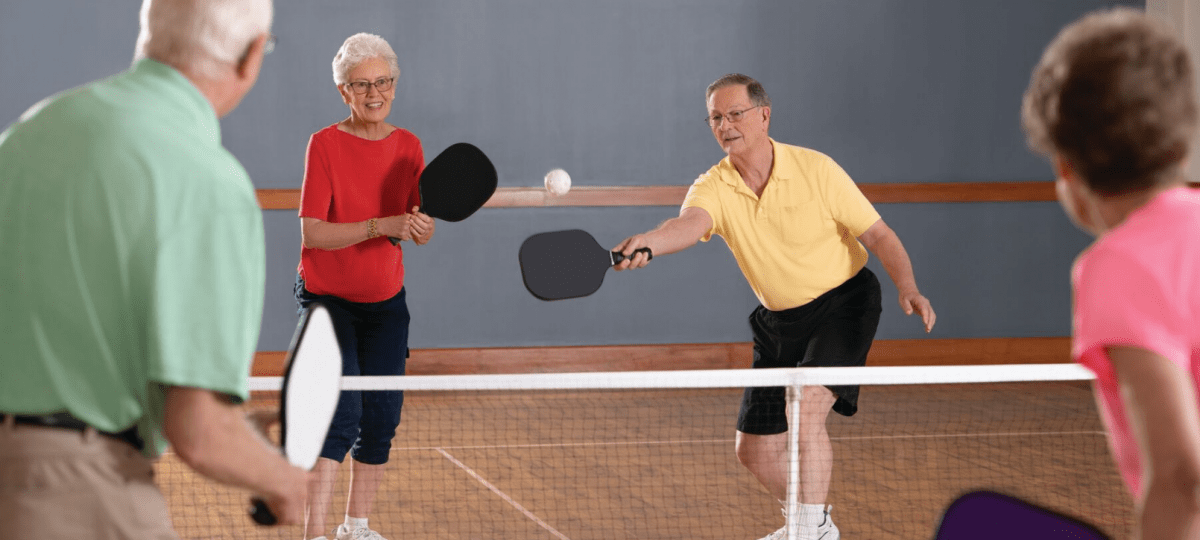 Despite all the evidence that older people who stay active tend to stay healthier, less than one-third of older Americans report adhering to physical activity recommendations. The International Council of Active Aging (ICAA) is determined to change that with the group's annual campaign, Active Aging Week, happening this year Oct. 4-10.
What is Active Aging Week?
Established in 2003, Active Aging Week gives older adults a chance to experience wellness activities and exercise in a safe, friendly, and fun atmosphere. Organizers hope the event will inspire people to be more active all year round.
"Twenty years ago, nobody was talking about active aging," says Colin Milner, ICAA's CEO. "Today, the vitality of individuals, economies, and entire societies depend on it. As the median age of world populations goes up, so does the importance of aging well. How we address the well-being of our 50+ population and tap into the experience, knowledge, and full potential that this demographic has to offer will largely determine what tomorrow looks like for all of us."
Active Aging Week events are scheduled all over the country. There will be special Zumba sessions, yoga classes, organized group walks and fun runs, water aerobics, and team sports like bocce ball, softball, and croquet. Be sure to find an event near you!
"Active Aging Week provides a valuable opportunity for older adults to connect and engage within their communities through a wide range of activities," Milner says. "But it also gives us a chance to reframe aging. What older populations bring to us can only come from the knowledge, insight, wisdom, and expertise generated by decades of living and doing. Active Aging Week pays tribute to the richness that older people continue to bring to our world's cultures and societies."
Active aging year-round with Erickson Senior Living
Residents of Erickson Senior Living communities have a multitude of opportunities to have fun staying active all year round. Some residents enjoy working out at their community's staffed fitness center or paddling around in the swimming pool while others participate in community athletic clubs like bocce ball, softball, or tennis.
Roy and Lynn O'Connor have been active all their lives and they particularly enjoy hiking, tennis, and golf.
Shortly after moving to the Erickson Senior Living-managed community of Greenspring in Springfield, Va., the O'Connors discovered a new sport—pickleball. Like a lot of people, they had never heard of pickleball. (The sport has only been around since the mid-1970s.)
Played on a modified badminton court, pickleball can be played by singles or doubles. Players use paddles (similar to table tennis paddles) to hit a perforated ball (similar to a Wiffle ball) across a net set 32 inches high.  
Picking up pickleball
The O'Connors have been playing with the Greenspring pickleball club for about 12 years.
"Roy and I started a class on Saturday mornings for people who want to learn about the game. It has a unique scoring system, so we go over that and we demonstrate the stroke," says Lynn. "It seems like that will be ongoing as new people come along and want to learn about it. It's not a formal lesson. We're just trying to help people get started."
"It's a good way to meet people," says Roy. "We're not highly competitive."
"Well, to some degree, we're not," says Lynn with a chuckle. A wave of new members signed up for the club recently, so Greenspring now has two different pickleball groups. One group is slightly more competitive than the other. "Once you start playing, you pick up things from other players. Most of us are in our 70s and early 80s," says Lynn.
Great for beginners
"We have people playing who were never athletic before they came here. And they're doing great!" says Roy.
When they're not playing pickleball, the O'Connors might be found hiking with their children and grandchildren. "The grandchildren get such a kick out of us," says Lynn. "That we can keep up with them when we hike! And we play pickleball and other things. They are very proud to have such active grandparents."
At Erickson Senior Living communities, there are a wide range of activities for every fitness level. Our goal is to promote healthy, active aging for all residents. Request a brochure to learn more about how you can enjoy an active retirement at the community of your choice.
Back