Vibrant Outdoor Spaces Enhance the Erickson Senior Living Lifestyle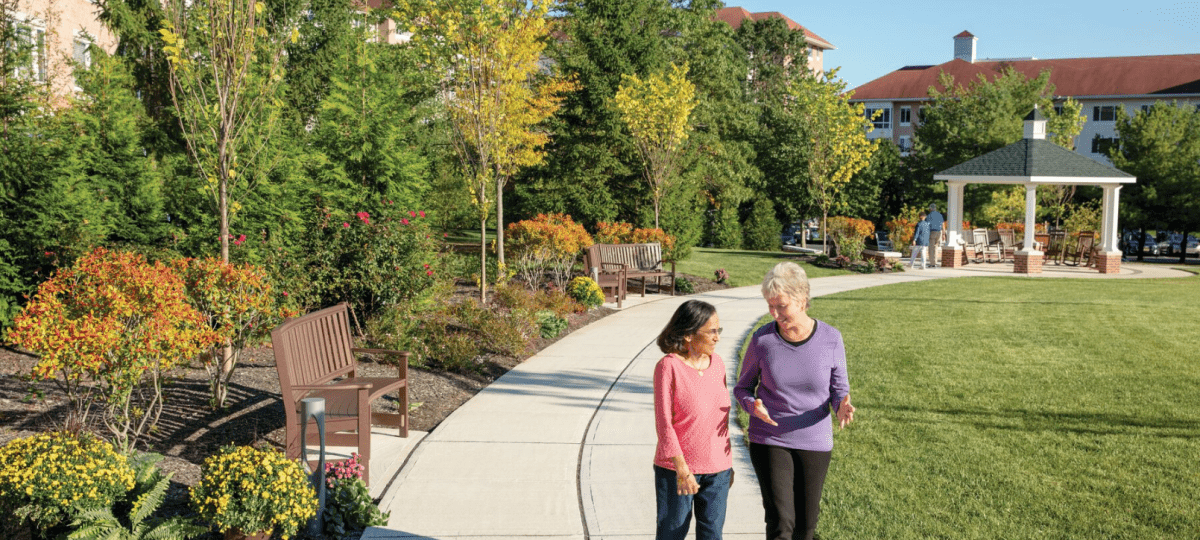 A deep breath of fresh air on a spring morning. A picnic with friends on a sunny summer day. Crunching leaves during a nature trail walk in the fall.
These are reminders of the joyful feelings we have when spending time outdoors. From childhood to adulthood, most people have meaningful connections to specific experiences or a favorite activity outside. Fortunately for residents of communities developed and managed by Erickson Senior Living, these cherished moments can continue, thanks to the ample space found on the beautiful grounds where they live.
To learn more about these benefits, we spoke with Dr. Margaret Kimbell, Erickson Senior Living's vice president of community living. Dr. Kimbell provides valuable insight into the physical and emotional boost that the "great outdoors" can provide to people of all ages, particularly older adults.
Q: How does being outdoors promote a healthy lifestyle?
A: Numerous studies suggest that being outdoors supports a person's physical conditioning, mental well-being, and overall happiness. We recognize the value of an exercise routine like walking or running for cardiovascular health, for example. But think how doing these activities outside provides extra stimulation to one's feelings and perceptions.
A hot, humid day can warm the body to the core while a cool, breezy day can make one's senses come alive. The lesson is to set aside time daily to be mindful when outdoors—take in the sounds, sights, smells, and things to touch. This gratitude for what nature offers us enhances overall mental outlook and appreciation for life's simple pleasures.
Q: What are some of residents' favorite outdoor amenities at Erickson Senior Living communities?
A: Residents can take advantage of acres of green space in a secure setting, filled with amenities. For those who enjoy staying active, our communities sustain trails for walking, jogging, and cycling. Many communities also have bocce courts, putting greens, pickleball courts, outdoor dining venues, and areas for activities like concerts which provide wonderful opportunities for neighbors to connect and socialize.
All of our communities are beautifully maintained, creating scenic landscapes for residents who enjoy photography or painting. Many Erickson Senior Living campuses have ponds that are stocked for fishing or used as venues for model boat sailing, as well as gardens where residents can grow flowers and vegetables and see the butterflies and birds. Of course, there are also plenty of comfortable areas to just sit and relax.
Q: Residents at Erickson Senior Living communities enjoy a vibrant, active lifestyle. What role do the outdoors play in daily community life?
A: Being outside is a natural daily occurrence for residents, whether it's to participate in an activity with neighbors, dine outdoors with friends, or a simple walk in the neighborhood. One's personal connection to the outdoors does not change as one ages—if anything, the gratitude for the beauty of nature grows.
From the moment a resident steps out of their apartment home, they have opportunities to see neighbors, employees, and visitors both inside and outside. This engagement is vital to one's mental health. Even if it's just a brief connection or a wave hello, these interactions can be enough to lighten one's mood; a reminder that they are part of a warm, friendly community.
Q: What makes the fall such a wonderful time to be outside at our communities?
A: Fall might be my favorite season at Erickson Senior Living communities. Temperatures are cooling off from the summer months, which makes it such a pleasant time to enjoy outdoor amenities. Whether joining friends on the patio for a delicious, chef-prepared meal or simply taking a walk, fall is an ideal time for residents to enjoy the outdoors, right on campus.
The colorful leaves and fall flowers signal to lifelong learners that, although summer activities are wrapping up, new things are coming. It's the perfect time for artists, photographers, and gardeners to find inspiration in the beauty of the changing seasons. As winter weather approaches at many of our communities, there's nothing like the feeling of bundling up for a walk on those first brisk days or the enjoyment of watching the first snowflakes land, especially from the warmth of your apartment home.
Q: Why is now an ideal time for guests to visit an Erickson Senior Living community?
A: Because they are so full of life! When guests arrive, they'll see residents enjoying the beautiful campus and a truly vibrant way of living as part of a supportive, caring community.
It has been my experience that, after moving in, many residents say, "I should have done this sooner!" New residents often find so much more than a maintenance-free lifestyle and a comfortable, stylish apartment; they have a place to call home.
My mother moved into an Erickson Senior Living community. Her transformation was dramatic: from a woman who lived a rather solitary life in her house to a person you could never reach because she was out and about, participating in activities and making new friends. As it turned out, she would always say, "I wish I had moved sooner!"
Don't wait to transform your own retirement lifestyle. Start enjoying relaxed retirement living on a picturesque campus with beautiful outdoor amenities at an Erickson Senior Living community now. Request more information today!
Back