The Right Time to Move to a Senior Community
By Michele Harris
July 15, 2021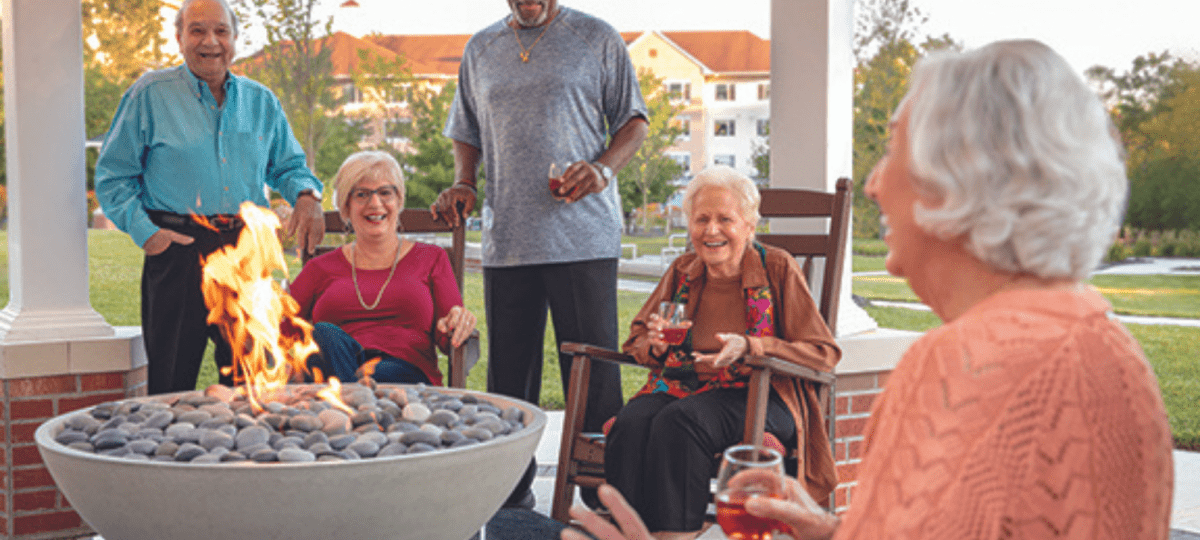 Studies show that the key to a long, healthy life starts with engagement. People who are engaged with activities and friends tend to be healthier and happier—and because they are healthier and happier, they tend to live longer. 
For example, the landmark Age Well study conducted by the Mather Institute and Northwestern University found that when compared to a sample of older adults in the community at large, residents of continuing care retirement communities (CCRCs) displayed greater social, emotional, physical, vocational, and intellectual wellness.
Despite the clear advantages of living in an environment filled with opportunities to socialize with friendly people and pursue interesting pastimes, many people put off moving to a CCRC. It's as if they are waiting for some sort of a sign.
There is no dashboard warning light that says, "time to move." Making the move to a CCRC is a choice, and because it is a choice, too many people put it off. A lot of people are stuck in their homes, "socially isolated and watching too much TV," says David Schless, president of the American Seniors Housing Association.  There are so many wonderful aspects of moving to a senior living community, there really is no reason to wait."
Take action
"There are myriad benefits of making the move to a senior living community," adds Schless, "As people age, they sometimes experience this sense that their friend group is shrinking, and they don't have the same opportunities to be engaged with people and activities."
While the benefits of living in a retirement community are easy to see, some seniors say they're "not ready yet," so they delay and do nothing. Sadly, they may be cheating themselves out of a fuller, richer life.
"When you move to a senior living community, there are so many different ways you can connect with people, build friendships, and continue learning and participating in things that you enjoy, that you wouldn't necessarily have the opportunity to if you are trapped in your house," says Schless.
"I believe there's an enormous wellness component or benefit to moving to senior living. Individuals who move to senior living communities have access to the types of nutritional and other wellness benefits that allow them to live as independently as possible for as long as possible."
For couples, it can be wise to plan ahead rather than wait until one spouse needs a higher level of care. Making decisions in advance can save the stress and worry of making decisions under pressure.
Leave home maintenance behind
People often say that the motivating factor behind their decision to move to a CCRC is their strong desire to rid themselves of the constant aggravation and expense of maintaining their home. 
"Many people think they've paid for their house, so they don't have housing costs anymore, but of course, that's not true," says Schless. "They may not be paying attention to real estate taxes and all of the costs associated with maintaining a house."
According to HomeAdvisor.com, the average consumer spends about $970 for a new dishwasher. Replacing a window might run you $1,500. Installing a new air conditioner could cost $12,500. Replacing a roof could run $20,000 or more. Big repair jobs like fixing a faulty foundation or a broken sewer line could climb as high as $30,000-$40,000. People living in an area where the cost of living is high, will pay more for home repairs because labor charges are increased.  
All of those expenses disappear when you move to a CCRC. If the dishwasher breaks or the air conditioner is on the fritz, all you have to do is call your community's maintenance department.
You won't waste time searching for a repair technician, because each community employs a full-time maintenance staff to handle repairs, replacements, and routine maintenance inside and outside your home. 
"If people take the time and pay attention to all of the costs that are associated with their house, senior living can really be a beneficial financial move for them," says Schless.
"Over the course of my professional career—about 30 years—I've talked to thousands of seniors who have made the move," says Schless. "I can't tell you how often I hear them say they wish they had made the move sooner. There are so many terrific benefits for an older adult or a couple, that they really should take action as soon as they can."
It's never too soon to start researching your retirement living options. If you'd like to learn more about the full-service amenities and other benefits of a CCRC, request more information today.
Back