Tech-Savvy Life at Erickson Senior Living
Michael G. Williams
October 30, 2019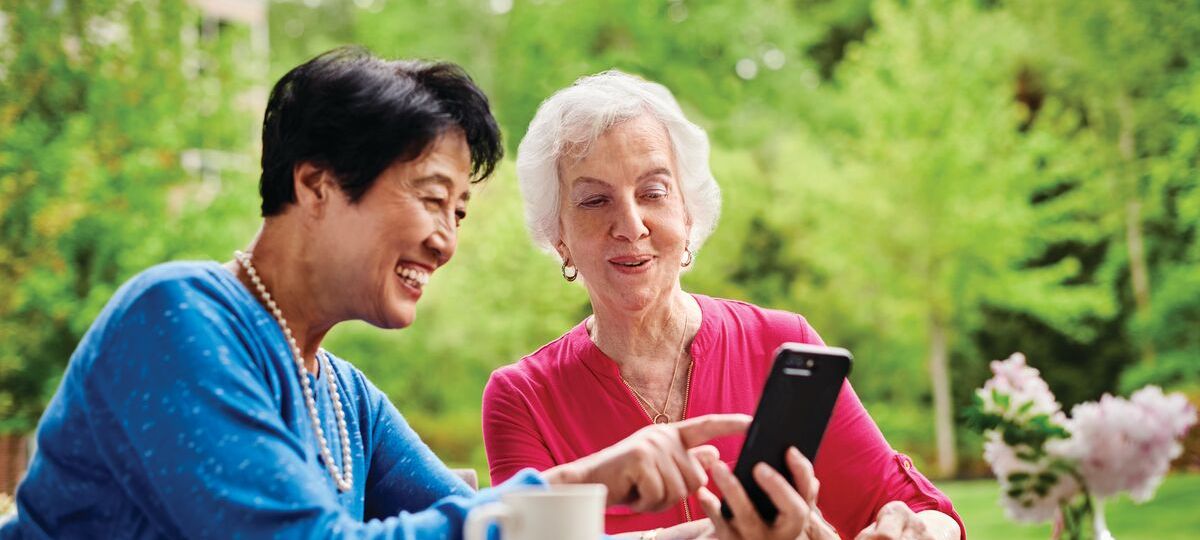 While stereotypes are sometimes true, there's one that definitely no longer stands: The notion that seniors and computers don't mix. On the contrary, the number of tech-savvy seniors has increased exponentially over the years, and experts anticipate that this trend will continue.
According to a recent survey from AARP, nearly 132 million Americans age 50 and older will, by 2030, spend upwards of $84 billion annually on technology products such as phones, printers, tablets, and laptop computers.
The same study also found that, of the individuals surveyed, 91% of those 50 and older reported using a computer, with 94% of them stating that computer technology helps them stay in touch with friends and family.
In the last 20 years alone, the number of older adults who use computers on a daily basis has increased by 55%. Many of the people who live in Erickson Senior Living communities substantiate these findings.
Seniors and technology mix at Erickson Senior Living
The Ashby Ponds campus in Ashburn, Va., for one, offers a host of opportunities for the development of technological skill sets, including computer support programs, iPad learning classes, and on-site technology tutors. 
"That's what's so wonderful about our community," says Ashby Ponds Resident Life Coordinator Kelsey Hunt. "It's our goal to meet residents where they are when it comes to all aspects of life, including the growing use of technology."
The same goes for the Greenspring community in Springfield, Va., where the computer club is a valued resource. 
"We have more than 720 members, 60 of whom dedicate their time to helping their neighbors," says club president Bob Sinclair. The objective, he adds, is "to help—through a variety of formal courses, in-home visits, and monthly lectures—those residents who wish to use technology in their daily lives."
Many senior living communities, like those developed by Erickson Senior Living, are equipped with the latest tools of electronic communication to help make this possible. People who live at Fox Run in Novi, Mich., for instance, can take advantage of high-speed Wi-Fi; on-site tech support; and access to My Erickson, a digital app that places campus maps, phone numbers, messages, dining menus, transportation schedules, and local directories at the user's fingertips.
"It's easy to open the My Erickson app and see the menu and nutrition facts for each restaurant on campus as well as the daily activities," says Bill Connell, who lives at Highland Springs, the Erickson Senior Living community in North Dallas, Tex.  "I can check it from anywhere and stay informed about what's happening at Highland Springs."
Technology adoption expands across senior living communities
Just as the population of tech-savvy seniors steadily climbs nationwide, so too does the population of technologically minded residents at Erickson Senior Living communities. A survey by the computer club at the Riderwood campus in Silver Spring, Md., determined that in the last few years twice as many of the community's members are using technology of some kind.
In a world where three-quarters of internet-using seniors go online daily via tablets, smartphones, and portable computers, Erickson Senior Living has made a strong commitment both to technological education and services. 
"Our goal at Erickson Senior Living is to meet residents where they are in their technology adoption and, for those interested, offer opportunities to increase their digital skills as they enjoy an engaging lifestyle," says Hans Keller, chief information officer for Erickson Senior Living.
Ultimately, these programs present the added benefit of the rich, dynamic social atmosphere unique to Erickson Senior Living communities. To explore vibrant retirement living for yourself, connect with us and get more information about floor plans, pricing, and more at a community near you. 
Back